The Atlanta Falcons were set to release their new uniforms next Tuesday, but—apparently due to leaks—they have revealed the new look today.
For our team. 
Our fans. 
⁰Our city. pic.twitter.com/15e5ZX6EtE

— Atlanta Falcons (@AtlantaFalcons) April 8, 2020
The Falcons dove deep into their new uniforms on their official website, including with a letter from team owner Arthur Blank.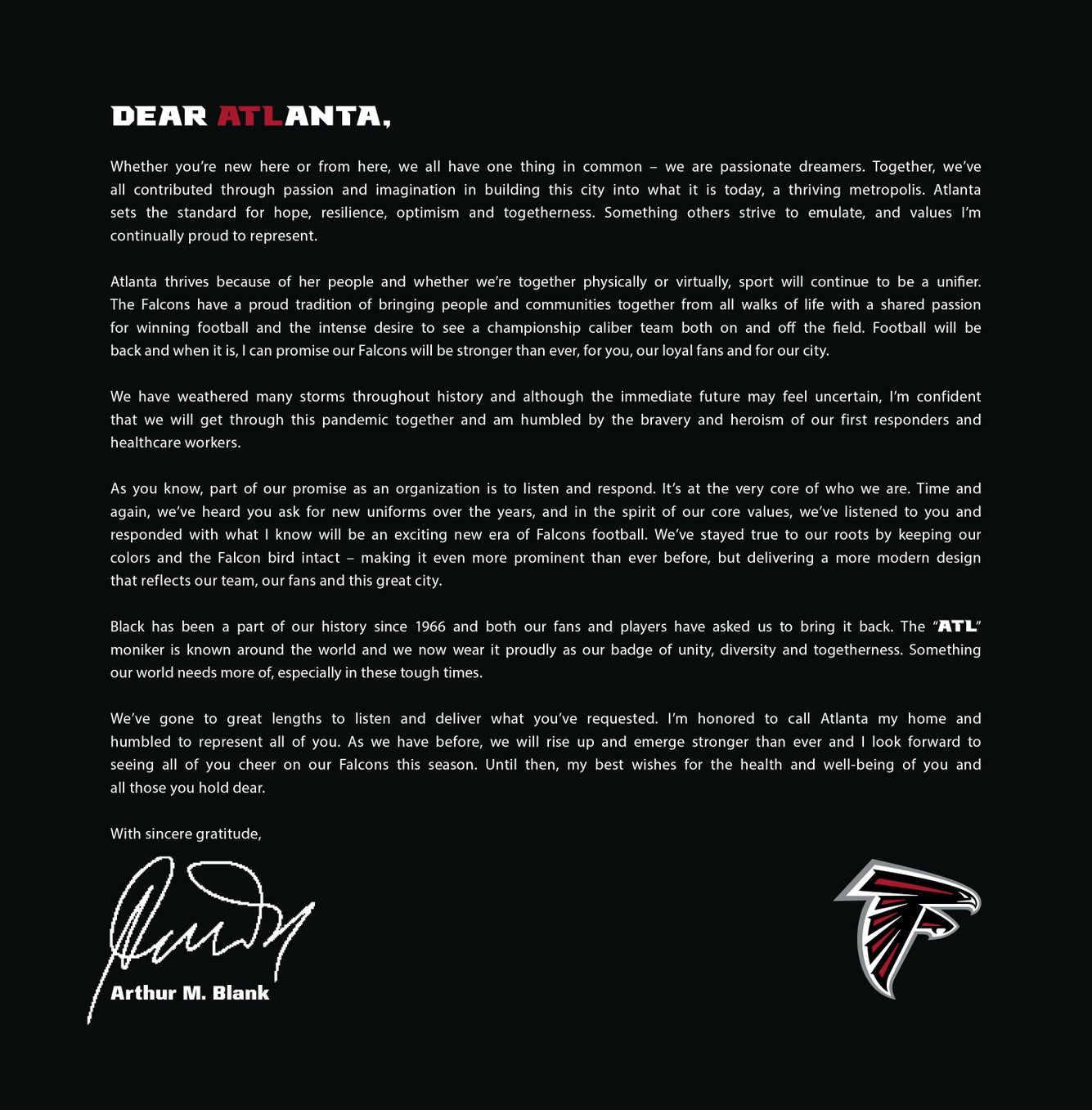 The team's uniform change announcement reads in part:
Atlanta is known as much for diversity and culture as it is for innovation and creativity. From music and design to business and technology, the city of Atlanta influences everything. The Falcons have a proud tradition of bringing people together from all walks of life, so the new ATL mark is placed proudly and prominently across the chest of the new uniforms as a reflection of a city constantly on the rise. A three-letter combination recognized around the world; it is only fitting the Falcons represent the ATL on a global stage. 
Aside from the change to all black as primary home unis, the standout feature is the ATL is featured heavily across the chest of the new jerseys, but there's also a more modern look to the numbers, which incorporate a bit of a falcon look to them. Also, the "Rise Up" alternate jersey features an uncommon gradient look that goes from black to red.
The helmet logos are now 30% larger than on the previous uniforms, and silver and grey are featured more prominently around the logo and on the facemask.
The Falcons also still have their black throwback uniforms, a definite fan-favorite that arguably has the cleanest appearance of the bunch.
Atlanta is the second franchise to unveil its new uniforms this offseason following yesterday's reveal by the NFC South rival Buccaneers.