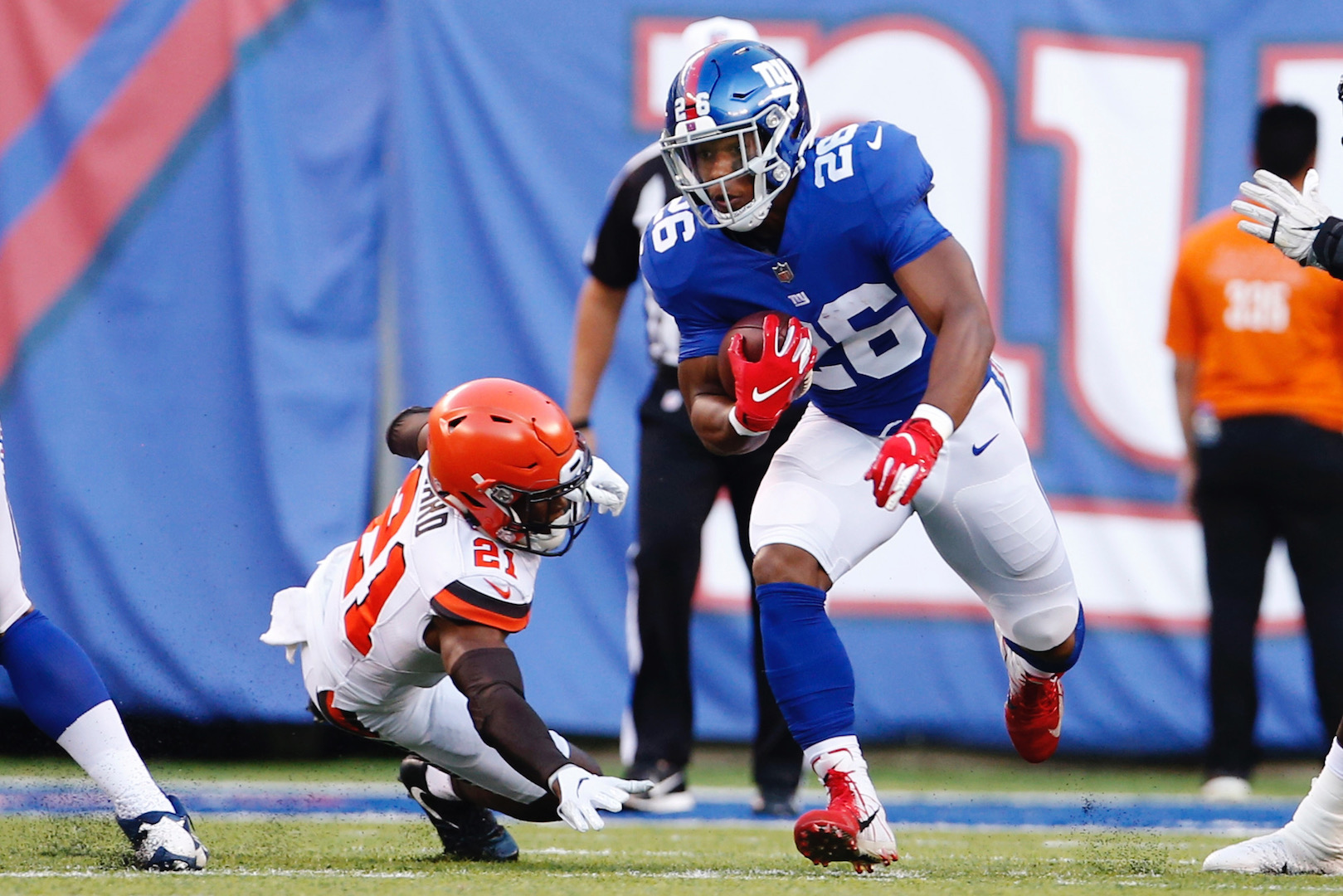 24 Crucial Tips To Dominate Your Fantasy League
We were the No. 4 fantasy football draft rankers (and No. 1 for running backs, arguably the most important position in fantasy, and our favorite!) in 2018, according to FantasyPros. We believe these 24 tips will really help you in your leagues this season and beyond. If you like these in-depth tips, we hope you'll consider signing up for Fantasy Consigliere, which includes our draft rankings, top 200 cheat sheets, simple-and-user-friendly analytics, projections, a 30,000-word draft guide, and more. Also, when you exit this article, hitting the "Like" button on our Facebook page (you can also follow us on Twitter @whitewolf) would be much appreciated. Enjoy!
1. Set your board and stick to it
There are a few tips that stand out above the rest, and this is one of them. Most people simply draft based on the standard rankings from ESPN, NFL, CBS, or some other outlet, but it's not really your board. And quite frankly, those outlets don't really know what they are talking about for the most part. Instead, you should either a) make your own rankings if you are confident enough in your evaluation skills or b) find rankings you really trust and use them. Our rankings in particular are much more accurate and less volatile than the out-of-date companies.
2. Don't go into the draft thinking you know what to expect
This is an easy trap to fall into; for example, you spend all summer thinking you will get three particular players with your first three picks, and then they all go right before you're up. That's why setting the draft board beforehand is so important, as you won't be caught off-guard when it's time to pick. This goes for later in the draft, too, as a late-round value won't be squandered if you pick him when he's the BPA (best player available) on your board instead of waiting because you think you can get him later. It's impossible to tell if other owners are thinking the same thing about the same player.
3. And don't pigeonhole yourself into a particular position
It's alarming to hear how many fantasy owners talk about how they want to go RB-WR-RB or some other combination to start their team—and it's even more alarming to hear such a strategy being recommended by "experts" every year. What if you have the No. 9 pick and eight running backs go before you? Are you going to settle for the RB9 over the WR1? This goes along with setting your board, as if you have Joe Mixon as your RB9 but 17thoverall player, and Julio Jones as your WR1 and 9thoverall player, it's pretty clear you should take Julio and ditch the preconceived positional strategy.
4. Prepare, prepare, prepare
This is for both the draft and throughout the season. Your draft board should be the culmination of all the work you put in throughout the summer, or again, based off the rankings of someone you trust (hopefully us after we become your Fantasy Consigliere). But the work is just beginning after that, as you need to play the right lineup week after week, and doing the research will increase your chances of success. Fortunately, we are here to do it for you with our easy-to-use analytics, accurate projections, weekly fantasy rankings, daily fantasy strategy, and more.
5. Avoid groupthink
In other words, don't follow the advice of bigger sports media companies, which often end up following each other more than they actually put in the work themselves. The most recent example Bills quarterback Josh Allen, who almost was unanimously called a "low-probability prospect" that needed years of development to even have a shot of being a quality NFL player. The doubters ignorantly based everything around his college completion percentage (seriously), but Allen turned into a one-man wrecking crew and fantasy superstar down the stretch of his rookie campaign. Unfortunately, when the high-profile analysts miss on someone, all it takes is a deleted tweet and it's like it never happened.
6. Go with talent above all else
This is another one of the key tips on our list. Picking a player with less talent and more opportunity will rarely yield better results than picking a player with more talent and less opportunity. It's the NFL, and teams—for the most part—will end up getting their best players on the field. An example from last season was Nick Chubb. The rookie runner barely saw the field early in the year, but we evaluate the talent and go from there, so holding onto (or picking up) Chubb was perhaps our most crucial piece of advice in 2018. He ended up taking over as the starter and turning into an elite RB1 following the Carlos Hyde trade, which made fantasy owners very happy. No one in the industry had Chubb (81stoverall) higher in last year's draft rankings than us.
7. Pay attention to the schedule/matchups
Of course, you should gather all the information you possibly can in order to make the best decisions for your fantasy team, but some people don't believe that should include the schedule because what appears to be a good or bad matchup is based off last season and will change—or so they say. Yes, things will change some, but that's why you need to pay just as much attention to the defensive side of the ball as you do skill-position players (and the offensive line, for that matter). We have an in-depth knowledge of every unit and particular player throughout the league, and that's factored into all our rankings and advice.
8. Completely ignore bye weeks during the draft
There are a couple different ways other fantasy analysts say you should approach the bye weeks: either by stocking up on players with the same bye week to get them done with at once, or by spreading them out to give you a good chance to win every week. Based on Tip #1, neither is the way to go, as making a decision against your board for the sake of a bye week could very well be the difference between a fantasy championship and finishing in last place. Just imagine someone having Patrick Mahomes higher on their board than Dak Prescott last summer, but passing on the eventual 50-touchdown star because Prescott's bye was different than a starter they drafted earlier.
9. Know your league rules
An obvious tip, but worth mentioning nonetheless. The last thing you want is some obscure rule derailing or ending your season. For example, a playoff tiebreaker in some leagues might be bench points (although we recommend higher seed so there's some sort of "home-field advantage"), and you don't want to lose in the title game because you kept a handcuff on the bench instead of picking someone up. Also, know the number of IR (injured-reserve) spots that are available in your league, if any—and use them.
10. Be aware of the roster for those drafting near you
Hopefully you've brought into the idea of setting your board and sticking to it, but it's OK to slightly go off path if you know that you can pass on a player and have him still be available for your next pick. This is probably only possible at the tail end of a snake draft, though; for example, you might have the No. 49 and No. 52 pick with Aaron Rodgers as your top player and Julian Edelman as your second-best player, while the owner with the No. 50 and No. 51 pick already has a quarterback but no wide receivers. That means you should be able to pass on Rodgers and take Edelman to basically be assured of getting both players. However, it's important to know the style of owner between your picks, as if he's shown a history of taking two quarterbacks early or would be willing to trade down with someone else, you might miss out on Rodgers.
11. Target handcuffs based on ability, not your own roster
Again, this will be easy if you just stick to whatever rankings you choose to use, but a lot of figures in the fantasy community believe handcuffing should be done first and foremost for your own players. The thought is that by drafting Rashaad Penny to pair with Chris Carson for example, you would get insurance for Carson in the case of an injury. That might be the "safe" thing to do, but it in no way maximizes the quality of your roster. Fantasy owners are better off targeting the best handcuff (regardless of team), which would have led to Nick Chubb or Matt Breida based on our rankings last summer.
12. Don't get caught up in drafting/starting "your" guys
New fantasy owners or people that aren't huge football fans probably don't need to worry about this, but it can be difficult to not feel some sort of loyalty to your favorite player, guys from your favorite team, or someone that played a big role in a past season. That goes for both the draft and during the season, but keep in mind: these guys have absolutely no idea about the existence of your particular fantasy team. Of course, you might always target a particular player because you happen to like him and believe he's undervalued every year, but overall, you shouldn't overdraft for sentimental reasons.
13. Don't be afraid to look ahead to the fantasy playoffs
This is advanced-level stuff and could turn into playing with fire, but if you are confident you will make the fantasy playoffs, it's not a bad idea to go after players (via trades or the waiver wire) with easy schedules over the final month of the season. Typically, you want to stick with the players that have gotten you through the season, but some minor moves could pay dividends. Also, streamers should think about getting a jumpstart on a fantasy quarterback or D/ST with a cupcake schedule for Week 14 and beyond.
14. Gather all the information possible for lineup decisions
Making the wrong start/sit decision just once could ruin your entire season, so every single move you make should be done meticulously by taking everything into account. That includes home/road splits, the injury report, previous matchups, recent play, weather, game time, coaching decisions, and much more. We gather every bit of information possible and factor it all into our rankings so you don't have to.
15. Do what YOU think you should do
We will be there to help every step of the way if you need it, but your fantasy team is YOUR fantasy team, so if you feel like you should play someone against the advice of us or something else, go for it. More so than other fantasy outlets, we feel personally invested in your success, but the actual consequences we face for the wrong decision is basically nonexistent compared to yours.
16. Be aggressive on the waiver wire
Too many league owners waste the opportunity to improve their roster with the waiver wire. For example, last year if you were aggressive and picked up Josh Allen when he returned from injury, you had a league-winning QB1 on your hands. Other notable names from 2018 include Damien Williams and obviously James Conner before the season even started, and every year will have difference-makers scooped up as free agents. Just make sure you prioritize the waiver claims in the correct order to potentially get multiple players.
17. Know when to get rid of a mistake
And perhaps more importantly, know when to NOT get rid of aperceivedmistake. Last year, it became pretty clear that Chris Hogan was falling off the radar following the Patriots' trade for Josh Gordon, but on the other hand, Derrick Henry was a monster talent that simply wasn't getting an opportunity for Tennessee. Hogan never turned into a fantasy difference-maker last year, but Henry eventually closed things out with one of the best months in fantasy history because the Titans suddenly realized he should be their offensive centerpiece. Again, ability supersedes all, so you need to figure out who will and won't be able to turn things around, which we will help with.
18. Listen to and offer fair trades
Some fantasy owners are just way too stubborn in trade negotiations to the point that everyone else in the league knows that trading with them is an impossibility. For example, if you offer Doug Martin for JuJu Smith-Schuster or something ridiculous like that, you need to drastically change your ways. That doesn't mean giving the best offer immediately, but you won't build any trust with fellow owners if you insult them with a terrible low-ball offer. A baseline question to ask yourself should be: "Is this even in the ball park of something I would think about?" If it's not, don't offer it to someone else. And even if you're someone that simply has no interest in trading, a simple "no" would suffice over not answering at all.
19. Be prepared to get creative in trades
For those who do participate in trade negotiations, get creative. There are plenty of different approaches you can take if talks are going nowhere, whether it's a three-team trade (which could be a win for everyone involved), a workaround trade (where you make an offer for someone else before circling around to your real target), a multi-player trade (perhaps you want to trade a stud you see declining for three or four options to round out your bench), or something else.
20. Consider trades during the draft
This is probably the most underutilized move in redraft formats every year, but a trade during the draft can really maximize the value you're seeking when constructing a championship roster. For example, if you have the No. 9 pick, but don't feel you're getting great value with the top guys on your board, then see what someone would want to move down. On the other hand, maybe there are six or seven elite players you really want to move up for; if so, it might be worth at least seeing what it will take to trade up rather than sitting back and letting elite players fly off the board. Swapping entire draft slots in the weeks leading up to draft day is a realistic option, too.
21. Value guys based on what they WILL do
The fatal flaw of fantasy owners might be valuing players based on what they have done instead of what they will do. For example, heading into the fantasy playoffs last season, Tevin Coleman was in a bit of a cold stretch because the Falcons weren't featuring him. That understandably led to many fantasy owners benching him, but he happened to be in a perfect spot to break out of the slump in Week 15 against the league-worst run defense of the Cardinals. Those who didn't worry about the recent struggles were rewarded with 11 carries for 145 yards and a touchdown, and those who sat Coleman out of spite might have seen their season end because they were caught up on the past.
22. Draft defense and kicker in the final two rounds
It's simply insane for fantasy owners to draft a defense and/or kicker early, but that's what happens every year. In 2018, those who drafted either position before the 15thor 16thround probably passed on Patrick Mahomes, Nick Chubb, and Tyler Lockett, among others. You are much better off streaming defenses (so in the draft, look for a unit with a great Week 1 matchup) and picking an undervalued kicker on an emerging offense.
23. Play to win
Yes, you should have fun playing fantasy football, but there isn't anything more fun than winning. Anyone who wants to earn the money, trophy, belt, pride, etc. from besting their fellow owners needs to put in the time to research and prepare as much as they can, which again, we are here to help with. Your first goal should be to get into the playoffs, as you obviously don't have a chance to win it all if you're playing in consolation games come Week 14.
24. But play with honor
This is the easiest rule to follow, but not everyone follows it. Just be sure to set your lineup every week (even when you're eliminated from playoff contention), don't take under-the-table money/incentives for trades, don't purposely throw a game, etc. Basically, just use common sense and don't play without honor, whether it's weekly matchups or voting on the league rules in the offseason. The quickest way to stop having fun is to have a person or two ruin the integrity of the league.