In the dark of night, fantasy football championship matchups were changed on a dime days after many semifinal scores looked to be set. Stat corrections typically take until Thursday, and Week 15 had a big one, with Cowboys running back Ezekiel Elliott's fumble against the Colts being changed to a non-fumble. Elliott was probably on a good number of fantasy playoff teams, so there's a chance your matchup was impacted by this stat correction if the score was within two points.
So, as many angry people that had their fantasy final appearances impact by this change, what exactly happened?
On a fourth-and-one at the Colts' three-yard line with 14:15 remaining in the second quarter, Elliott fumbled when Colts cornerback Pierre Desir punched the ball out, and Colts defensive end Jabaal Sheard recovered the ball.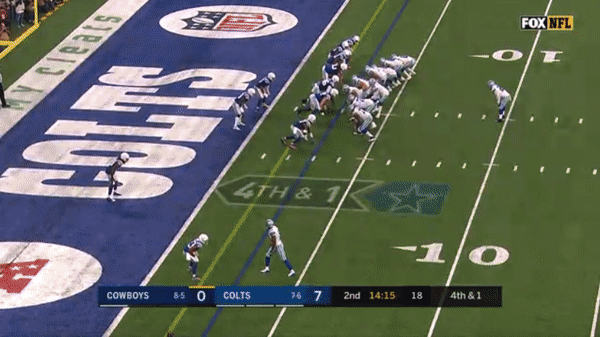 However, because Elliott was stuffed by the Colts on what was going to be a turnover on downs anyway, the officials didn't appear to actually rule it a fumble and recovery by Indianapolis. If they are to be believed, a Reddit user claims they were responsible for the NFL making the stat change for the Elliott fumble.
Basically, the Reddit user used formalities in his argument, including the fact that a replay review was not initiated. But he fails to acknowledge whether or not it was fumble recovered by the Colts had no effect on the game—either way, it was Indianapolis' ball at the same spot.
Also, there's talk of the fumble recovery by Sheard not being clear. Unfortunately, the FOX broadcast did not show a 100% full recovery, but it certainly looks like Sheard recovered it—and there are probably camera angles out there (which we will probably never see) that show it. And the officials did not appear to signal a fumble recovered by the Colts, but the Cowboys didn't reach the line-to-gain, so that was essentially irrelevant (as is the case with whether or not Indy recovered it).
On NFL Game Pass, even this morning after all fantasy platforms have changed the scoring, it still says that the play was an Elliott fumble recovered by Sheard.

Looking at this situation impartially as someone that did not have a matchup determined by the scoring change, those that were burned by this scoring change have serious beef.
There was a situation a few years ago when then-Jaguars running back Denard Robinson gained 13 more rushing yards (bringing his total from 28 yards to 41 yards) after he was initially and inaccurately given negative yardage for a fumble that was kicked around backwards. The stat correction happened on Christmas morning no less, so it was either a Christmas miracle or a Christmas nightmare for many fantasy owners.
However, the Robinson situation was a stat correction that had to happen. If the ball was kicked back another 30 yards, would Robinson have had -2 rushing yards for the game? The initial stats just didn't make sense, so they were rightly corrected.
This Ezekiel Elliott scoring change is another story. Elliott clearly fumbled the ball, and it had been classified as recovered by the Colts for days (which it looks like it was, and unseen camera angles probably show that), only to be changed on shaky grounds at best.
Unfortunately, there isn't much to do about this. Some fantasy commissioners might decide to take things into their own hands and still take away two points from Elliott for what most rational people would have determined to be a lost fumble. But there are plenty of bad calls and bad decisions in NFL games, and that would be a slippery slope.
It's difficult to blame people for being very, very unhappy about this, but hopefully their luck will turn in future years.
At least it's not Christmas morning.