We have seen this article take many different forms (Love/Hate, Like/Dislike, Start/Sit, etc.), but I have decided to go with "Thumbs Up, Thumbs Down." Yes, I chose that name partly because I don't think anyone else uses it, but also so that I can use this gif: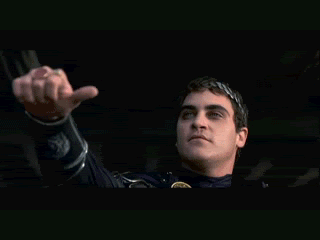 Alright, it's pretty self explanatory: if I like a player more than most, he gets a "Thumbs Up," and if I don't like a player as much as everyone else, he gets a "Thumbs Down." If you want to know exactly how I view a player for the 2017 season, you can check out our draft full rankings, and we will of course drop weekly rankings before each slate of games (starting every Tuesday after this week).
Hopefully I earned the trust of many of you from the 2016 season. And if you're a new reader, I hope my advice is good enough that I can basically become your fantasy consigliere. Remember, though, it's your team. As Will Ferrell said in Kicking & Screaming, "This is all about you. I mean, I'm not gonna be the one staying up late, you know, punching a hole through the window. Or crying myself to sleep. Or wetting my bed. Okay? That's not gonna be me, 'cause I'm fine … I'm gonna be just great!"
So who cares if I really don't like a player you were planning on taking? It's your call—but I will do my best to help you make the right one each and every week. Let's get to it.
QUARTERBACK
Thumbs Up: Marcus Mariota, Titans
A popular breakout pick in 2016, Mariota got off to a slow start and was on the waiver wire in many leagues by Week 6, as he had a 4:5 touchdown-interception ratio at that point. After that, though, he proved he's an elite quarterback with a 22:4 touchdown-interception ratio for the rest of the season, and he averaged 23.3 fantasy points per game from Week 5 through Week 13 (last year's leading-scorer Aaron Rodgers averaged 22.8 fantasy points per game). Plus, Tennessee added Eric Decker and Corey Davis this offseason. Mariota's a high-upside QB1.
Thumbs Up: Philip Rivers, Chargers
Turnovers were a killer for Rivers' fantasy value last season, as his 21 interceptions were an NFL- and career-high. He was basically a one-man show, though, and that won't be the case this year with Keenan Allen healthy, the offensive line improved, and an emerging defense on the other side of the ball. Rivers has thrown for over 4,200 yards and at least 27 touchdowns in seven of the past eight years. He has a tough draw for Week 1 (in Denver), but Rivers is a top-ten quarterback for me.
Thumbs Up: Carson Palmer, Cardinals
Just a year removed from a season where he was a legitimate MVP-candidate, Carson Palmer is going as the QB19, which is exactly where he finished in a forgettable 2016 campaign. The 37-year-old has looked great throwing the ball throughout the offseason and preseason, and I expect the Cardinals to be closer to the 15-1 team from 2015 than last year's 6-10 finish. Palmer has about as easy of an early-season schedule as you could imagine, and he should be a lock to provide QB1 value through the first week of November.
Thumbs Up: Sam Bradford, Vikings
Do people realize Bradford was traded a week before the season and still threw for 3,877 yards, 20 touchdowns, and just five interceptions in his first year as a Viking? And that he also broke the single-season record for completion percentage, despite his offensive coordinator changing in Week 8? Playing quarterback is hard, and Bradford—with barely any time to meet his receivers, let alone form on-field chemistry with them—made it look easy behind the worst offensive line in recent memory. He will be much more comfortable in year two with Minnesota, and his schedule looks like a cakewalk from beginning to end.
Thumbs Down: Ben Roethlisberger, Steelers
Quarterback is as deep as I can remember, and Big Ben just isn't reliable enough to spend a mid-round pick on. Roethlisberger has a lengthy injury history, hasn't thrown for 4,000 yards in either of the past two seasons, and his recent play on the road makes him not even worth starting half the time. The two-time Super Bowl champion has thrown for 30+ touchdowns just twice in his career (Philip Rivers, with two fewer seasons as a starter, has done it five times).
Thumbs Down: Kirk Cousins, Redskins
You shouldn't put too much stock into the preseason, but it would be ignorant to not take Washington's offensive struggles last month into account after the offseason they had, including the publicized contract dispute that still isn't resolved between Cousins and the team. Plus, the Redskins fired general manager Scot McCloughan in a messy divorce, and Cousins will be without Pierre Garcon and DeSean Jackson. The chemistry between replacements Terrelle Pryor and Josh Doctson isn't just going to suddenly be there after a worrisome trial period. This could be a fall-apart season for the Redskins.
Thumbs Down: Dak Prescott, Cowboys
Currently going a pick next to Roethlisberger in fantasy drafts, Prescott is unlikely to repeat his QB6 finish from 2016. Dak has looked great this preseason, but defensive coordinators aren't installing actual gameplans like they would in the regular season. I'm not saying that Prescott was a one-year wonder—I think he will be a very good quarterback for a very long time—but teams had a year to find flaws in his game, and he might struggle with a tougher schedule, particularly early in the season.
Thumbs Down: Matthew Stafford, Lions
The Lions, and in turn Stafford, became more conservative offensively in the first season without Calvin Johnson. The new highest-paid player in NFL history started off hot in 2016, but once they started using the short-passing game more, the big-time numbers were sacrificed for efficiency—and that was without a good running game, which they should have with Ameer Adbullah healthy in 2017. Also, Stafford has a tough schedule to start the season, so he's probably not even worth a roster spot early on. I have him as a fringe top-20 quarterback.
RUNNING BACK
Thumbs Up: Ty Montgomery, Packers
Montgomery has slowly climbed industry rankings as we get closer to the regular season, but it's still not close to high enough. I have the converted receiver as the RB6 in my rankings, and he's the 13th overall player on my board (so an early second-round pick). Montgomery showed natural ability as a running back in 2016, and now he has a full offseason under his belt in which he refined intricacies of the position. In an Aaron Rodgers-led offense, the sky is the limit for the 24-year-old. Don't be fooled by him wearing #88; Montgomery is a fantasy superstar in-the-making, and you shouldn't be hesitant to take him as a second- or third-round pick.
Thumbs Up: Christian McCaffrey, Panthers
Who doesn't love Christian McCaffrey? I guess people who think he doesn't have the "size" to hold up in the NFL, but I highly doubt they watched him in college if they think that. At 5'11", 205 pounds, McCaffrey profiles similarly to Hall of Famers Curtis Martin (5'11", 210) and LaDainian Tomlinson (5'10", 215). I'm not worried about Jonathan Stewart's presence in Carolina, as there will be enough work for them both. I thought McCaffrey was a better prospect than not only Leonard Fournette and Joe Mixon this year, but also Ezekiel Elliott the year before.
Thumbs Up: Joe Mixon, Bengals
The Bengals didn't take Mixon to have him watch from the sidelines, so even if Jeremy Hill is the starter, the rookie will be the featured back soon enough. Head coach Marvin Lewis needs to win this year, and Mixon gives him the best chance. Did you see the move he put on Josh Norman in the team's third preseason game? Mixon could push for 20-25 touches a game as the season progresses, and he should be drafted as an RB2 with sky-high upside.
Thumbs Up: Kareem Hunt, Chiefs
The third-straight rookie running back, Kareem Hunt was going to be a "Thumbs Up" for me before Spencer Ware's injury, and that's even more true now. Andy Reid's offense revolves around the running back, so Hunt is going to be the clear featured player to start his NFL career. He's used to large workloads after handling 300 touches as a senior at Toledo, and that included 41 receptions, which is key for Kansas City. Hunt has RB1 potential and is a great pick in the third round.
Thumbs Up: Ameer Abdullah, Lions
Abdullah's 2016 season was ended in Week 2 due to a foot injury, but he looked really good before going down, turning 23 touches in 158 yards. After dominating first-team work in the preseason, Abdullah looks ready to breakout for the Lions and fantasy owners. Entering his age-24 season, health is the only concern for the former second-round pick, and I wouldn't be concerned about Theo Riddick taking away work as a receiver because Abdullah can catch the ball well in his own right and is much more explosive. He's a high-upside RB2.
Thumbs Up: Adrian Peterson, Saints
If there are two entities in the NFL you shouldn't bet against, it's the New England Patriots and Adrian Peterson. Here are the numbers AD has put up when people doubted him coming off an injury in the past:
2012: 2,097 yards, 12 touchdowns
2015: 1,485 yards, 11 touchdowns
Sean Payton is a good enough coach and the Saints have high-powered enough offense to support both Peterson and Mark Ingram. I have the 32-year-old as a top-50 pick in standard leagues because I've learned not to bet against him.
Thumbs Up: Latavius Murray, Vikings
The player originally signed to replace Peterson for the Vikings was Latavius Murray, but Dalvin Cook being available in the second round changed things for the team. Still, Murray has proven to be one of the best goal-line and short-yardage backs in the league, and he has double-digit touchdown potential in an underrated offense (if the line holds up, that is). Latavius is barely being drafted in most leagues, but he's a mid-round pick for me, and I wouldn't be surprise if he led the backfield in fantasy points.
Thumbs Down: Ezekiel Elliott, Cowboys
This is a tricky one, and exactly why you should wait as long as possible to hold your fantasy drafts. Elliott could wind up being a tremendous value if he either wins his appeal or lets it settle in the courts for the whole year, but all things considered, I have a difficult time pulling the trigger on him. Before the suspension, Zeke wasn't a no-doubt top-five pick for me because of losses on the Dallas offensive line and a tougher schedule, and those concerns haven't gone away. Also, it would be awful if Elliott is on the field for Week 1, but misses time in the middle of the season; or worse, during the fantasy playoffs.
Thumbs Down: Devonta Freeman, Falcons
One of the top fantasy running backs over the past two seasons, Devonta Freeman is going in the first round of almost all fantasy drafts, but I have him as a third-round pick. The biggest reason is simply backfield mate Tevin Coleman (who could have been a "Thumbs Up," as I have him as a fourth-round pick). After losing nearly 17% of his touches from 2015 to 2016 to Coleman, Freeman might lose even more with new offensive coordinator Steve Sarkisian in Atlanta. If the Falcons are going to become more explosive with Kyle Shanahan gone, it will be by getting Coleman more touches after he averaged 6.31 yards per touch last season—more than David Johnson. Freeman also missed a crucial block in the Super Bowl, so Coleman might play more on passing downs.
Thumbs Down: Lamar Miller, Texans
I think a full-blown running-back-by-committee is ready to emerge in Houston, and that would obviously really hurt those who spend a third-round pick on Lamar Miller. In his first year with the team, Miller averaged just 4.0 yards per carry and failed to make a significant impact as a receiver, causing the team to spend a day-two selection on D'Onta Foreman out of Texas. Alfred Blue and Tyler Ervin will also likely be involved, making this a situation to avoid.
Thumbs Down: Eddie Lacy, Seahawks
Speaking of RBBCs and situations to avoid, the Seahawks have both. Eddie Lacy's signing was a curious move with Thomas Rawls in Seattle, and along with C.J. Prosise taking the passing-game work and undrafted rookie Chris Carson making the team, there are plenty of mouths to feed in the backfield. Seattle's weapons at receiver will also need the ball, so Lacy could be the fifth, sixth, or seventh option offensively. The combination of upside and downside in the ninth round isn't great.
Thumbs Down: Paul Perkins, Giants
New York has been trying to make Paul Perkins work as the starter, but I don't have confidence in that being a short- or long-term success. The team spent a fourth-round pick on Clemson's Wayne Gallman, and he really excels in getting to the second level of the defense, which should be easy against light boxes with Odell Beckham, Jr. and Brandon Marshall on the outside. Use a mid-round pick on someone else.
Thumbs Down: Bilal Powell and Matt Forte, Jets
Even after trading for Jermaine Kearse, the Jets have one of the worst skill-position groups in recent memory. Anything can happen, but this isn't a team that's projected to be competing in 2017, which gives their running backs considerable weekly and season-long downside, as they will be playing-from-behind a bunch, and it's tough to rely on garbage time. I could see rookie Elijah McGuire eventually getting more work than both Powell and Forte, as they are veterans who won't be a part of the franchise's future.
WIDE RECEIVER
Thumbs Up: Brandin Cooks, Patriots
What kind of impact do I believe Cooks will have for the Patriots? I think owner Robert Kraft had the right idea when he said in reference to Cooks, "Since I've owned the team, the only player that could make an impact like that at wide receiver was Randy Moss." Moss had 1,493 yards and an NFL-record 23 touchdowns in 2007 with New England, and I think we could have another record-breaking season in store for Tom Brady and the offense; Cooks will be a big part of that, and he's a borderline top-five option at his position.
Thumbs Up: Allen Robinson, Jaguars
Quarterback play remains a concern that could make Robinson a frustrating weekly play, but I think he'll get so many targets that it simply won't matter. When now-full-time head coach Doug Marrone took over for the final two games of the season for Jacksonville in 2016, he made it a point to get Robinson the ball by moving him around the formation and scheming more plays to him; he had 12 targets in each game, which would have put him on pace for a league-high 192 targets over a 16-game season. A year removed from an 80/1,400/14 line, Robinson is a top-20 overall player for me.
Thumbs Up: DeVante Parker, Dolphins
If there's anything that people who kept up on our fantasy news throughout the offseason should have picked up on, it's that DeVante Parker is going to have a huge year. From his wide receiver coach saying he's going to play in the "Monster Bowl" to Jay Cutler calling him "faster Alshon," the hype train for the emerging star is like nothing I have ever seen before. If he's healthy—and he's said to have focused more on taking care of his body—Parker is a lock for 80+ catches and 1,200+ yards. Somehow going in the ninth round of fantasy drafts, I have him as my 33rd overall player.
Thumbs Up: John Brown, Cardinals
Just as I said Carson Palmer has perhaps the easiest early-season schedule imaginable, the same is true for his wide receivers. John Brown has cupcake after cupcake through the first eight weeks of the season, and I truly think he will be a WR1 during that time. After that, things get a lot tougher for "Smokey" and the Cardinals, but you should just play Brown for as long as he's healthy.
Thumbs Up: Sammy Watkins, Bills
A trade from the Bills to the Rams really killed Watkins' value according to most "expert" rankings, but it was only a slight downgrade for me. Yes, Tyrod Taylor had arguably the best deep ball in the NFL, but I still think Jared Goff is going to be a stud, and for all the unfair criticism he's gotten, the former number-one overall pick showed good touch on his deep ball at Cal. Sean McVay will be the smartest offensive mind Watkins has ever had, and he will know how to use his elite talent. [Note: early Week 1 preview – Watkins might explode against the Colts without Vontae Davis]
Thumbs Up: Nelson Agholor, Eagles
They needed help at cornerback, but the other main reason the Eagles traded Jordan Matthews away is because Nelson Agholor has more upside in the slot. Agholor got inside his own head last year when it came to catching the football, but he had no problems gaining separation and running routes, including turning around All-Pro corner Richard Sherman. With Alshon Jeffery's injury history and Torrey Smith being the only other proven threat at receiver, Agholor could finally break out in his third year.
Thumbs Up: Chris Hogan, Patriots
No one really knows what the Patriots are going to do after Julian Edelman's season-ending knee injury, but Chris Hogan seeing an increase in playing time is expected to be a part of it. I feel like Danny Amendola is actually too valuable to give him extended playing time in the regular season (because let's face it, the Patriots are making the playoffs), and while Brandin Cooks, Malcolm Mitchell, and Phillip Dorsett can play the slot, they will most likely see the majority of their snaps outside. That leaves Hogan, who was a possession receiver with the Bills before leading the league in yards per catch in his first year with New England, to be the main slot receiver for Tom Brady.
Thumbs Down: Mike Evans, Buccaneers
Jameis Winston loves throwing to Mike Evans, but I don't see how the big-bodied wideout will lead the league in targets again after the team added DeSean Jackson, O.J. Howard, and Chris Godwin to the offense. The running game for the Bucs is also going to be better with Doug Martin re-committing himself after getting suspended at the end of last year, and it should lead to a big decrease in work for the talented receiver. Evans is going as a first-round pick in almost all fantasy leagues, but I see him more as a second- or third-rounder.
Thumbs Down: Doug Baldwin, Seahawks
Even after Seattle traded Jermaine Kearse, Baldwin will also have a lot of competition for targets, as the offense has Tyler Lockett, Paul Richardson, and a 20-pound-lighter Jimmy Graham, not to mention four different running backs who will likely see the field. Ranked as a second-round pick by most people, I think Baldwin is a mere solid mid-round option.
Thumbs Down: Terrelle Pryor, Redskins
You can read all about why I am low on Pryor in my undervalued/overvalued series article, but to summarize: he has weak chemistry with Kirk Cousins, is still learning the wide receiver position, and had to settle for a one-year, $6-million deal after the Browns decided to sign soon-to-be 29-year-old Kenny Britt to a multi-year contract over him. Sometimes it's better to defer to NFL talent evaluators, and all of them decided against giving Pryor a long-term deal. I think Josh Doctson is the better real-life player if he stays healthy.
Thumbs Down: Michael Crabtree, Raiders
Michael Crabtree has enjoyed a career resurgence in Oakland, but I think this will be Amari Cooper's breakout season, which would obviously take some numbers away from Crabtree. Also, he relies on smoothness and intelligence more than athleticism, but turning 30 in ten days, there is definitely some concern Crabtree could break down this year with his history of leg injuries, including a torn Achilles in 2013. He's an unspectacular mid-round pick for me in standard leagues.
Thumbs Down: Jarvis Landry, Dolphins
I said a few weeks ago that Landry might basically be run over by the DeVante Parker hype train, and with Jay Cutler at the controls of the offense, I think that's what's going to happen. Landry was already hurt by Adam Gase's arrival in Miami, as he lost about 15% of his catches from 2015 to 2016, and with Parker doing all the right things in the offseason, he should be featured at the slot receiver's expense. Does anyone actually believe Jay Cutler won't throw to Parker any chance he gets?
Thumbs Down: T.Y. Hilton and Donte Moncrief, Colts
This is all about the health of Andrew Luck, as almost anyone would be a downgrade from the top-five quarterback. The lack of clarity about Luck's health is what makes Hilton and Moncrief tough sells, as you're likely going to draft them as if Luck will miss just a week or two, but it could be four or five weeks as far as we know. Even when Luck is back, he will need to knock off some rust, and until then, I don't think you can even start either receiver with confidence. Hilton is barely a top-40 overall player for me, and Moncrief is borderline top 100.
TIGHT END
Thumbs Up: Rob Gronkowski, Patriots
This is obvious, but I have Gronk a lot higher than anyone else in the industry. With an ADP of 20th overall and a high-ranking (besides me) of 15th, the Patriots tight end is a first-round pick in my book. He's just so much better than the others at his position, and last year would have been Gronkowski's best season ever with 15.75 fantasy points per game in his four healthy appearances with Tom Brady. And he also had an out-of-this-world 21.6 yards per catch. After taking some pages out of Tom Brady's book when it comes to taking care of his body, this could be a more durable—and somehow more explosive—Gronk in 2017.
Thumbs Up: Hunter Henry, Chargers
While the aforementioned Rob Gronkowski is a near-lock to lead tight ends in touchdowns when he's healthy, Hunter Henry was able to do so as a rookie in 2016, tying Cameron Brate with eight scores. One of my favorite breakout picks at any position, Henry was able to lead his position in scores while the team was trying to get Antonio Gates the career touchdown record for tight ends, which shows how big of a threat he is in scoring territory. Henry is a borderline top-five option for me.
Thumbs Up: Zach Ertz, Eagles
It feels like Ertz always plays well at the end of the year and is everyone's breakout candidate only to not live up to expectations, but he's still just 26-year-old and is entering the second year with Carson Wentz under Doug Pederson. With Jordan Matthews gone, Ertz will probably be Wentz's most-trusted target, and he could push for 1,000 yards for the first time in his career. Unfortunately, with just 13 touchdowns in four years, he isn't expected to make big strides there after Alshon Jeffery joined the team.
Thumbs Up: Julius Thomas, Dolphins
Back when Julius Thomas was a fantasy star in 2013 with 788 yards and 12 touchdowns, Adam Gase was his offensive coordinator in Denver, and Gase also coached him to another 12-touchdown campaign in 2014. Thomas was a disappointment after signing as a free agent with the Jaguars, but if anyone knows how to utilize him, it's Gase—and the two are now reunited in Miami. If the DeVante Parker hype train has any mercy, perhaps it will leave some scores for Thomas.
Thumbs Down: Tyler Eifert, Bengals
Eifert is entering his fifth year in the league, but the former first-round pick has just one productive season, which came in 2015 when he had 52 catches for 615 yards and 13 touchdowns. Besides that, he's averaged 23.7 catches, 292 yards, and 2.3 touchdowns per season. Still, he's somehow going in the seventh round of fantasy drafts, ahead of guys like Marcus Mariota, DeVante Parker, and Adrian Peterson.
Thumbs Down: Martellus Bennett, Packers
Martellus Bennett is also going well ahead of better options at both tight end and other positions. The Packers' new tight end is probably the fifth option on the offense behind Jordy Nelson, Davante Adams, Randall Cobb, and Ty Montgomery, and the team also brought in Lance Kedricks at tight end. Marty B is going to be behind at least Nelson and probably Adams and Montgomery for touchdown potential near the goal line, too. He's going ahead of DeVante Parker, Pierre Garcon, Derrick Henry, and Corey Coleman, all of whom carry immense upside, especially compared to Bennett.
Thumbs Down: O.J. Howard, Buccaneers
People might be eager to draft Howard after he was a first-round pick in the 2017 NFL Draft, but rookie tight ends rarely contribute statistically, and Howard will probably be used more as a blocker than fellow tight end Cameron Brate. His dynasty outlook remains high, but I'm not liking Howard's TE1 chances on a loaded offense.
Thumbs Down: Delanie Walker, Titans
Competition for targets has been a common theme for wide receivers and tight ends I'm low on, and that is the case with Delanie Walker. Tennessee not only added Eric Decker and drafted Corey Davis this offseason, but they also spent a third-round pick on tight end Jonnu Smith. In an "exotic smashmouth" offense with a lot of mouths to feed, Walker will have a difficult time living up to his eight-round ADP.