As NFL training camps begin and August nears, fantasy football season will soon be in full swing. This year's Fantasy Consigliere draft guide is bigger and better than the 2019 version (despite releasing nearly a month earlier), and the purpose of this article is to explain why the guide is a great resource to help dominate your fantasy league. For everyone that is already a part of the Fantasy Consigliere family, you can access the 2020 draft guide here.
Why You Should Get The Draft Guide
Wolf Sports is the most accurate and consistent fantasy football site in the industry. Over the past three FantasyPros accuracy competitions, we rank—by far—No. 1 overall in combined accuracy, and Wolf Sports has the only rankings to finish in the top 20 for 2018 Draft accuracy (#4 out of 154 "experts"), 2019 in-season accuracy (#17/129), and 2019 Draft accuracy (#12/162).
Using our rankings last season would have given you hits like Derrick Henry (No. 13 overall player) and Chris Godwin (No. 22 overall player); Wolf Sports was not only highest in the industry on them, but it wasn't even close.
Here is what we said about Henry in last year's draft guide:
Fantasy owners who stuck with Derrick Henry all season were likely rewarded with a fantasy championship if they played him in the playoffs, as in five December games, the monster runner was on pace for insane season-long stats of 310 carries for 2,000 yards and 26 touchdowns. That might seem completely unrealistic, but the numbers came on just 19.4 carries per game, and the Titans seem to know who their offense should run through in 2019. Tennessee feels they upgraded at both guard spots to bolster their already solid offensive line, so Henry—who finished as a top-15 option despite splitting carries for most of the 2018 season—has scary potential in a contract year.
Our projections (1,401 rushing yards and 13 rushing touchdowns) were seen as outlandish compared to the rest of the industry, but it turned out they were actually too low, as Henry rushed for 1,540 yards and 16 scores.
This year, we have even more rankings/projections that are outliers compared to the groupthink mindsets, and the draft guide will give you access to them.
2020 Player Outlooks & Projections Preview
We have hundreds of player outlooks and projections in the draft guide, and below are previews at quarterback, running back, and wide receiver.
Quarterback – Jimmy Garoppolo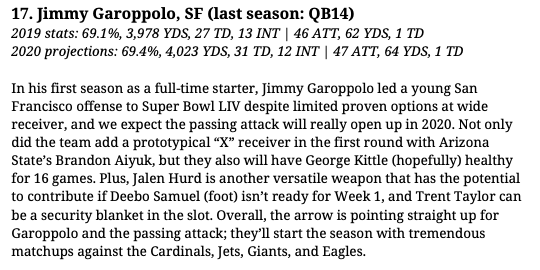 Running back – Saquon Barkley
Wide receiver – Davante Adams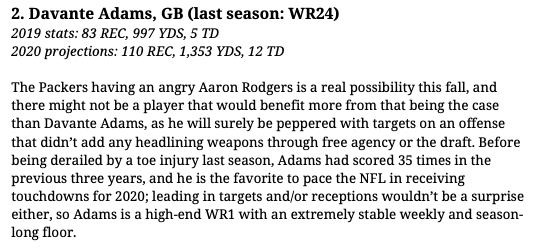 Overall Rankings
The draft guide will give fantasy owners access to our complete overall rankings for both 0.5 PPR/Standard leagues and Full PPR leagues, which will be continually updated through Fantasy Consigliere.
Bold Predictions And Stats To Know
After the outlooks, projections, and rankings, the draft guide ends with a couple of sections that can help provide even more insight ahead of drafts. Below are a couple of examples.
Bold Prediction 

Interesting Stat To Know For Each Team

For those that want to get the draft guide and everything else that comes with Fantasy Consigliere, use promo code JOINTHEPACK to join today. If you have any questions about joining, feel free to email us at contact@wolfsports.com.