The entire series of HBO's epic drama series Game of Thrones is officially releasing in the 4K Ultra HD format. We are awaiting comment from HBO/Warner Bros., but the 4K box set is set to release this November in time for the holiday season. [UPDATE: We have received details on the box set, and this article has been updated with more information.]
The official release date is November 3 ("Just in Time for the 2020 Holiday Season").
The #1 selling home entertainment television series of all time, and most-watched series in HBO history, Game of Thrones remains a blockbuster hit and cultural sensation. Now, for the first time ever, the entire series can be owned in spectacular 4K Ultra HD when Warner Bros. Home Entertainment releases Game of Thrones®: The Complete Collectionon 4K Ultra HD Blu-rayTM on November 3, 2020. Featuring all 73 episodes along with over 15 hours of bonus content, plus Digital Copy (US only), this must-have set is priced to own at $254.99 SRP ($289.99 in Canada). Game of Thrones Seasons 1-8 are also available to own on Digital in HD via purchase from digital retailers.

Game of Thrones: The Complete Collection on 4K Ultra HD will also be available in an exclusive limited-edition version at Best Buy for $285.43 SRP ($320.43 in Canada). Containing the same episode and bonus content, all eight epic seasons will be featured in individual steelbooks and housed in a striking individually numbered metal case.
Months after the series concluded last year, both a standard Blu-Ray and an exceptional The Complete Collection limited edition box set were released ahead Christmas, and HBO had said they had no plans to release the series in 4K—but that has obviously changed. Season 1 and Season 8 were already available in 4K, but this is the first time the entire series—and Seasons 2-7—are available in Ultra HD.
Game of Thrones: The Complete Collection in 4K will featured Dolby Vision HDR and Dolby Atmos surround sound. Also, The Complete Collection in 4K will include the 15 hours of bonus footage, including the Game of Thrones: Reunion Special, that were included in the 2019 box sets.
More details from the original product listings:
THE WORLDWIDE PHENOMENON NOW IN 4K UHD
Summers span decades. Winters can last a lifetime. And the struggle for the Iron Throne begins. ​​
Based on the bestselling book series by George R.R. Martin and created by David Benioff and D.B. Weiss,
Game of Thrones: The Complete Collection is available to watch in stunning 4K UHD for the first time!
The 4K UHD box set features Drogon looking awesome and intimidating, as usual.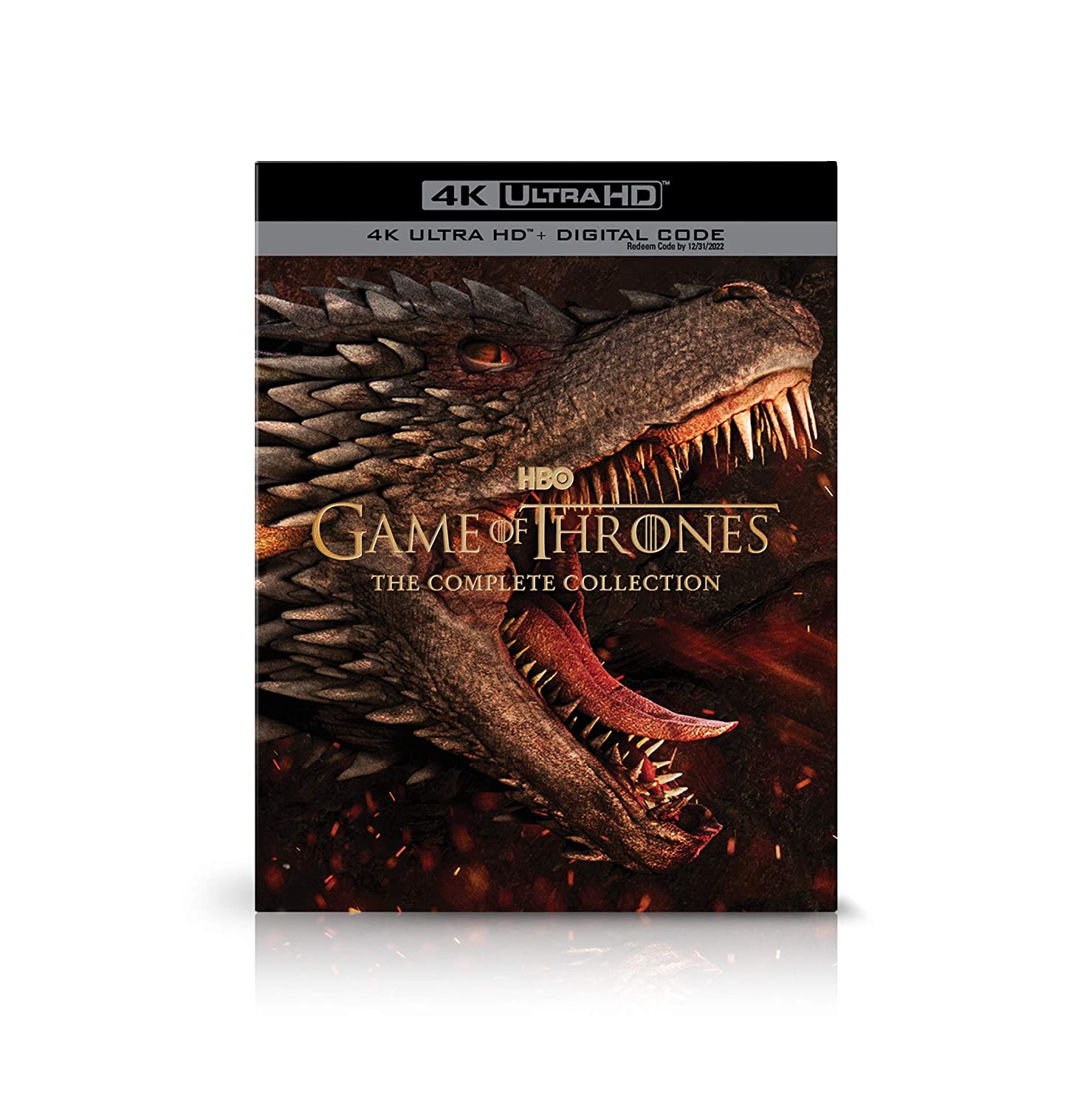 And the steelbook, exclusive to Best Buy: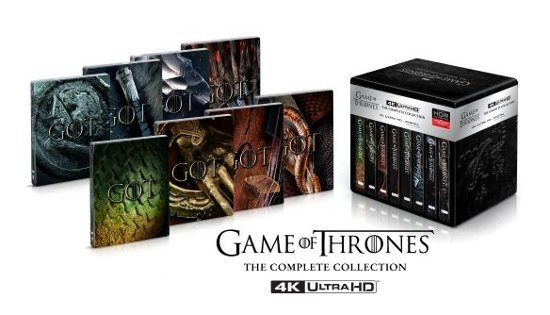 Game of Thrones: The Complete Collection in 4K will be the best way to watch the legendary HBO series. Both the standard 4K box set and the steelbook will release on November 3, 2020.