Winter is finally here in 4K Ultra HD. Tomorrow, Game of Thrones: The Complete Collection will be released in 4K UHD. Warner Bros. and HBO sent us an early review copy, which arrived last Friday, to give our thoughts in a review. I tested multiple scenes—from epic battles to intriguing dialogue scenes—all on a premium LG OLED television. So, is Game of Thrones in 4K worth it?
Yes.
First, let's get one negative out of the way. As of now, it appears the digital copy does not redeem in 4K on Vudu. It says right on the front box, "4K Ultra HD + Digital Code", so the safe assumption would be that the digital code should be in the 4K format. I couldn't get an answer before this was published, but I know Seasons 1 and 8 (which were already available in 4K) also did not redeem in 4K—though perhaps they are waiting until the official release date tomorrow to make all 73 episodes available. At some point, they almost have to make it available in 4K digitally (it is likely coming on HBO Max at some point, so), but it's something to keep in mind, especially if you do not have a 4K Blu-ray player.
Also, I know some were frustrated that a 4K set of Thrones was not released last year. I was too, especially because I was told it would not be coming in 4K. But for those people, making a repeat purchase to get Game of Thrones in 4K is totally worth it in my opinion.
First of all, the actual physical look of the box, with a screeching Drogon on the front and gold text and accents, looks awesome. It has a prestigious appearance and is worthy of a final box set for an all-time great show like Game of Thrones.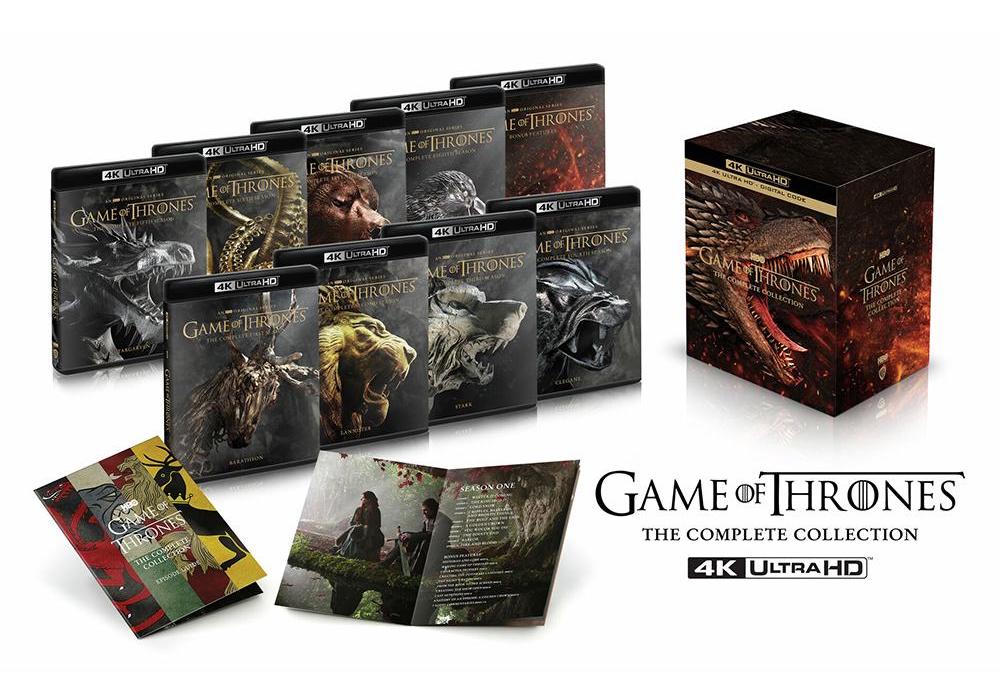 [UPDATE: The SteelBook (Best Buy exclusive, pictured below) arrived today 11/3, and it is very high quality. It is hefty and well-built. Also, it says on the box that there are just 7,600 of them (which was not mentioned anywhere from what I saw from Warner Bros. and the product page on Best Buy), so be sure to act fast if you see a SteelBook available and want it! It is worth the extra cost in my opinion.]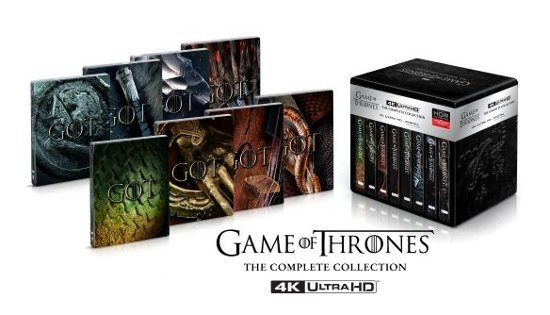 When I watched The Dark Knight in 4K UHD for the first time a couple of years ago, it was almost like watching it again for the first time in theaters. The same is the case for Game of Thrones. The higher resolution and detail captured in the 4K format (with HDR) is very clearly on another level to what we watched for eight seasons (sometimes compressed via cable, decreasing the quality for people at home). 4K HDR totally makes a major difference in the viewing experience, and we'll dive into a few scenes and takeaways for the review.
For the dialogue type of scenes, the picture quality is so good that it looks like you are there with the cast and crew watching actors like Peter Dinklage and Emilia Clarke in person—more specifically, with their top-notch acting ability, it looks like Tyrion Lannister and Daenerys Targaryen are in your living room. The crisper picture leads to the appearance of more realistic colors, depth, and shadows, and every inch of the screen stands out.
The first thing I watched was Hardhome, and the scene where Jon Snow (Kit Harington) and his men ride up to the Free Folk fishing village on a rowboat was a major standout. The material of Jon's black clothing was impeccable. Back to the depth/shadows, the fur on the cloak had serious detail, like you could see each individual hair and reach out to touch it; and the leather torso and gloves looked legit, because they were. Game of Thrones in 4K helps you appreciate all the time and detail the show put into everything, including realistic and worn clothing that actors basically had to wear throughout filming the same way their characters would have on their journeys.
I then watched the Great Pit of Daznak scene in The Dance of Dragons (skipping the heartbreaking scene when Shireen is burned at the stake; I'll get to that on a full rewatch) when the Sons of the Harpy close in on Daenerys. The fighting and the defense of the Targaryen queen looked like it was taking place right in front of you, and the arrival of Drogon to save the day was insane. The effort put into creating a realistic look for the dragons can be further appreciated by seeing the detail in 4K UHD, and the fire looks extremely real (because it was, as they used real fire and actually lit stunt people on fire).
As for The Long Night, I did not have an issue with lighting as some people did when it aired last year, so I cannot really speak to that. But as you'd expect, the ultra-ambitious battle episode is stunning. The darkness throughout can be nerve-racking, and Melisandre (Carice van Houten) lighting the trenches on fire blows up the scene with light. If you have a 4K television with HDR, I would think you will get a much-improved picture if you had trouble with The Long Night when it aired on HBO in regular HD (again, probably compressed).
In summation, Game of Thrones in 4K gets you more than your money's worth if you are a big fan of the show. I know some fans were not happy with the way the final season went (I was not one of them, as I thought it was a masterpiece as usual), but Thrones in 4K is still a fantastic purchase—just try to go into it with an open mind and at least enjoy the scenes and episodes you loved.
Black Friday and the holiday season are around the corner, and Game of Thrones: The Complete Collection in 4K UHD—also maybe along with a new OLED television to get the most out of it—should without a doubt be on your purchase list or wish list.
Game of Thrones: The Complete Collection in 4K UHD is available Tuesday, November 3 at retailers including Amazon, Best Buy, Walmart, Target, and the Warner Bros. official shop.