The 2020 NFL Draft begins tomorrow, and I believe it would be a mistake if Georgia quarterback Jake Fromm isn't selected by the end of the first round on Thursday night. Every year, apparent groupthink causes many in the media (and even some NFL teams) to miss out on can't-miss prospects—Deshaun Watson, Lamar Jackson, and A.J. Brown, to name a few over the past three years. This year, the clear consensus is that Fromm is a second-round prospect at best, but I believe he's the top overall player in the 2020 class.
After an injury to Jacob Eason (a very talented quarterback prospect also in this draft) to begin the 2017 season, Fromm took over the starting job at Georgia and never relinquished it in three years, also forcing top high school recruit Justin Fields to transfer after one season. The six-foot-two signal-caller led the Bulldogs to three SEC Championship appearances (one conference title win), an epic Rose Bowl victory, and a CFP National Championship Game.
The SEC title came when Fromm was a true freshman, as did the Rose Bowl win in the College Football Playoff and the National Championship appearance. Fromm helped topple a dynamic Oklahoma team led by Heisman Trophy winner Baker Mayfield in "The Granddaddy of Them All", and it took a heroic effort by Tua Tagovailoa to lead an Alabama comeback in the national title game.
In the national championship, Fromm showed that he has uncommon poise, playing with ice in his veins with critical throws that he put on the money late in the game. Ultimately, it did not work out with a title, but only one team can win it all every year—it isn't easy, but Fromm did his part and rose to the occasion in big games. Fromm certainly played at the level of a championship quarterback throughout his college career.
The next year, Fromm helped Georgia get in position to win the SEC for a second consecutive year, only to have Jalen Hurts come off the bench this time and lead the Crimson Tide back for a victory. And last season, his receiving corps had some struggles, making it feel like the offense was limited compared to the previous two years, but the Bulldogs still won the SEC East and a Sugar Bowl. On the whole, Fromm has the look of a blue-chip quarterback prospect.
The bottom line is Fromm was a big part of Georgia becoming a powerhouse during the CFP era, and Kirby Smart and anyone at the program will probably tell you how great of a leader and quarterback Fromm is. But despite his college success, underrated physical ability, and elite intangibles, Fromm is being overlooked as a great prospect to build an NFL team around.
We'll go through a few plays from the Rose Bowl to give a glimpse at Fromm's poise and intelligence.
Early in the matchup, Fromm efficiently gets off his first read and his the checkdown in stride for six:
It might seem like a simple play, but we don't see it enough from some quarterbacks that always want to hit a chunk play every play. As some coaches have said, you can't go broke making a profit. Players like Drew Brees and Tom Brady are not afraid to check the ball down and take positive plays to create favorable situations on second and third down, and neither is Fromm.
In the Rose Bowl, the rushing attack of the Bulldogs was dominant, but Fromm was an underrated part of that, putting the offense in the right play, as shown here on a Sony Michel touchdown run: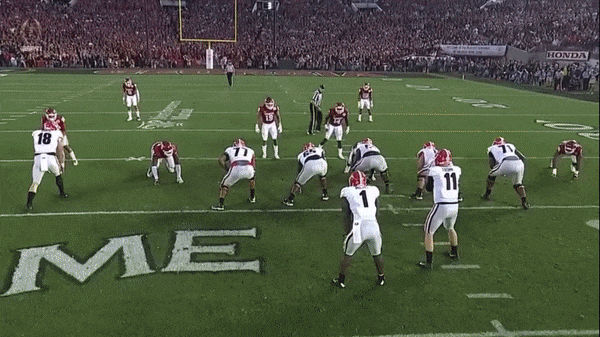 Tennessee head coach Jeremy Pruitt faced Jake Fromm three times (including as an assistant at Alabama), and he sung the quarterback's praises for his intelligence and play. After their final matchup in 2019, Pruitt said that if your defense makes a mistake, Fromm is "not going to miss them. You make a mistake, he's going to take advantage of it." This after saying "you can't trick that guy" ahead of the game and calling Fromm as good as any quarterback in the country the year before. Pruitt makes Fromm sound like a ten-year veteran quarterback operating an offense at a masterful level.
To go ahead early in the fourth quarter of the Rose Bowl versus the Sooners, Fromm calmly moves through his progression and throws a dime into tight coverage to give his receiver an opportunity to make a play:
Fromm is painted as someone that won't make big-time throws in the NFL, but putting throws right on receivers while trusting them to make plays qualifies as a big-time throw—and one of the most underrated characteristics for a quarterback.
Again, Georgia was not able to win the game in the end, but Fromm's poise also stood out in the CFP National Championship Game in 2018. Against an incredible Alabama defense (allowed just 11.9 points per game during the year), Fromm looked more like a fifth-year senior than a young freshman. Let's highlight three third-down conversions on throws made by Fromm.
First, backed up near the goal line with under four minutes left in the first half, the Crimson Tide looking to get the ball back to build some momentum going into halftime. It was third-and-seven, but Fromm hit a strike over the middle for a first down.
On a later drive, Fromm marched Georgia down the field for a touchdown to end the half.
Later in the game, on a third-and-11, Fromm throws a complete dime of a deep ball for a touchdown to put the Bulldogs back up two possessions:
Yes, Mecole Hardman is incredibly fast and was open by a decent amount, but the throw was still dropped right in the bucket nearly 50 yards down field (yet people make it like Fromm can't hit the deep ball). We've seen excellent quarterbacks miss that throw.
And on another third down—third-and-six—Fromm stands coolly in the pocket and navigates before putting the ball on the mark on a comeback route: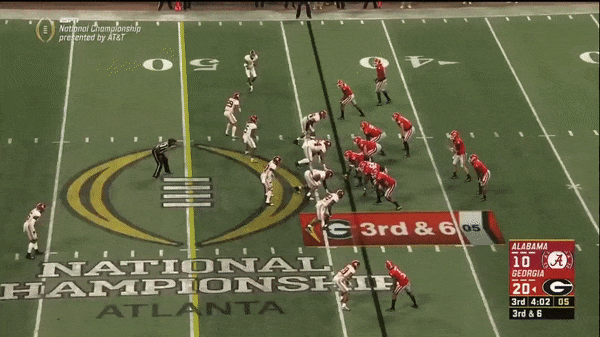 This was as a true freshman that Fromm helped put an Alabama team—with a defense that was not easy to move the ball on—on the ropes.
He didn't go on to put up mind-blowing numbers in his final two college seasons, but Fromm still gained valuable playing experience as a three-year starter and did what he was asked within Georgia's offense. If Fromm was given the supporting cast and scheme of places like LSU and Oklahoma, there's little question he could've been among the nation's leaders in passing volume in terms of overall yardage and touchdowns—and he might be getting looked at differently by the doubters right now.
Jumping ahead to Fromm's final college game—the Sugar Bowl versus a tough Baylor squad—he again showcased more than enough arm strength to play at a high level in the NFL.
Early in the second quarter, Fromm was pressured off the edge but flicked a perfect deep ball from the far opposite hash: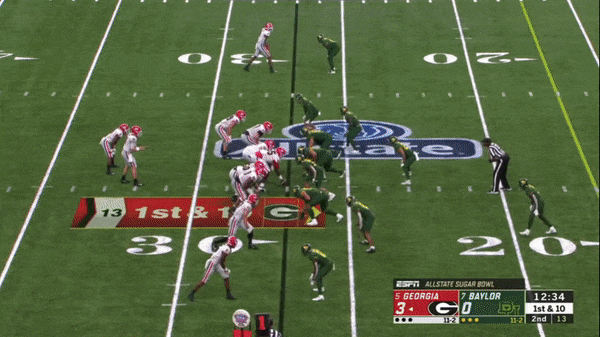 That is not a common throw, but Fromm excels on throw to the boundaries despite a misguided consensus that the opposite is true.
Next touchdown, boom, Fromm drives a throw past the intermediate defenders and low enough for his receiver to go down and get it away from the trail defender. The corner didn't really have a chance to make a play on the ball because of the ball placement.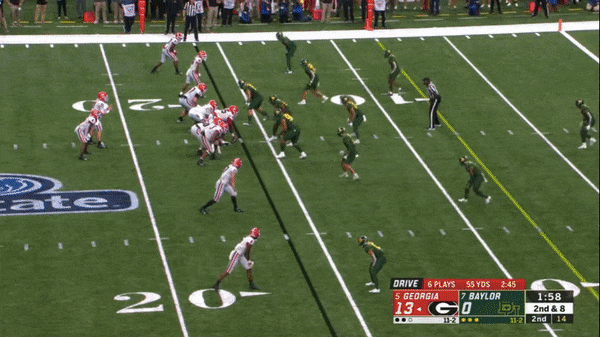 Fromm is also exceptional at placing the ball precisely on both deep outs and back-shoulder throws. Fromm's back shoulder is among the best I have ever seen. Here, he shows excellent arm strength against No. 6 Florida on a deep comeback to the opposite side of the field:
Arm strength looks like zero issue there, and he didn't even appear to get his legs into the throw as much as he could have (more on that in a minute). And the back-shoulders from Fromm were immediately devastating as a freshman, so I expect it to have a chance to be really special in the NFL:
That example was to current Chiefs receiver Mecole Hardman (the target of the earlier deep ball touchdown in the national title game) to give an indication of how Fromm will be able to work with professional targets at the next level.
Fromm has the intangibles, the smarts, and—as displayed above—the skills to be a high-quality NFL starting quarterback. I don't understand what's happened throughout the pre-draft process that causes people to be so much against Fromm as a strong first-round selection. Groupthink taking over—along with people not actually watching him play before spewing nonsense—is a logical explanation. It's good to have different opinions about prospects—and, more importantly, to form your own opinions. But everyone being so low on Fromm is a bit weird.
I wonder how many people actually watched Fromm's Pro Day.
He's playing against air (like every single Pro Day for every quarterback), but it still looked really impressive and confirmed everything you see on tape—more than a strong enough arm and superb accuracy. Fromm's only miss was a deep ball that he overthrew.
The lone notable concern for Fromm from me is his footwork, as it can be inconsistent, which can lead to inaccuracy. However, he's a former baseball player that doesn't need his feet set to put passes on-point. He just can't get into a habit of not having a consistent base too often as a professional, or it might catch up to him against stingy defenses.
Overall, Fromm looks like a prospect with clear franchise quarterback potential. Fromm should have a high floor because of his football intelligence, but he also has outstanding upside as a passer that might be able to shred opposing defenses like some of the greats if in the right situation. We'll see, but I think a team like the Patriots will love to work with Fromm, who could be the latest can't-miss prospect that too many people and teams missed.