Rams quarterback Jared Goff was in an unideal situation as a rookie in 2016, which led to people immediately calling the No. 1 overall pick a "bust." Fast forward three years, and there are again outside questions about Goff. After the former Cal star admirably completed a huge turnaround to become one of the NFL's best quarterbacks, which should have promptly silenced the critics, he was suddenly just a product of impressive Rams head coach Sean McVay and an innovative offense stacked with weapons; and now, some assert that the Rams will move on from Goff, apparently because they believe he's some below-average talent that can be easily replaced with a better option.
To his credit, McVay has strongly come out to publicly dispute any notion that the Rams don't think Goff should be their long-term quarterback, telling NFL Network's Michael Silver that "there is a zero percent chance [Goff is] not gonna get an extension he's worthy of" and making it clear that the two will be together for many more years. McVay has obviously seen what Goff can do for two years now, and he knows his quarterback isn't just sitting back in the pocket making easy throws like it's 7-on-7 because of his offense.
Last season's Thursday night game against the Vikings was a perfect example of Goff's ability, as he shredded Mike Zimmer's defense for 465 yards and five touchdowns and dazzled all night with phenomenal throws.
This was probably Goff's best game of his career, and it's one of the best games you will ever see from a quarterback. It's clear that Goff comfortably gets through his reads and hits his targets accurately and on time, as he's usually in complete command and reminiscent of some of the all-time greats like Peyton Manning and Drew Brees with his from-the-pocket playing style. Keep in mind, Goff was just 23 years old during this game, and it showcases his elite play and extremely bright future in the league.
Goff has a smooth, quick release; a strong arm; exceptional awareness and intelligence; top-notch feel for both layering passes between coverages and throwing deep balls; and underrated athleticism that allows him to escape and make remarkable throws on the run (like the one to Cooper Kupp from the Vikings game).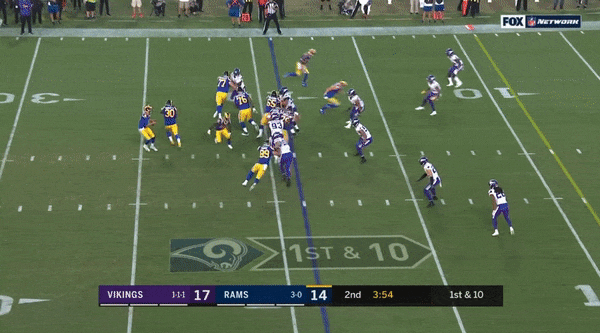 And then this throw was a complete laser down the seam that couldn't have been handed off any better: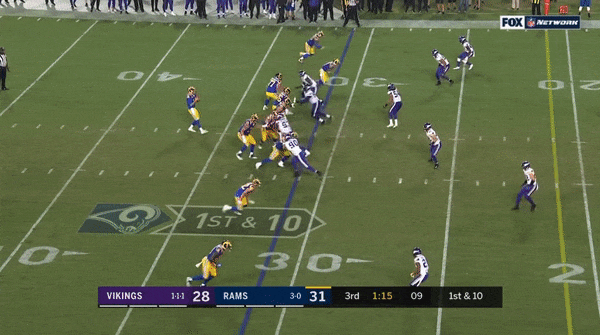 Goff made jaw-dropping throws all night, and it's not like that happened by accident. He played as well as any quarterback almost all season, including in the massively-hyped Monday night matchup with the Chiefs, which the Rams won on a strike from Goff to tight end Gerald Everett with under two minutes remaining: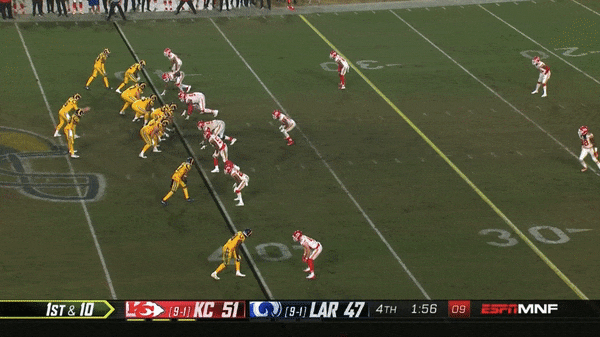 So, he had a subpar late-season stretch last year with Kupp out of the lineup because of a season-ending knee injury. It happens. Unfortunately, with the way things can be with fantasy football, Goff might have made an enemy out of fantasy players that had him in the playoffs last season, when he had -0.3 fantasy points in Week 14 against the Bears and 10.7 fantasy points in Week 15 against the Eagles; so some of those people were suddenly among his harshest critics.
Then the Super Bowl came, and everyone became absurdly reactionary to the game. It is so utterly ridiculous to point to the Super Bowl as the reason not to extend Goff. The 13-3 Patriots victory was simply that type of game, a defensive battle where points were difficult to come by—it's not like Tom Brady and company were lighting it up on the other side. Also, Goff threw a dime down the right sideline with under five minutes remaining, which could have easily been called pass interference or caught by Brandin Cooks—either way, it was a perfect pass from Goff under major pressure: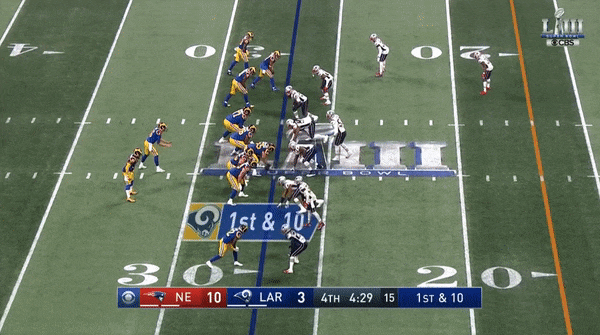 Earlier in the game, Goff had a throw to the end zone in the late third quarter that would've put the Rams up 7-3 if Patriots cornerback Jason McCourty didn't come over and make a big-time play breaking up a pass that was in Cooks' hands: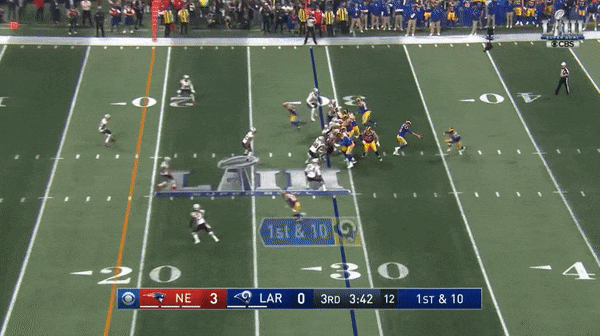 Go back to the NFC Championship Game against the Saints, and you'll see stellar play from the young signal-caller. The Rams fell behind by 13 points in the first quarter, the Superdome crowd was probably the loudest of any crowd all last season, and the running game wasn't working (partly because of Todd Gurley's knee issue). But Goff showed incredible poise by bringing his team back and leading them to a Super Bowl appearance at just 24 years old.
Yet, people say Goff is a product of playing with Gurley. Or they say he's just a product of McVay. The stupid narratives somehow got started—clearly by people that don't actually watch the games—and caught wind on ultra-negative Twitter. Maybe you don't think Goff is an elite quarterback, but to assert that he's some lucky quarterback that gets carried by his head coach is ridiculous. Goff is out there making spectacular throws that the critics—many of whom probably could never throw a football 30 yards—couldn't dream of making.
The bottom line is Goff is a stud with a ton of fantastic play ahead of him, and the Rams are smartly not thinking of moving in any other direction at quarterback.