NFL draft season is always one of my favorite times of the year; of course, I would prefer for there to be games being played, but it's still fun to talk about which players you like—even if the draft is a gamble where about half of the players don't go on to have successful NFL careers. Each year, there are always players I like a lot better than the media (and apparently, many NFL teams). In 2014, it was Odell Beckham Jr., Teddy Bridgewater, and Johnny Manziel; in 2015, it was Nelson Agholor; in 2016, it was Leonard Floyd and Derrick Henry; and in 2017, it was Deshaun Watson.
This year, former Louisville quarterback Lamar Jackson is someone I believe is undervalued as a prospect, with many talking about him as not being a first-rounder in the draft. It's no secret the 2016 Heisman Trophy winner is one of the most electric college football players of all-time, but people have brought up questions about whether he can have success playing quarterback at the next level.
As with most prospects (in this year's draft, I would say with every single player except Saquon Barkley), there are question marks, so we'll get into them first before getting into Jackson's major positives.
Number one, with Jackson's playing style, there are obvious concerns about how well he can hold up while taking punishment during the course of a 16-game (and hopefully 19- and 20-game if his team reaches the Super Bowl) NFL season. He simply isn't built like a Cam Newton or a Russell Wilson, who are both stockier-built guys that typically hold up better. However, Jackson is still a strong and wiry player that has proven to be durable throughout his three seasons at Louisville despite taking a ton of hits while being used as a runner as well as scrambling for yardage. If Jackson baseball slides to get down when he can, he will hopefully be able to remain on the field in the NFL.
The second concern is accuracy, which might be the most important quality for a quarterback aside from toughness and the right mindset. If you just look at the stats, Jackson never completed 60% of his passes in a season at Louisville. But while he played for Bobby Petrino, the team at Louisville had some injuries and simply wasn't as strong as the best teams in the country.
If not for some drops or plays where receivers didn't come up with contested catches, Jackson would have been over 60% completion in his final season (and his jump from 56.2% as a sophomore to 59.1% as a junior, despite throwing 21 more passes, shows he worked at improving his accuracy).
Mechanically, Jackson isn't on the same level as Andrew Luck and Marcus Mariota when they came out of the draft, but a lot of quarterback prospects can benefit from getting more coaching in the NFL. The good news is Jackson has the talent throwing the ball—it's not like he's some uber-athletic guy that's just been at quarterback throughout his life because he's the best athlete on the team.
As he's shown, Jackson has a very quick and compact release. On short-to-intermediate passes he can get the ball out in an instant, and on deep passes, he can flick his wrist and have the ball zoom out of his hand. He probably doesn't have quite the same arm strength on deep passes (not many do), but Jackson's release is reminiscent of Michael Vick at times.
Last season's game against Purdue was a passing showcase for the former Heisman winner, as he calmly made big-time throws with the game on the line.
Late in the first half with his team trying to get points before halftime—one of the most important parts of a game—Jackson was instantly pressured. Despite his athletic gifts, he didn't immediately put his eyes down and try to run for yardage. Instead, he moved forward, set his feet, and threw a strike on a deep in-breaking route.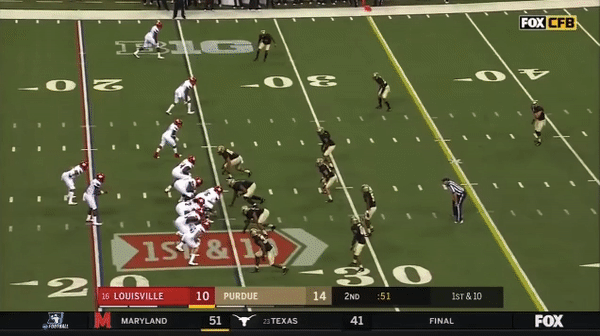 In the fourth quarter, Jackson threw a perfect ball down the seam for a touchdown. The quick release, arm strength, and accuracy are all evident on the play.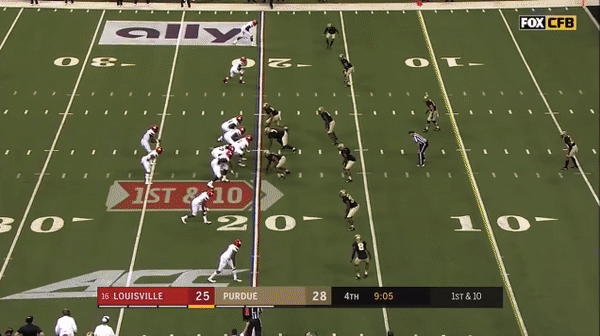 And then on this play later in the fourth, Jackson showed he can put some touch on his passes when necessary and doesn't need to just laser every pass to throw accurately.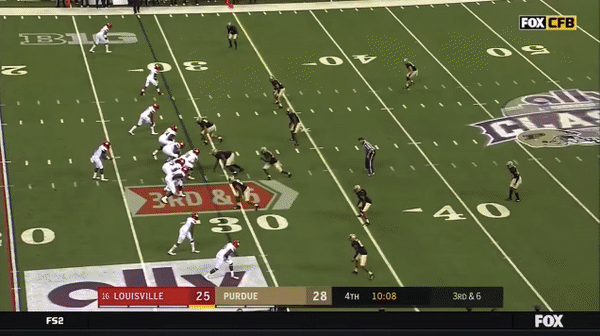 On that play, he easily beat a Cover 2 zone defense by placing the ball perfectly between the two safeties and the underneath linebacker. In the NFL he might have to use his eyes more to move defenders than he did here, but it's something Jackson has shown the ability to do.
If you watched Louisville play or just put on the highlights in the past couple of years, you have probably seen Jackson's deep ball on display. He puts most of them right on the money for his receivers to run in stride with. With the amount of yardage he put up in his career, there are many examples, but this one against North Carolina stands out.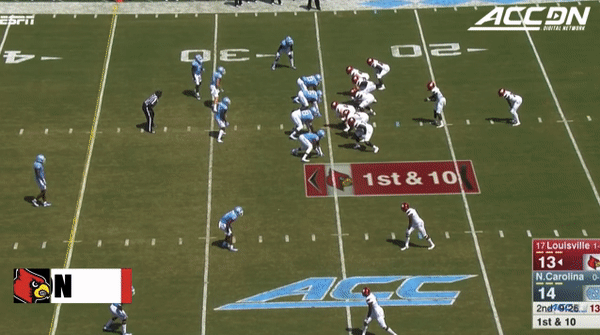 Jackson was pressured on a corner blitz, but he easily evaded the sack and set his feet before hitting his receiver in stride 50 yards in the air.
On this play, Jackson gets a couple of defenders flashing in front of his face. Instead of trying to spin out of pressure and make a play with his legs, Jackson had his eyes down the field and threw a pass that couldn't have been placed in his receiver's hands any better.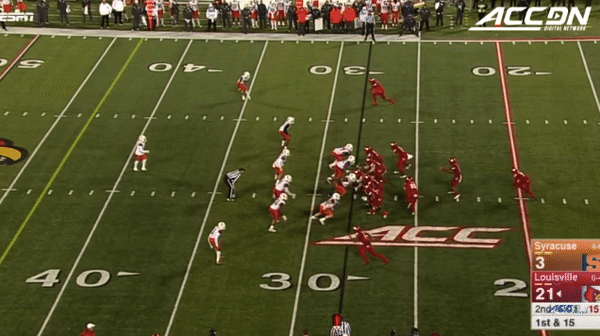 Maybe the defender could have made a play to at least deflect the pass, but Jackson still put the pass right on the money and gave his receiver a chance.
In terms of throwing the ball, there are many examples to show why Lamar Jackson certainly has the ability to play quarterback in the NFL. I could give more examples (like his flick-of-the-wrist touchdown throw while scrambling toward the sideline against Clemson, or the many examples of him placing deep balls right in the bucket or out there for his receivers to get), but you probably get the idea by now that Jackson is at the very least a capable passer.
And if there is anything he is lacking as a passer, he makes up for it with his legs. Michael Vick and Robert Griffin III are the only two recent quarterbacks that really compare to the explosiveness of Jackson as a runner. We'll go over just two of the many, many examples of Jackson, who totaled 3,172 rushing yards in his last two seasons, as a runner.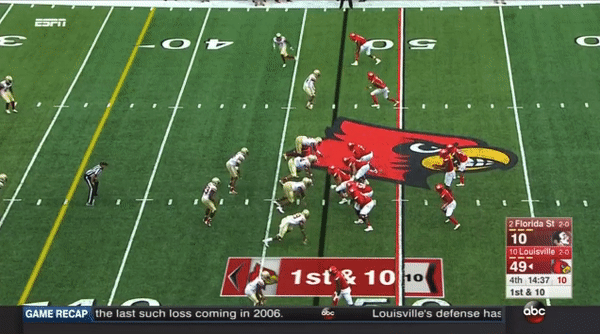 As shown in that run, Jackson easily outruns defenders, and he has superb balance and core strength to remain on his feet when taking hits.
On this run, Jackson shows his ability to cut on a dime with a devastating juke move that will immediately be among the best in the NFL.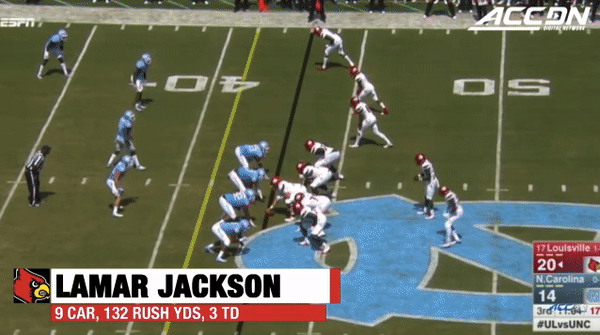 Jackson routinely destroys the pursuit angles taken by defenders, and it's almost like he has a turbo button that other guys simply don't have. If Lamar Jackson was a car, he would be a Lamborghini or Ferrari.
I think Jackson has the ability to make it as a quarterback in the NFL, but even if he doesn't, he has the elite athleticism to be a very good receiver. His mind-blowing acceleration is up there if not exceeding some of the receivers in the NFL with top-tier acceleration like Antonio Brown, Odell Beckham Jr., and Nelson Agholor.
Jackson was truly a human-highlight-reel every week for the last two years at Louisville, and the college great should also do a lot of damage in the NFL. While I generally prefer pocket passers, and with Jackson you might not run the same offense they run up in New England, the humble Heisman winner is a dynamic player that should continue having success as a football player. If Michael Vick was the first overall pick back in 2001, I don't see why Lamar Jackson isn't considered a top-five prospect in 2018, especially with the league having more quarterback runs and run-pass options in many offenses.
If Jackson can identify blitzes and read defenses better than Vick, who had a very good NFL career but wasn't really considered an elite quarterback aside from his MVP-caliber 2010 season, then the upside is astronomical.
Another thing Jackson has going for him that might not be displayed on the field is that he seems to be a genuinely good and humble person. After winning the Heisman as a 19-year-old, Jackson didn't let any of it get to his head or cause any problems off the field. On multiple occasions, Louisville head coach Bobby Petrino gave him a ton of praise for being an unselfish, humble, team-first guy that didn't change because of his success.
With the right attitude and rare athleticism, Lamar Jackson is being undervalued by almost everyone. He is one of the best prospects overall and might be the best quarterback in the 2018 NFL Draft. Teams looking for a signal-caller should give a hard look at Jackson in April, or they might regret it.