"I want to be a guy who, when you watch me on tape you say, 'Yeah, I need him.'"
That was one of the many things Nelson Agholor said to the media as the Eagles began OTAs, where the former first-round pick the apparently catching everything thrown his way. Through two seasons, Agholor has already worn out his welcome in Philadelphia, but the Eagles fan base are not exactly the most patient bunch in the NFL.
The USC product was a stud for the Trojans in college, looking like Jerry Rice, as Cris Collinsworth put in on a Sunday Night Football broadcast. Isn't this what the Eagles need for Carson Wentz?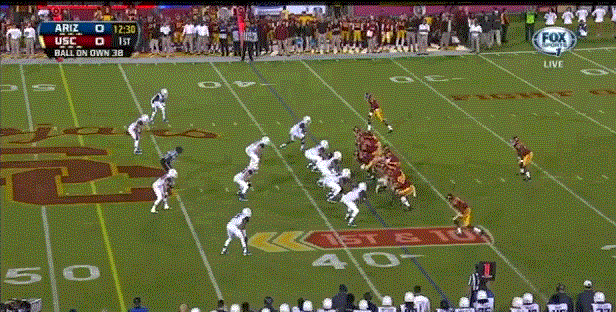 Now, I'm not saying Agholor will turn into the greatest receiver of all-time, but having just 24-years-old today (Happy Birthday, Nelson), people should at least give him a little more time to see what he can do before he is traded or released and turns into an All-Pro someplace else.
Agholor has caught a combined 59 passes for 648 yards and three touchdowns in his first two seasons, but context is key. In his rookie year, the talented receiver battled a high ankle sprain and returned to Mark Sanchez quarterbacking the team. I am not knocking Sanchez—a guy who has been to conference championship games—but merely pointing out that chemistry is important, especially for a young player. Is Antonio Brown the same player with Ben Roethlisberger out of the lineup?
Before Agholor's ankle injury forced him to miss four-plus weeks, he was held to zero catches in a Week 3 victory, but he gained the respect of all-time great cornerback Darrelle Revis, who covered the young receiver because of what the tape showed: an explosive, crisp route runner that can win at all three levels. Revis told a 22-year-old Agholor at the end of the game, "Keep working. You're going to be fine."
Maybe Revis can see into the future and figured he would try to give the rookie a confidence boost because he knew the city of Philadelphia would be hard on him, but it's more likely that he simply respected his talent. The rookie bounced back the next week to catch three passes for 64 yards against Washington in the first road divisional game of his career. Then the ankle sprain happened. And then, soon enough, Chip Kelly was gone, and Agholor, a Chip Kelly guy, watched the team purge itself of Kelly's acquisitions in the 2016 offseason.
Eric Rowe, the Eagles second-round pick in the draft Kelly had control over, was traded to New England where he just earned a Super Bowl ring. Rowe was the Patriots' third corner, so he was basically a starter, and was tasked with covering Julio Jones for much of February's big game. Maybe the problem is the regime running things for the Eagles, and not the players.
It seems unlikely, but part of me hopes Agholor is traded to a receiver-needy team like the Ravens before the 2017 season starts. That way, he will be able to get a fresh start and a clear mind heading into his third season, which, by the way, is when many wideouts breakout.
Jordy Nelson, who I believe is behind only Antonio Brown and Julio Jones as the game's top receiver, caught just 55 passes for 686 yards and four touchdowns through his first two seasons. That is very similar to Agholor's numbers. Staying with the Packers, Davante Adams was written off after two up-and-down seasons before breaking out for 75 catches, 997 yards, and 12 touchdowns in 2016, his third year in the league.
You might be thinking, "Oh well, they have Aaron Rodgers."
And to that I say, exactly; they had Aaron Rodgers and still took a couple years before breaking out. No matter how optimistic the city is about Carson Wentz, he clearly was not Aaron Rodgers as a rookie.
I think what is more likely than a trade to allow Nelson Agholor to breakout is him staying put, earning a starting job in training camp, and turning into the player many people saw at USC.
Agholor certainly feels like that can happen, as in response to a question about fighting for a roster spot, he said,
"It don't matter about a roster spot. The best players play, and I want to be one of the best players. And that's what I focus on every day."
That's all you can do, Nelson.