There are a few rule changes that have come about from the NFL Spring League Meeting, but the most important one to many fans is the change to touchdown celebrations. After talking to players, Commissioner Roger Goodell likely realized many players want to be able to celebrate more, as the current rules basically restrict celebrations to spikes and quick dances.
Commissioner Goodell wrote a letter explaining the rule change.
Today, we are excited to tell you about another change that comes after conversations with more than 80 current and former players: we are relaxing our rules on celebrations to allow players more room to have fun after they make big plays.

We know that you love the spontaneous displays of emotion that come after a spectacular touchdown. And players have told us they want more freedom to be able to express themselves and celebrate their athletic achievements.
The celebration rule change allows players to do three main things after touchdowns:
1) Use the football as a prop.
2) Celebrate on the ground.
3) Celebrate as a group.
This means snow angels are now allowed, as well as unique celebrations with the ball. This is a hybrid (using the ball as a prop while on the ground) by one of the craftier touchdown celebrators in league history, Chad Johnson.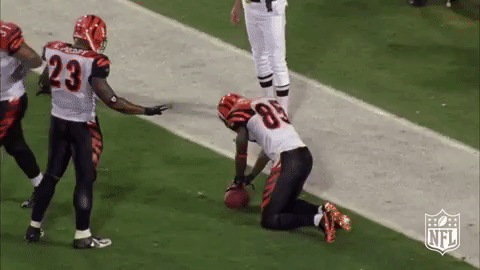 The most surprising of the three is the ability to celebrate as a group. With group demonstrations now allowed, we should see some creative celebrations.
No word on how many "pumps" draws a penalty.