On Monday night, the Raiders hit the field and unleashed a sharp and dynamic offense that was very difficult for Vic Fangio and the Broncos to handle—and there was a potential hidden gem working as a key cog in Jon Gruden's attack. Some hardcore fans that follow players and transactions around the league and people that watched HBO's Hard Knocks following Oakland this summer know the name, but Darren Waller probably came out of nowhere for most viewers tuned in to the Raiders' 24-16 Week 1 victory.
A multiple substance abuse offender that's been out of the league for long stretches and unheralded entering the 2019 season, Waller may soon become a household name if Monday night was any indication.
From the first drive of the game, Gruden's gameplan involved Waller like he was one of the best players in football. After some runs and short passes to get the ball into Denver territory, Gruden started to call Waller's number, and it paid off in a big way.
Before we get into a few plays, let's set the groundwork. Gruden appears to be using Waller as a chess piece to help quarterback Derek Carr determine the coverage he's getting from the defense while also forcing the defenses to make a decision on which player to put on Waller when it's man-to-man coverage.
Here, Waller—a former receiver that converted to tight end—starts out lined up as an H-back, but he motions out wide to the opposite side of formation. The corner is playing off coverage, so Carr takes the easy throw on a short curl—but the best part about the play is that Waller uses his size and strength to fight forward for extra yardage.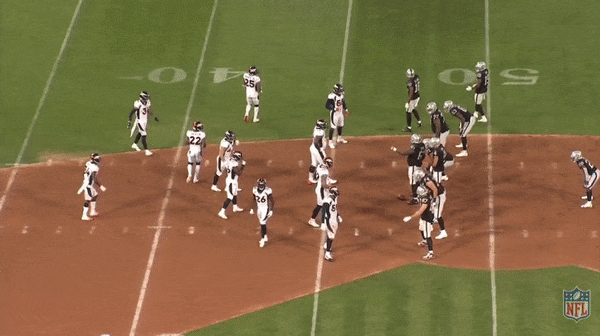 The next play, Waller is dialed up again. This time, the corner is playing press coverage, and it appears Carr might audible to take advantage of the matchup. Carr looks Waller's way the entire time, knowing that he's going to give his big tight end a chance to make a play—which Waller does by getting a step on the defender than again using his big frame to go up and get the ball.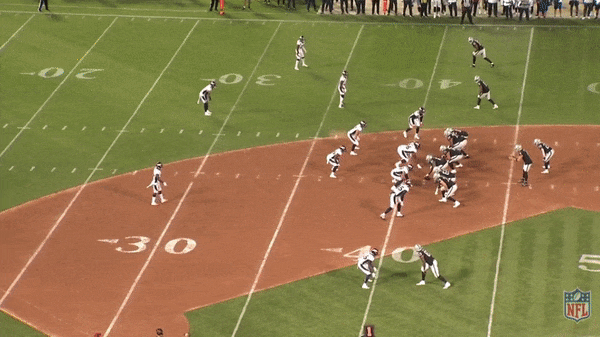 Throughout the night, Waller lined up all over the field: out wide, in tight, at H-back, as a traditional tight end. We mostly saw him do damage as a glorified tight end lined up at receiver, but he can also be utilized more as a traditional tight end on passes down the seam and on deep crossing routes.
So Waller is someone you can get ball out to him to keep the offense ahead of the sticks and in favorable positions, but he also has the ability to stretch the field as a wide receiver-like option when split out. The former receiver's rare athleticism and ability to run the entire route tree, along with a six-foot-six stature that makes him too big for cornerbacks and most safeties and too fast for linebackers, make him a potential nightmare for defenses.
Here early in the second half, Waller starts out wide on the opposite end of the formation then motions in as an H-back, chips to make Von Miller go extra wide before trying to get around the monstrous Trent Brown, then makes himself available as an outlet for Carr underneath.
That's the type of play you'd see from someone like Rob Gronkowski in New England. Waller is an athletic guy, but he also appears to possess the awareness to be up to the task for whatever Gruden throws at him.
If a defense wants to put a linebacker on Waller, Carr, Gruden, and the coaching staff are going to identify it and exploit it a lot this season. Gruden went as far as calling Waller "special," and they're "going to get the ball to Waller," while adding that the team's starting tight end doesn't have a bigger role just because Antonio Brown left the team.
One thing the promising young player can improve on is getting out of his breaks quicker. Carr maybe should've still thrown it earlier, but this route is probably a good example of a route that doesn't appear as clean as other routes he ran on Monday.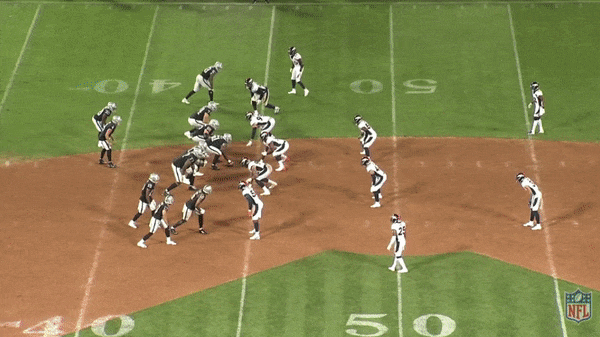 But I'm admittedly not certain on that—maybe it was supposed to be a deeper corner and Waller just rounded it off or maybe he's given the freedom to run it how he feels (but I doubt it in a Jon Gruden offense). If it was a subpar route, that is something that can be easily corrected, though, and there's no doubt it's something they've identified on film—and Waller will certainly remember it, as it was his lone target of the game that was not complete.
Overall, Waller went for seven receptions for 70 yards, and it could've been a bigger game if the Raiders weren't pounding the ball to run out the clock in the fourth quarter (when Waller had no targets). Gruden gets really excited about his players, but this game might have been the start of Waller truly becoming something special.