For the next several weeks leading up to the NFL season, we will be going over our top ten players at each position in the NFL. Today, we're starting with quarterbacks—which is undoubtedly the hardest position to rank. There are so many great signal-callers in the league right now, and all 32 teams probably believe they have their franchise quarterback—probably the first time that's happened in NFL history.
The rankings could be vastly different, but our composite rankings were put together by people that actually watch them play—they are not just some random rankings from looking at stats or highlights. There are many other opinions out there, and feel free to share your thoughts in the comments below.
Keep in mind, these are not fantasy football rankings, which would be very different from these; but you can get all the fantasy football advice you need, including groundbreaking fantasy football analytics, right here.
10. Matthew Stafford, Lions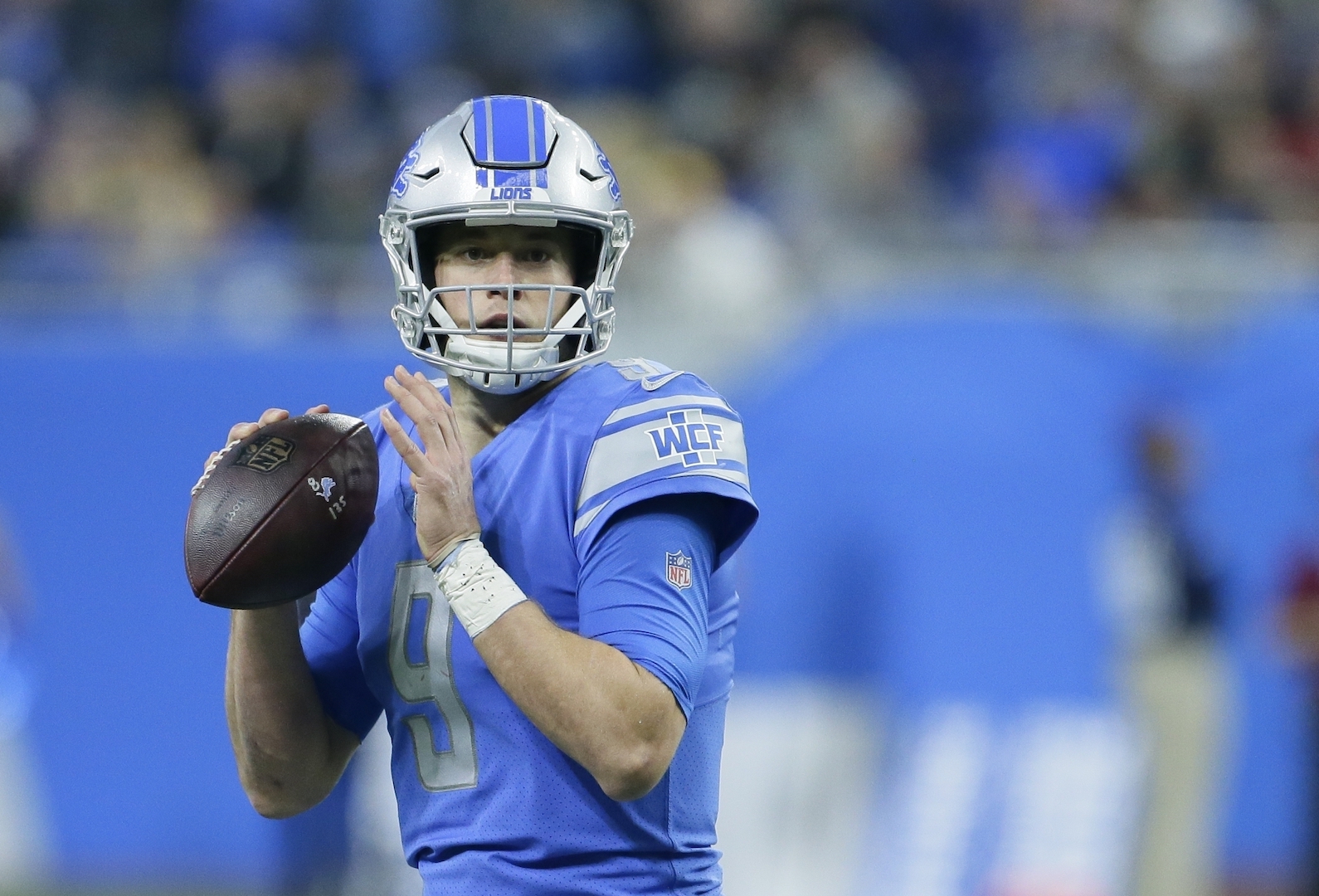 Jared Goff, Derek Carr, Jimmy Garoppolo, Deshaun Watson, Philip Rivers, and Ben Roethlisberger were among those that narrowly missed the top ten, but you could easily make the argument for any of them (and others) to be on here. Matthew Stafford gets the nod because he's done it for longer than the younger gunslingers, while he probably doesn't have the support of Rivers and Roethlisberger—Stafford has basically been without a running game for a while now. Stafford has a golden arm that allows him to make every throw with ease and accuracy, and he's gotten it reigned in and doesn't make big mistakes. Also, the Lions franchise quarterback has at least tied the NFL lead in game-winning drives in three of the last four seasons, including an NFL record eight of them in 2016.
9. Marcus Mariota, Titans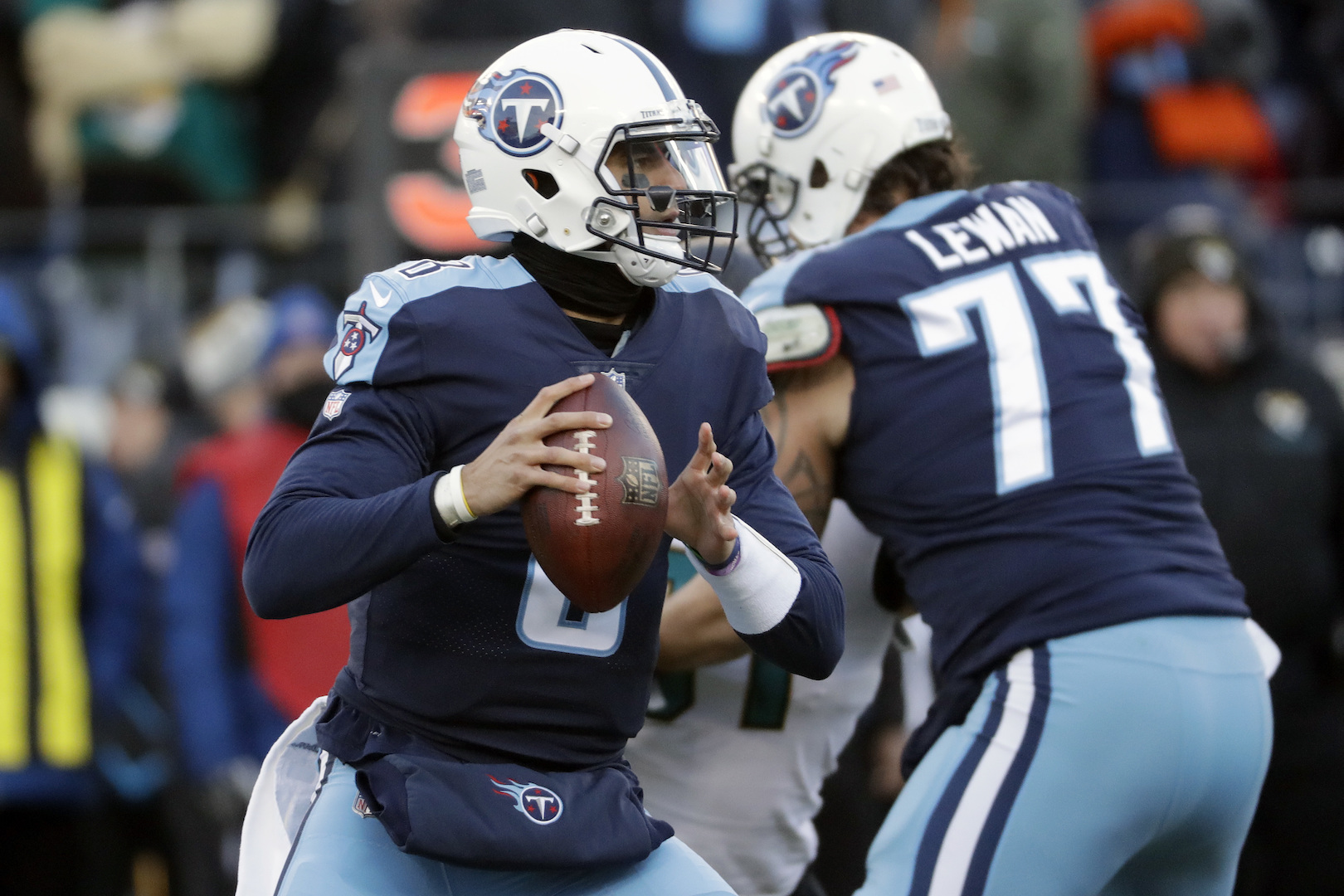 Statistically, 2017 was the worst season of Marcus Mariota's career after he threw more interceptions (15) than touchdown passes (13). Clearly, he was not healthy for much of the season, and it showed in his play. However, the offense might have been the least quarterback-friendly in the entire league, and we expect a healthy Mariota will get back to looking like the bonafide franchise player that he is this season. Despite his struggles last year, Mariota came up clutch in the big moments, with four game-winning drives (tying for the lead league), a de-facto playoff win in Week 17, and a big comeback win against the Chiefs in the Wild Card Round. Mariota is extremely smart, and he has all the physical tools and athleticism you want from a quarterback.
8. Carson Wentz, Eagles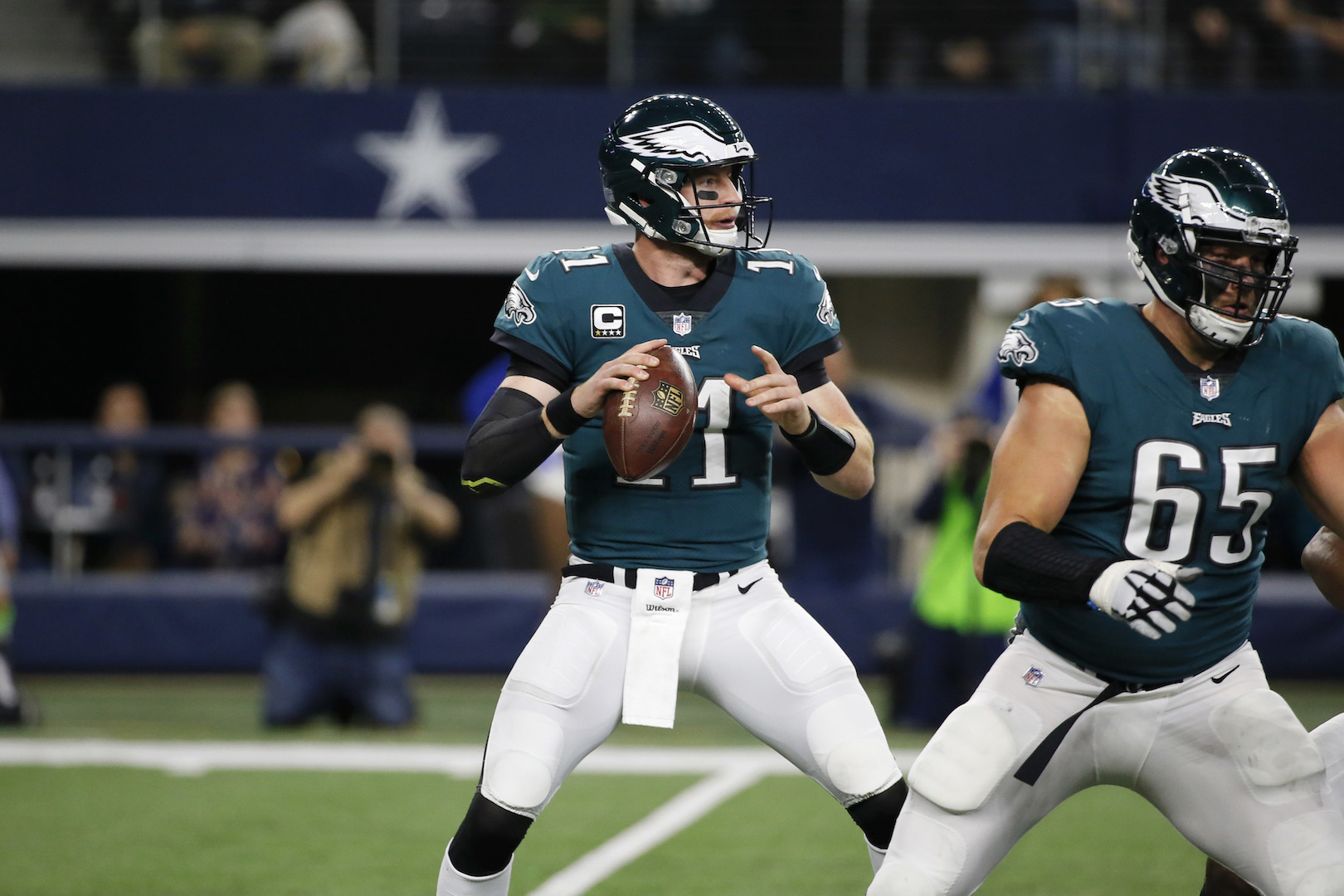 Carson Wentz could easily be as high as the third best quarterback in the NFL after his MVP-caliber season in 2017, but he's down a few spots for a couple of reasons. One, as spectacular as Wentz was last season, it was 13 games; we certainly do not expect him to fall off, and he could get even better (which is a scary thought for other teams), but these other guys above Wentz have played at a higher level for a longer period of time. And two, Nick Foles stepped into Doug Pederson's offense and played just as well as Wentz while leading the Eagles to their first Super Bowl victory. Also, he's coming off the torn ACL. Still, Wentz has elite arm strength, awareness, athleticism, and an uncanny ability to make mind-boggling plays. It would be stunning if Wentz is not one of the league's best quarterbacks in 2018
7. Alex Smith, Redskins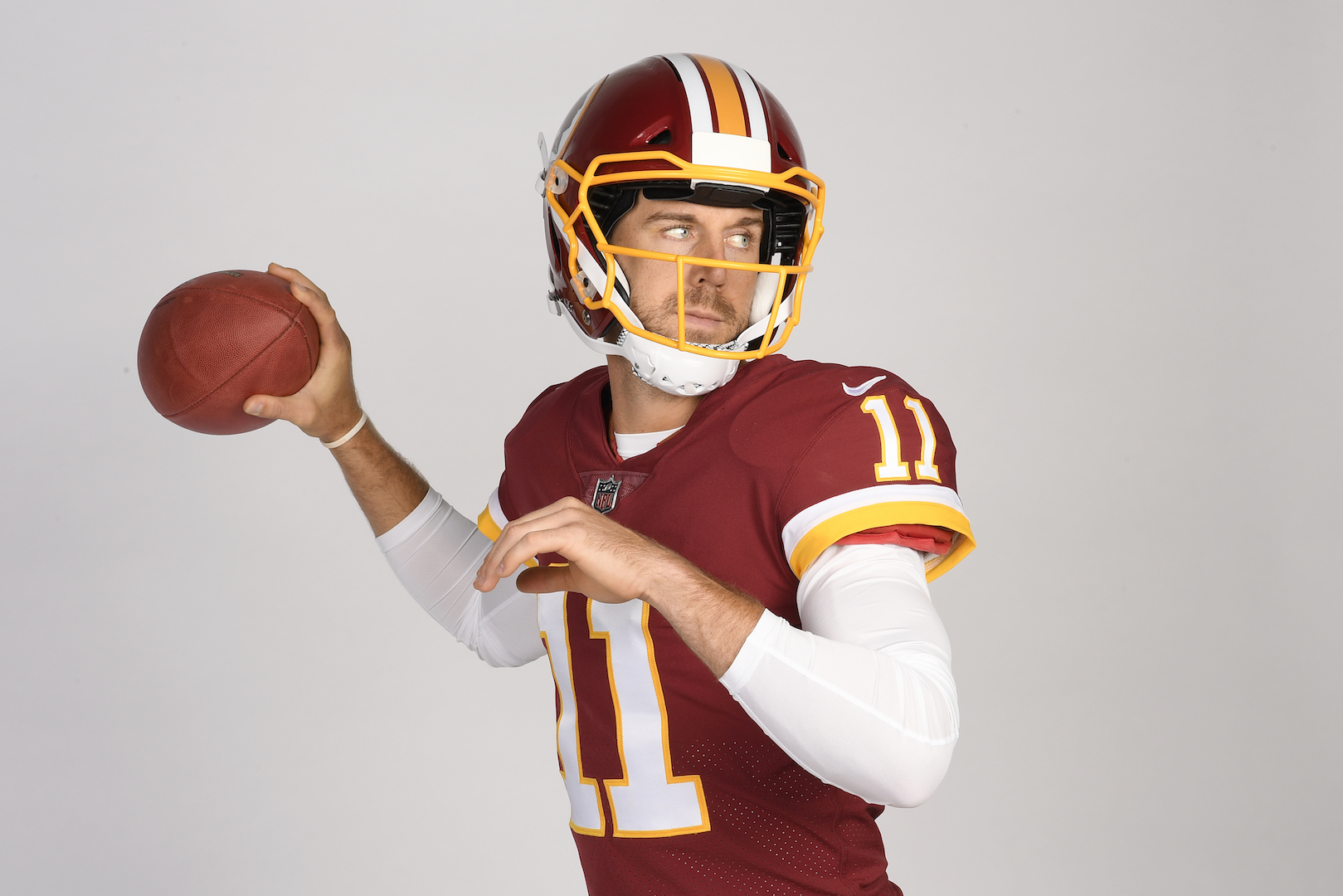 Some people are going to disagree with this ranking because he's not a flashy name, but Alex Smith has long been one of the NFL's most underrated players. Last season, many finally started to realize that Smith is one of the league's top quarterbacks after he put up "bigger" numbers by throwing for 4,042 yards, 26 touchdowns, and five interceptions, while completing 67.5% of his passes. Smith is behind only Tom Brady in wins since 2011, and just look at the last two situations he's been in with the Niners and Chiefs—he leaves places in a much better position than when he arrived. Smith has an all-around game and will not lose games for a team with bad decisions.
6. Andrew Luck, Colts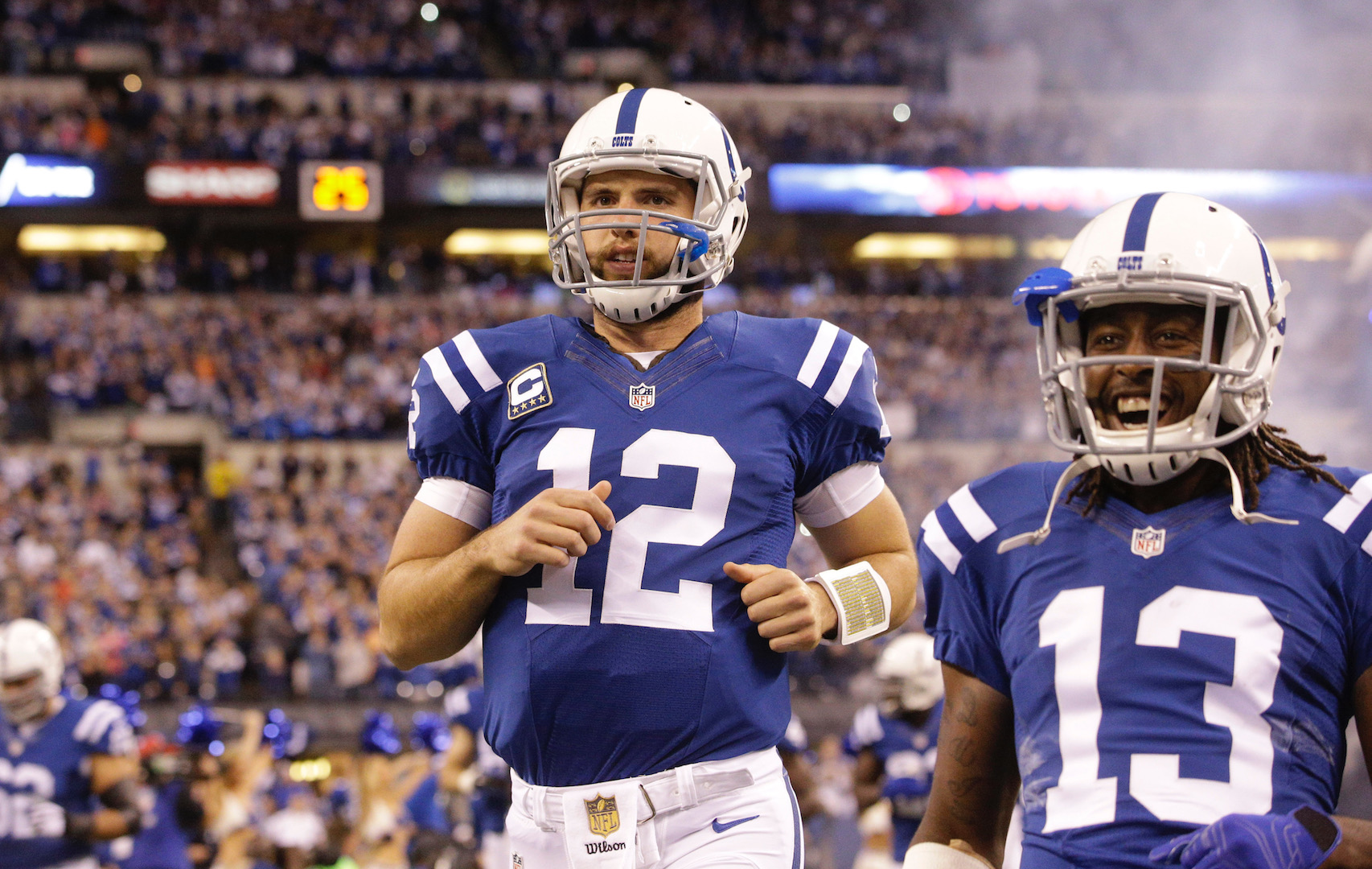 If he didn't miss all of last season with his right shoulder injury, Andrew Luck might be considered a clear top-three quarterback in the NFL heading into 2018. The former No. 1 pick is simply a beast at the position, and he can flat-out carry teams unlike most players in the league. Luck stands strong in the pocket and moves around to makes huge plays down the field with his top-notch arm, which will hopefully be back to 100% this season and beyond.
5. Drew Brees, Saints
It doesn't get much more consistent than Drew Brees, who just set the NFL record for completion percentage (72%) in a season (a record that was previously his). New Orleans relied more on a balanced offensive approach in 2017, and Brees' overall numbers (4,334 passing yards, 23 passing touchdowns, eight interceptions) took a dip, but he showed he can air it out in the playoffs when his team needs it. The 39-year-old might not have quite the cannon he used to on bombs deep down the field, but he's still among the league's most accurate passers. If you gave coaches the choice of one quarterback to lead their team in a must-win game, Brees would probably be one of the first names that come to mind.
4. Matt Ryan, Falcons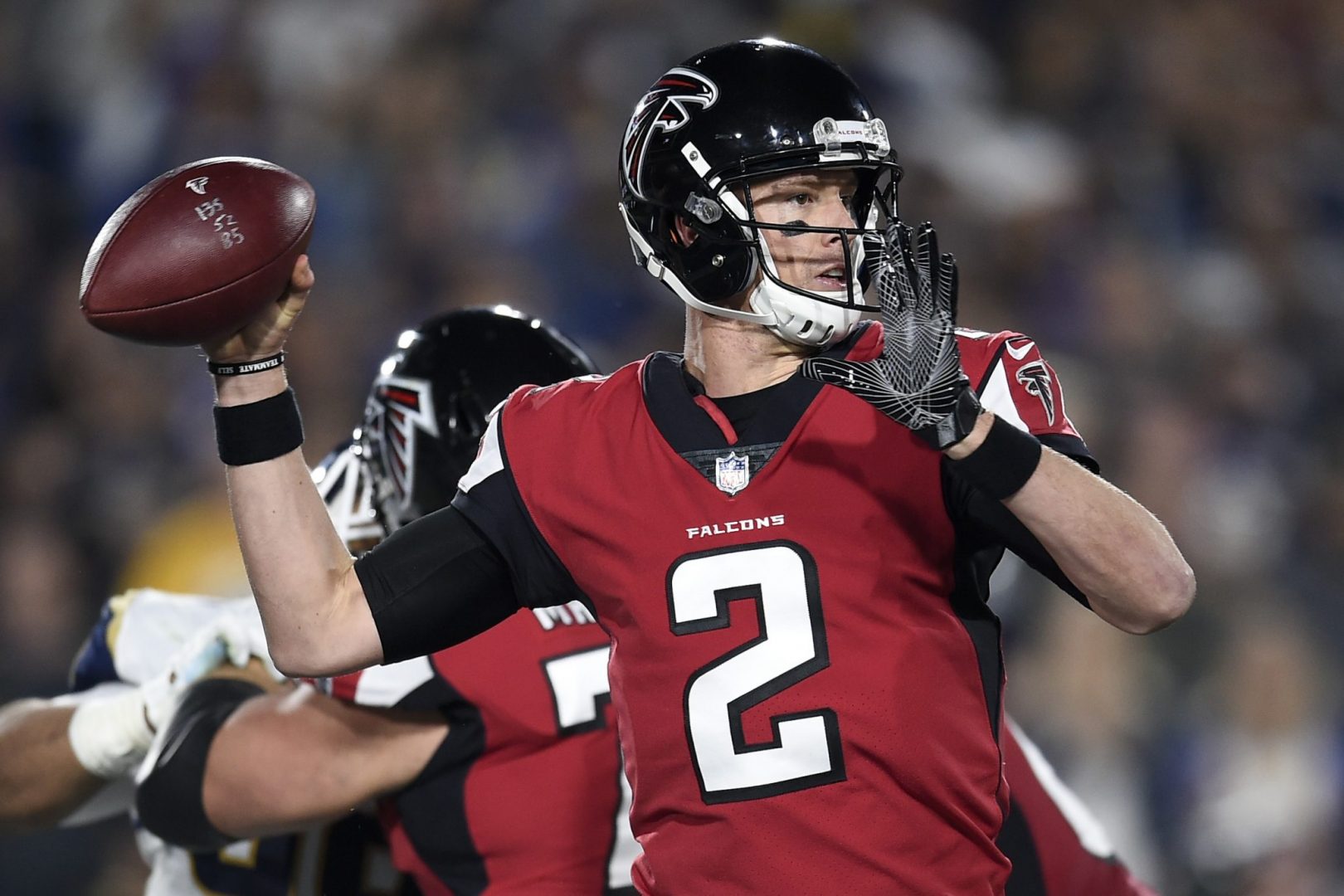 After an amazing MVP season in 2016, which ended in a Super Bowl appearance and a crushing loss to the Patriots, Matt Ryan took a step back statistically last season. However, the All-Pro quarterback's actual play did not take a huge step back, and he played really well aside from a couple of games while leading Atlanta to another playoff appearance—and remember, he was with a new offensive coordinator in Steve Sarkisian. Matty Ice puts the ball on the money to his receivers on all three levels of the field, including a beautiful deep ball his receivers rarely have to break stride for; and his athleticism in the pocket to navigate traffic and make off-platform throws is very underrated. Ryan's 35 career game-winning drives are tied for ninth all-time, and he's still only 33 years old.
3. Russell Wilson, Seahawks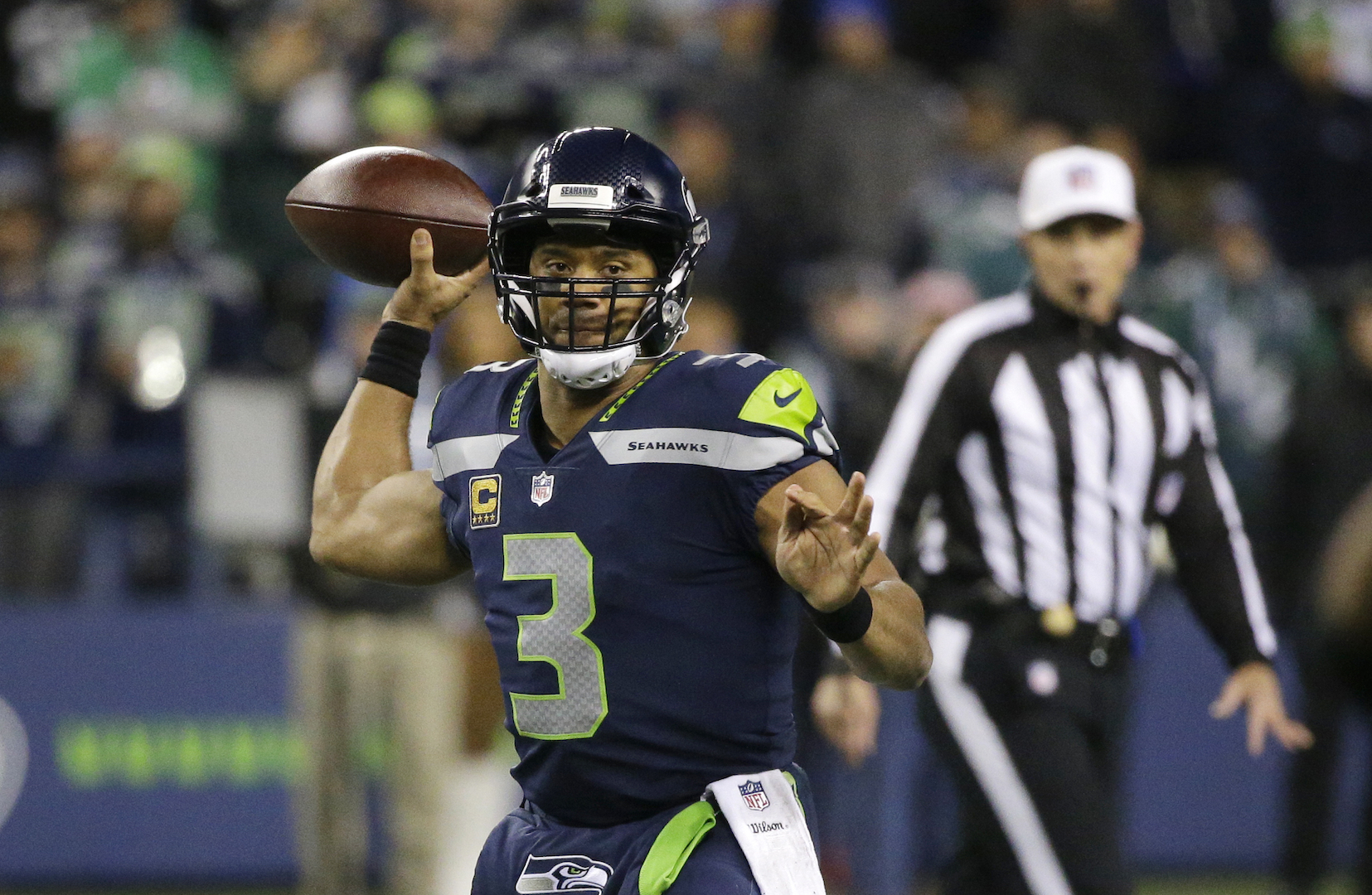 On a team that was basically falling apart and would eventually be overhauled in the offseason, Russell Wilson still had another great individual season. The running game again didn't take much pressure off Wilson, and the offensive line struggled for much of the year; but Wilson again showed he can carry a team without an elite defense and/or running game. The former Super Bowl champion is truly a magician at the position, as he's probably the best in the NFL at making something out of nothing. He can pick defenses apart with the best of them, so the passing aspect of Wilson's game has probably become underrated—he can torch defenses from the pocket. It's well-documented how electric and effective Wilson can be when he takes off and runs with the football, but he's at the point where he'd be a star quarterback even without that running ability.
2. Aaron Rodgers, Packers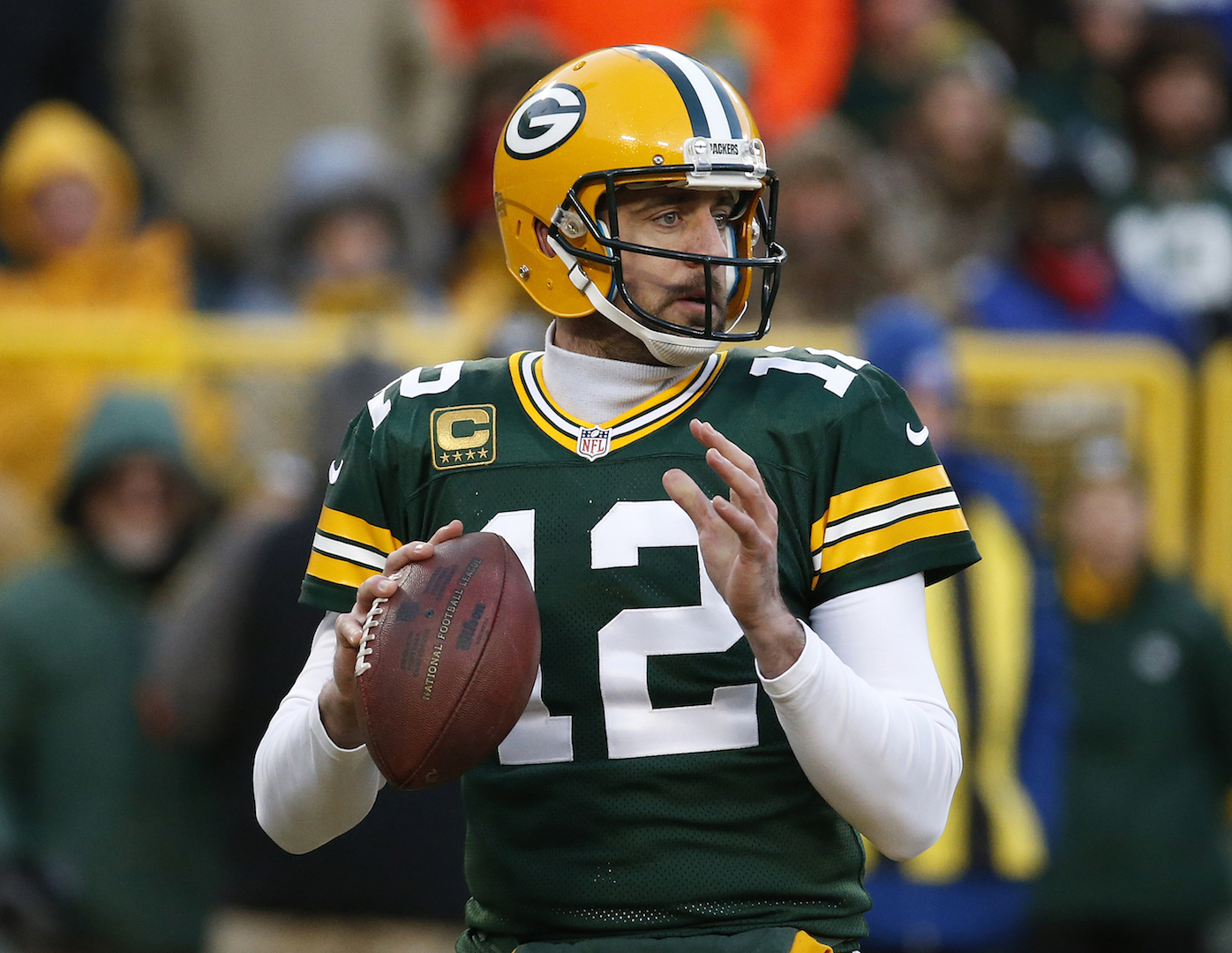 In terms of a skillset, Aaron Rodgers has everything you want from a quarterback—intelligence, a quick release, a laser arm, pinpoint accuracy, athleticism, arm talent (for off-platform throws), clutchness. A lot of it is God-given, which makes Rodgers' ability seem more legendary and almost mythical, but Rodgers works very hard at his craft—which allows him to do the things he does on Sundays. The statistics of the Green Bay great back up the tools he possesses, including an absurd 4.01 TD/INT ratio which is by far the best of all-time. Coming off an injury-plagued 2017, there's no reason to believe Rodgers won't remain one of the NFL's best players this year.
1. Tom Brady, Patriots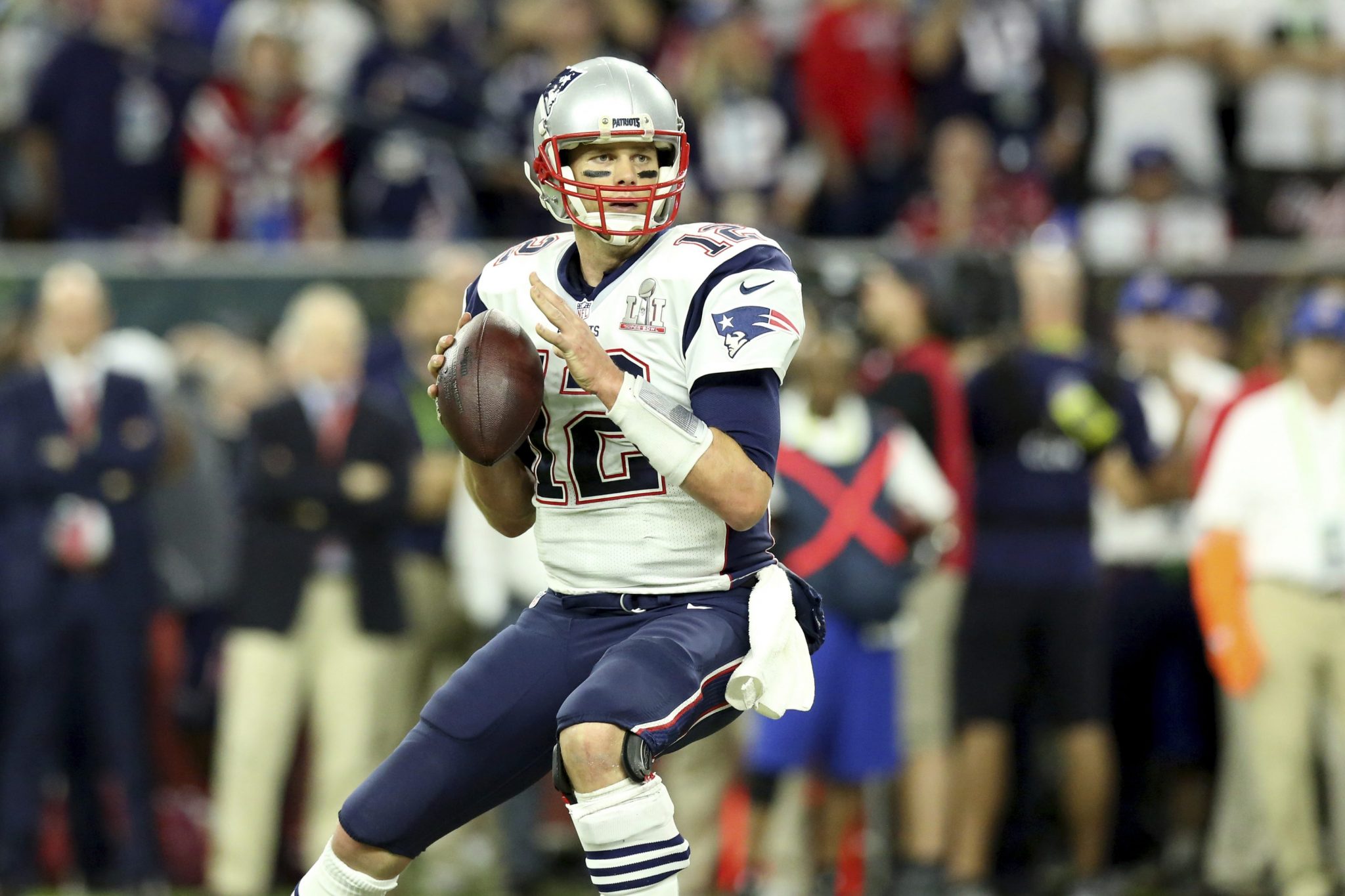 Tom Brady will turn 41 before the regular season, but he's shown no signs of slowing down. Brady is coming off his third Super Bowl appearance in the last four years (two wins), and a Big-Game-record 505 passing yards in a tough loss to the Eagles. TB12 uses his sneaky athleticism to move in the pocket as well as he always has, subtly buying time to deliver the ball with perfect precision, and he still arguably has as strong of an arm as he's ever had. As his physical tools remain at their peak, Brady uses his near-two-decades of experience to his advantage and gets better with age.