During big events like the Super Bowl, groupthink tends to overthrow any tendency for individuals to think on their own. After Super Bowl LIII, there has been immediate and uncompromising criticism of the Rams, and not enough praise for the Patriots. Post-Super Bowl is a time to reflect on just 60 minutes, and I suspect this Super Bowl LII recap has some different thoughts than most.
Defense can be appreciated too
A barn-burning Super Bowl with scoring in the 20s or 30s would have been enjoyable—almost everyone would agree it would've been more entertaining than last night's game—but defense can be fun and appreciated, too. The Rams did not play well on offense, and they were never able to get into a rhythm or make adjustments to help get things rolling, but the Patriots defense had a lot to do with that.
Bill Belichick and the New England coaching staff came up with a masterful gameplan, clearly winning the chess match versus Sean McVay and the LA coaching staff—and on the other side of the ball, Wade Phillips did an excellent job of containing Tom Brady, but as we'll get to, the G.O.A.T. can't be contained for four quarters in the Super Bowl.
So while people, as always, like to point to the negative and say "oh Jared Goff is terrible" or "the Rams choked," give Belichick (who like Brady, as Patriots owner Robert Kraft said postgame, is also the greatest at what he does), defensive play-caller and now Dolphins coach Brian Flores, and the rest of the coaching staff a ton of credit for creating a gameplan that completely shut down the 11th highest-scoring offense in NFL history.
New England played mostly man-to-man coverage with a single-high safety this season. They have an All-Pro cornerback in Stephon Gilmore, who can shadow opposing No. 1 or No. 2 receivers, along with a bunch of versatile defensive backs that can man up, bracket, and help on the other weapons on offense—this allows the Patriots to play man coverage successfully. But that versatility the defensive backs and the entire roster has allows them to switch up their primary defense for a game, especially with an extra week to prepare like they had for the Super Bowl.
A lot was made of Belichick texting McVay after the Rams' 38-31 Week 4 Thursday night victory versus the Vikings earlier this season. Goff and the passing attack torched Mike Zimmer's predominantly man defense for 465 yards and five touchdowns, with three receivers (Cooper Kupp, who did not play in the Super Bowl because of a season-ending knee injury suffered during the regular season—he'll be a big boost for LA next season; Brandin Cooks; and Robert Woods) going over 100 yards and a touchdown. Belichick was obviously sincere in his text compliment to McVay, but he certainly noted to himself that it's very difficult to stop that talented Rams offense, which uses man-beaters like misdirection and crossing routes to get guys free, while trying to play straight up man defense.
Based on the Super Bowl postgame comments from some of the Rams, they saw a different defense than they expected heading into the game. Different rushers came than were expected, different guys dropped into coverage, the coverages were varied and unexpected (including a good amount of quarters coverage, which was the case on one of the game's biggest plays). The Patriots linebackers Belichick appeared to be a step ahead of McVay, and the Rams didn't adjust in time even as the Patriots themselves were held to three points through three quarters.
The entire defensive unit for New England simply did their job. Linebackers played great both as timely blitzers that helped pressure Goff and strong zone defenders that blanketed and buzzed underneath to stop bread-and-butter parts of LA's offense. The defensive line pushed the pocket and played a part in not allowing Goff to feel comfortable on the rollouts he's usually lethal on. And the secondary didn't give Goff many opportunities to hit open receivers even when he did have time in the pocket.
Of that secondary, Jason McCourty might have made the play of the game for the Patriots. He made the pass breakup on the deep ball intended for Cooks in the back of the end zone, and the play can be more appreciated with the All-22 film (the camera angle that should be used for broadcasts). It came in an aforementioned quarters coverage, as McCourty zoomed back to an open Cooks to affect the potential touchdown just in time.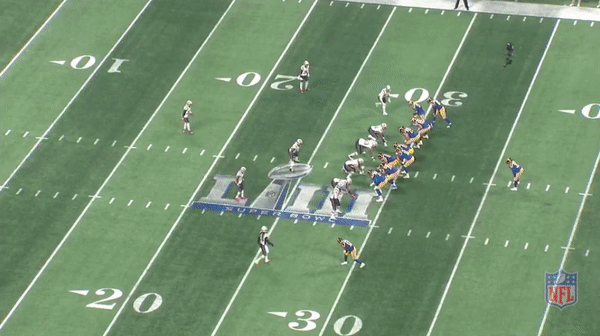 There were other opportunities for the Rams—like the deep ball to Cooks with under five minutes remaining, which might've been caught if not for Gilmore subtly holding the speedy receiver's left arm (which was shown to be pass interference on slow motion instant replay). Overall, it was just that type of game for the Rams. It happens, and the Patriots had a lot to do with it.
While it was lower scoring than any of those early Super Bowls (or any Super Bowl in history), it was kind of fitting that this game came down to New England's defense playing exceptionally well with Brady coming through in the fourth quarter. In some ways, it was the dynasty coming full circle after an absurd sixth championship in 18 years…but the Patriots aren't done yet.
Jared Goff did not play close to as bad as everyone says
One big narrative that's come out of Super Bowl LIII is that Jared Goff is the worst starting quarterback in the league, overrated, or whatever—basically, that he's bad. Yeah, the Rams scored only three points against a defense that was a step ahead of them all night, but it certainly doesn't come close to all falling on Goff.
The 24-year-old didn't have spectacular or even good numbers, but for most of the game, he was either under constant pressure or simply had nowhere to go with the ball. Still, he made some big-time throws—not many of his 19 completions were to open receivers, as he fit balls into tight coverage with his usual accuracy and timing—including a few to Brandin Cooks and one to Robert Woods (as he was getting hit) that stand out.
Goff was doubted before when all the "experts" declared him a bust after seven games as a rookie, and he's already proven them wrong despite the critics taking advantage of the LA offense's Super Bowl performance. Don't be surprised if he proves them wrong again by getting back to the Big Game and winning it at some point.
Todd Gurley probably was not close to 100%
2017 NFL Offensive Player of the Year Todd Gurley's health was a big storyline entering the Super Bowl, despite the Rams declaring that he was 100% ready to go. The Patriots did a very good job of stuffing the run, but there will still long stretches of the game when Gurley was on the sideline. He had just ten carries (for 35 yards) and one reception (for -1 yard) in the loss, and it's hard to believe Gurley's knee was close to full strength given his usage in the postseason after missing the final two regular season games.
C.J. Anderson played awesome since his late-season arrival, but he didn't have much success either yet again received a lot of playing time at the expense of Gurley. I typically don't like to get into contracts, but the Rams would have used their $60 million running back more if he was fully healthy, which I don't think he was. Hopefully we see the star runner 100% all next season.
Julian Edelman has a strong case for the Hall of Fame
Super Bowl LIII MVP Julian Edelman was uncoverable all game against the Rams, and he further strengthened what might've already been a resume that would be debated for the Hall of Fame. Looking at Edelman's regular season numbers—499 receptions, 5,390 receiving yards, 30 receiving touchdowns—no one is going to argue those get him into Canton. However, Edelman is one of the greatest clutch performers in NFL history.
It certainly helps that Edelman has Tom Brady throwing him passes, but he's had outstanding games and plays in the postseason and Super Bowl. He has a game-winning Super Bowl touchdown (versus Seattle in Super Bowl XLIX), he has the insane catch against the Falcons in the legendary Super Bowl LI comeback, and now he has a Super Bowl MVP. These moments are in addition to Edelman's many first-down receptions to keep drives going in January and February—it's not like he just shows up at the end of games, as he's consistent throughout.
Edelman has 115 receptions, 1,412 yards, and five touchdowns in the playoffs, and he has 93.7 yards per game, 114.0 yards per game, and 129.3 yards per game in New England's last three title runs. The receptions and yards are behind only Jerry Rice. Here are Edelman's playoff game logs since becoming a starting receiver (*indicate Super Bowl):
6/84/0
10/89/1
8/74/0
9/98/0
*9/109/1
10/100/0
7/53/0
8/137/0
8/118/1
*5/87/0
9/151/0
7/96/0
*10/141/0
Other Patriots receivers, like fellow Super Bowl MVP Deion Branch, have had big games with Brady throwing to them. And there's the PED suspension that some might want to consider for Edelman (though football doesn't seem to care much about PEDs when it comes to the Hall of Fame). But at the very least, Edelman deserves strong Hall of Fame consideration.
Super Bowl commercials were better than they've been
The Super Bowl commercials are getting a lot of heat for not being strong, but I thought they were a lot better than they've been recently. Not that any of the commercials were among the best in the history of the Big Game, but there were about a dozen that could get at least a chuckle or some kind of emotion—which is more than the past few Super Bowls when there has seemingly been just a couple of good commercials per year. The Bud Light-Game of Thrones crossover in particular was a pleasant surprise and a genius marketing idea from the two sides. And both social media accounts took it further with some great posts after the commercial aired. Valar Morghulis, The Bud Knight.
.@TheBudKnight's watch has ended.
What will you do #ForTheThrone?#SBLIII @BudLight pic.twitter.com/SzhvDcNAaL

— Game Of Thrones (@GameOfThrones) February 4, 2019
Tom Brady is the G.O.A.T.
Brady's level of consistency is unmatched, and his play in the biggest moments is simply remarkable. I've thought Brady was the best athlete of all-time for a while, and the Super Bowl LI comeback made it undeniable to pretty much everyone that he's the greatest football player ever. Super Bowl LIII wasn't one of TB12's best games, but he came through when it mattered most—which is almost a lock to happen no matter how the previous two-to-three hours went—to clinch a sixth ring for himself and his franchise.
Brady now has six game-winning fourth-quarter drives in his six championship victories, and this latest one came at 41 years old—but at this point, I don't even think about his age anymore. In 2019, 2020, 2021, 2022, and maybe even longer, he should be as good as he's ever been for a team that should be favored every time it steps on the field with him under-center. It's also at the point where we've run out of things to say about Brady as a football player and a classy individual. He's just the best.
There's no reason to believe Brady won't be hoisting the Lombardi Trophy again, but it's been astonishing to watch all these years if this happens to be the last time he does it.