The Tennessee Titans have unveiled their brand-new Nike uniforms. There have been alternate jersey and pants additions over the years, but this is the first uniform change for the franchise since they changed their name from the Oilers to the Titans in 1999.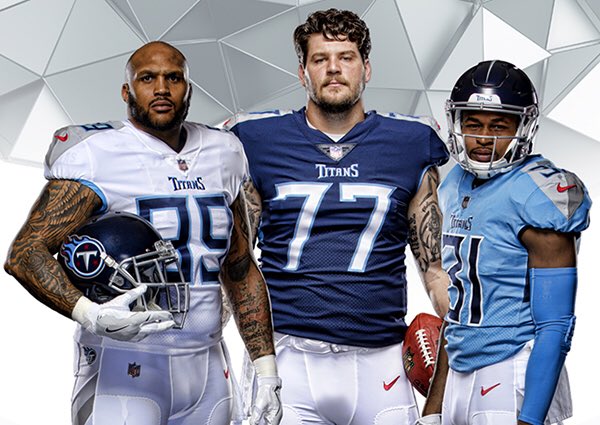 The new uniforms were revealed at an unveiling in downtown Nashville, where many Titans fans attended. The process of creating a new uniform began in 2014, and they were designed with the mascot in mind, with a big focus on sharpness and the sword. Also, the new uniforms are said to be 29% lighter than the old uniforms.
The official announcement from the team states in part:
The helmet, formerly white with two navy blue stripes, is now the Titans' primary navy blue with one two-toned silver stripe, which mimics the sword from the team's logo. It includes a metallic silver face mask, and the logo decal now has a silver outline. The sword-inspired center stripe starts at the back of the helmet and comes to a point at the top front.

There's a sword element on the pants and jerseys as well.

The shoulders of the jerseys feature the two-toned silver in the shape of a sword to mimic the sword from the team logo.

The color red accents the uniform, including the red stars on the inside back of the neckline — inspired by the three stars from the Tennessee state flag. These also tie to the fireball logo.

The number fonts are dramatically different – the custom, angular number fonts were designed with Greek or Roman lettering in mind. Every number on each jersey is shaped in a way that exemplifies the Northeast corner of Tennessee as the state appears on a map, a subtle ode to fans in the state.

The contrast insert on the under-arm of the jersey is a new addition to the uniform, and the two-tone silver stripe on the uniform pant signifies the sword in the team logo. The sword-sheath inspired design on the stripe of the pants is angled much like a sheath would hang. There's a fireball logo on the left and right hip.
The story of the uniforms were told in a video, which features how they were designed:
The story behind our new uniforms.

Thank you, @usnikefootball and @NFL. pic.twitter.com/0UY3dlxIIP

— Tennessee Titans (@Titans) April 5, 2018
The new Titans uniforms—Navy blue jersey for home, White jersey for away, and Titans blue jersey for alternate and Color Rush—will immediately be used this fall for the 2018 NFL season. They are available for purchase here.