With the NFL season in the rear-view mirror, now is a good time to go over my top 32 NFL franchise players of 2019. Basically, if there was a re-draft of the NFL tomorrow, who would be the top 32 players selected to build a franchise around? This year, a running back nearly cracks the top ten, but it should come as no surprise that 20 of the 32 franchise building blocks are quarterbacks. Before we get started, I'll put the same exact notice as last year when I did this exercise:
Keep in mind, these are my opinions, and many people will have totally different takes. But I didn't just put this list together without giving it a lot of thought; and while I'm not an expert, I do actually watch these guys play a lot. I wouldn't be able to do this for any other sport, and I don't presume to know everything about every sport out there like some of the talking heads on three- and four-letter networks.
1. Tom Brady | Position: QB | Age: 41 | Team: Patriots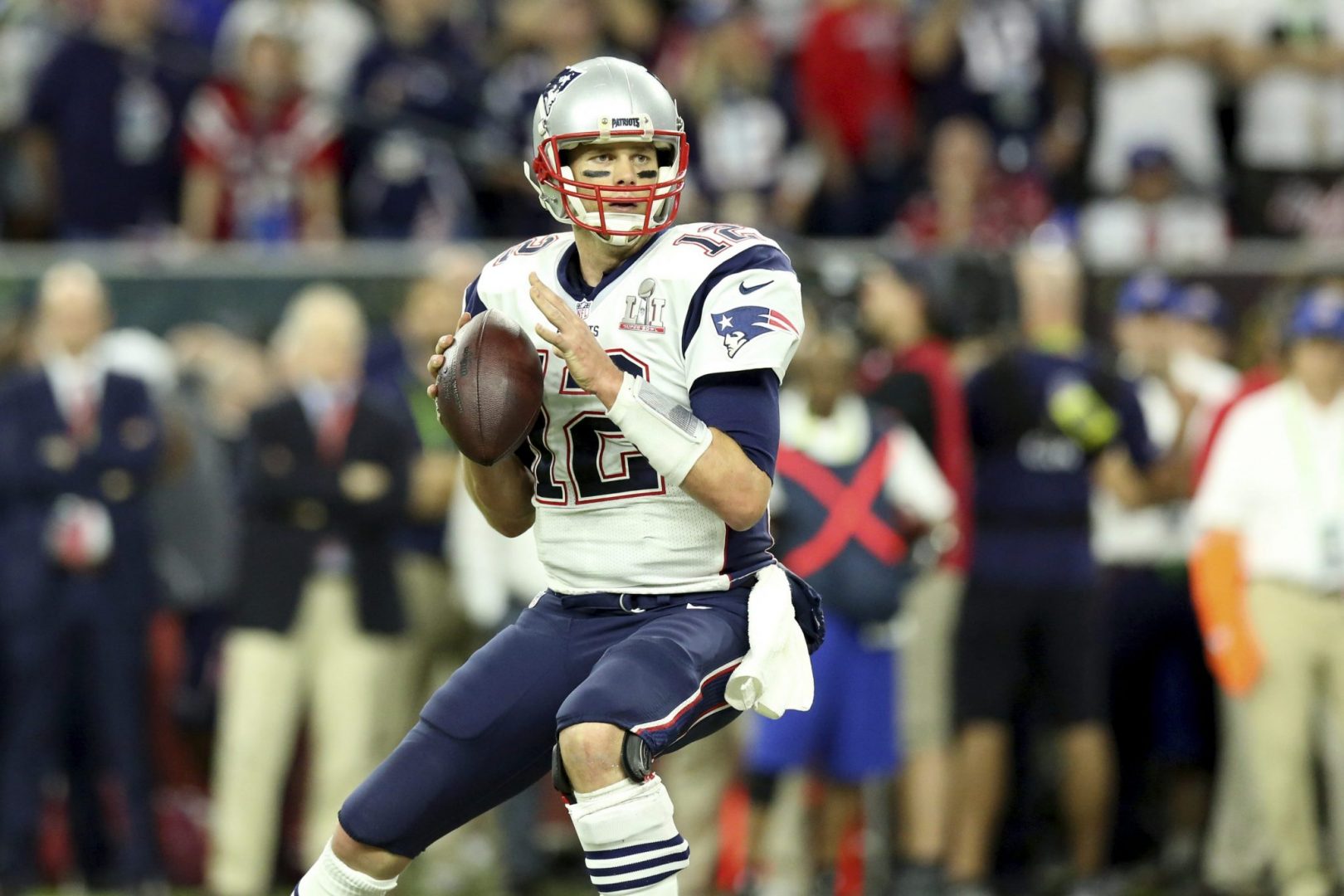 Tom Brady in the No. 1 spot might be a surprise considering he'll be 42 years old at the start of next season, but I would have zero hesitation in selecting him first overall in a re-draft of the NFL. As is displayed by how well he's played into his 40s and by his strict TB12 method, you know you're going to get the most committed player in the league leading your franchise in the six-time Super Bowl champion. A goal of Brady's is to play until he's 45 (or longer), so that's at least four seasons of having the best chance to win Super Bowls because he'll be under-center—if you want the best chance to win a championship, you want Brady as your quarterback. Brady's level of consistency is unmatched, and he's always been at his best when it matters most. I would just pour draft capital into getting either Georgia quarterback Jake Fromm (who I feel might slip in the draft but should be the top pick) or Clemson quarterback Trevor Lawrence (who will be the top pick) in 2020 or 2021 to keep things rolling whenever Brady retires.
Bottom line: I'm not passing on Tom Brady.
2. Patrick Mahomes | Position: QB | Age: 23 | Team: Chiefs
At just 23 years old, Patrick Mahomes had a 5,000-yard, 50-touchdown MVP season in his first year as an NFL starter. Getting a year to sit behind one of the best quarterbacks in the league in Alex Smith, along with having Andy Reid as his head coach and perhaps the most talented supporting cast in the league, Mahomes landed in an ideal situation to have success—but there's no doubt he's an excellent player. The former Texas Tech gunslinger always looks extremely calm, and his ability to smoothly scramble and hit his receivers from anywhere on the field makes him an absolute headache for defenses to contain. It'll be interesting to see what defensive coordinators do against Mahomes after a full offseason of watching film on him, but he's arguably a near-transcendent quarterback. My biggest concern is everyone gassing Mahomes up so much, as it's already to the point where the praise is a little too extreme—he cannot let that go to his head.
Bottom line: Patrick Mahomes is just 23 years old and should have 10-15+ years of perennial MVP and All-Pro consideration.
3. Andrew Luck | Position: QB | Age: 29 | Team: Colts
I said last year, when he was ranked No. 6 on this list, that Andrew Luck might have been considered the top player to build around until his shoulder issue. After a season of showing he's back to full strength—and playing as well as ever despite a year off and the switch to a new offense—Luck is squarely in the top three along with Brady and Mahomes. Age doesn't make any difference for me with Brady because he's so great, but I would take Luck over Mahomes if they were the same age. With the total package of great accuracy, arm strength, smarts, versatility (in and outside the pocket), toughness, and competitiveness, Luck has everything you want from a quarterback and the ability to carry an offense.
Bottom line: Over his shoulder issues, Andrew Luck is clearly one of the top players to build a franchise around.
4. Jimmy Garoppolo | Position: QB | Age: 27 | Team: 49ers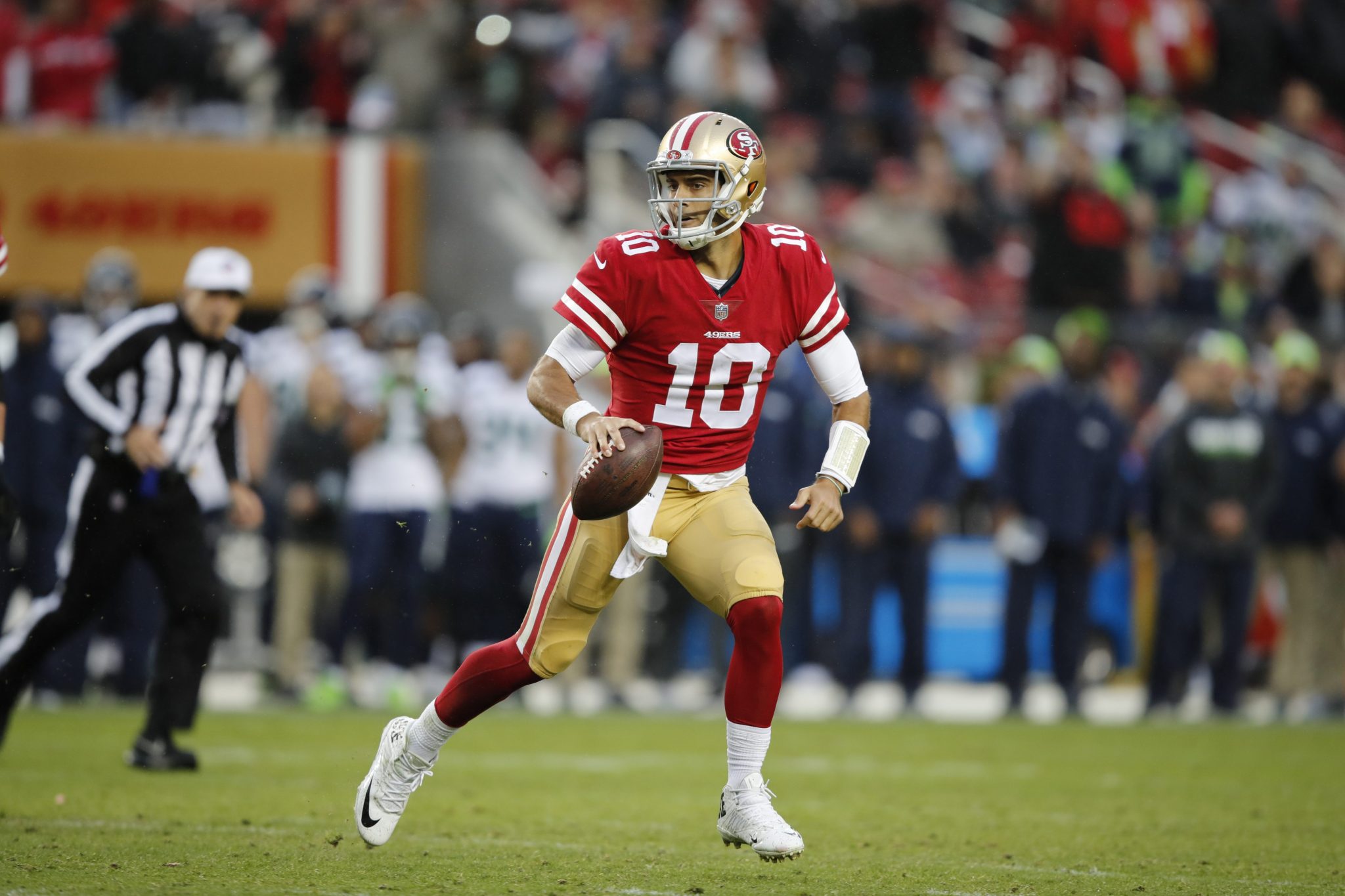 People might have forgotten a bit about Jimmy Garoppolo after his season was ended by a Week 3 ACL tear, but the 27-year-old is an ideal quarterback to run almost any offense. Garoppolo benefited from sitting behind Tom Brady for three-plus years, and it's shown in his play—he almost looks like Brady at times with the way he throws darts with a quick release. Jimmy G might have the best release—i.e. the quickest—in the league, which makes it difficult for both the opposing pass rush to get to him and for defenders to make plays on the ball in the air; and he's super-accurate with more than enough arm strength to make every throw with ease, along with plus athleticism to make something of nothing on plays that are covered. Garoppolo has a short sample size with only ten starts, but he has an 8-2 record and has shown enough to be considered a top franchise quarterback.
Bottom line: Jimmy Garoppolo has a prototypical skill set and was in the perfect place to develop into a top-notch franchise quarterback.
5. Jared Goff | Position: QB | Age: 24 | Team: Rams
This is where things get really tough, as any of the five or six guys after this could be up as high as No. 5. Basically, I'd be nearly just as happy with any of them leading a franchise. Jared Goff is just 24 years old, and he's already been to a Super Bowl despite everyone foolishly counting him out after seven starts as a rookie in 2016. Because the Rams struggled in Super Bowl LIII, it seems everyone is ready to count Goff out again and label him an overrated beneficiary of a Sean McVay offense, as if he's just a product of his bright head coach and hasn't played extremely well the last two seasons—that would be incredibly stupid. Goff is one of the most accurate passers in the NFL, making "wow" throws look easy on a weekly basis—including while showing no fear taking shots to the chest from defenders—and McVay's offense wouldn't be as good as it is without the young franchise quarterback leading it.
Bottom line: Jared Goff is one of the most poise signal-callers in the league, and he has the ability to lead the league in passing.
6. Matt Ryan | Position: QB | Age: 33 | Team: Falcons
Somehow, a narrative was started that Matt Ryan is one of the NFL's most overrated players. The reality is that he's become criminally underrated, and he moves up from last year's No. 10 ranking into the No. 6 slot. Ryan is a former league MVP that played just as well last season as that award-winning 2016 campaign despite his offensive line getting decimated by injuries and his team not having success overall—and his offensive coordinator getting fired after the season. Ryan has seemingly worked on his athleticism to get more mobile later in his career, and his underrated athletic ability allows him to buy time and make huge plays down the field with perhaps the best deep ball in football. He certainly has superb weapons on the outside to make things easier, but Ryan carried the Falcons to many of their wins while scrapping for a respectable 7-9 record in a trying year. Aside from Tom Brady, Matty Ice might be the best quarterback in the NFL late in games, and I like that he has a clear edge to him as he looks to capture an elusive championship.
Bottom line: Matt Ryan is just an exceptional quarterback that's hungry for his first Super Bowl title.
7. Aaron Rodgers | Position: QB | Age: 35 | Team: Packers
Last year, Aaron Rodgers was comfortably ranked second among the NFL's top franchise players, but he slides down a handful of spots after a perplexing season in Green Bay. The Week 1 injury—which Rodgers admirably came back from to lead the Packers to a comeback win over the Bears—complicated things, but Rodgers' play wasn't at the level we're accustomed to seeing (despite a 25:2 TD/INT ratio). Clearly, some notable former teammates have not seen eye-to-eye with Rodgers, and the future Hall of Fame quarterback didn't appear to have Super Bowl winning head coach Mike McCarthy's back as the team struggled in 2018—his attitude is at least a question. Also, Rodgers is now 35, and his athleticism could be declining—though he can certainly win from the pocket, he's better when he can scramble to buy time. Overall, there are probably more concerns for Rodgers than the rest of the top eight players.
Bottom line: Aaron Rodgers is arguably the second-best player in the NFL, but he's 35 years old, and attitude issues are a slight concern.
8. Russell Wilson | Position: QB | Age: 30 | Team: Seahawks
Rounding out the top eight is Russell Wilson, who is coming off one of his best seasons at 30 years old. In seven NFL seasons, Wilson has had a winning record in every season, has missed the playoff just once (with a 9-7 record in 2017), has been to two Super Bowls (won one), and has won 67.0% of his games. Wilson was No. 4 on this list last season and could easily be that high again, as he's someone you can put at quarterback and not spend a lot of money in other places on the offense but know the unit will be fine. One downside for Wilson is that he might sometimes try to do too much, which could lead to big losses of yardage on sacks, putting the offense in unfavorable positions behind the sticks—but he's such a magician that he'll often make up for it the next play or at other points in the game.
Bottom line: Russell Wilson is in his prime at 30 years old, and he can pick apart defenses from the pocket to remain a force late in his career.
9. Marcus Mariota | Position: QB | Age: 25 | Team: Titans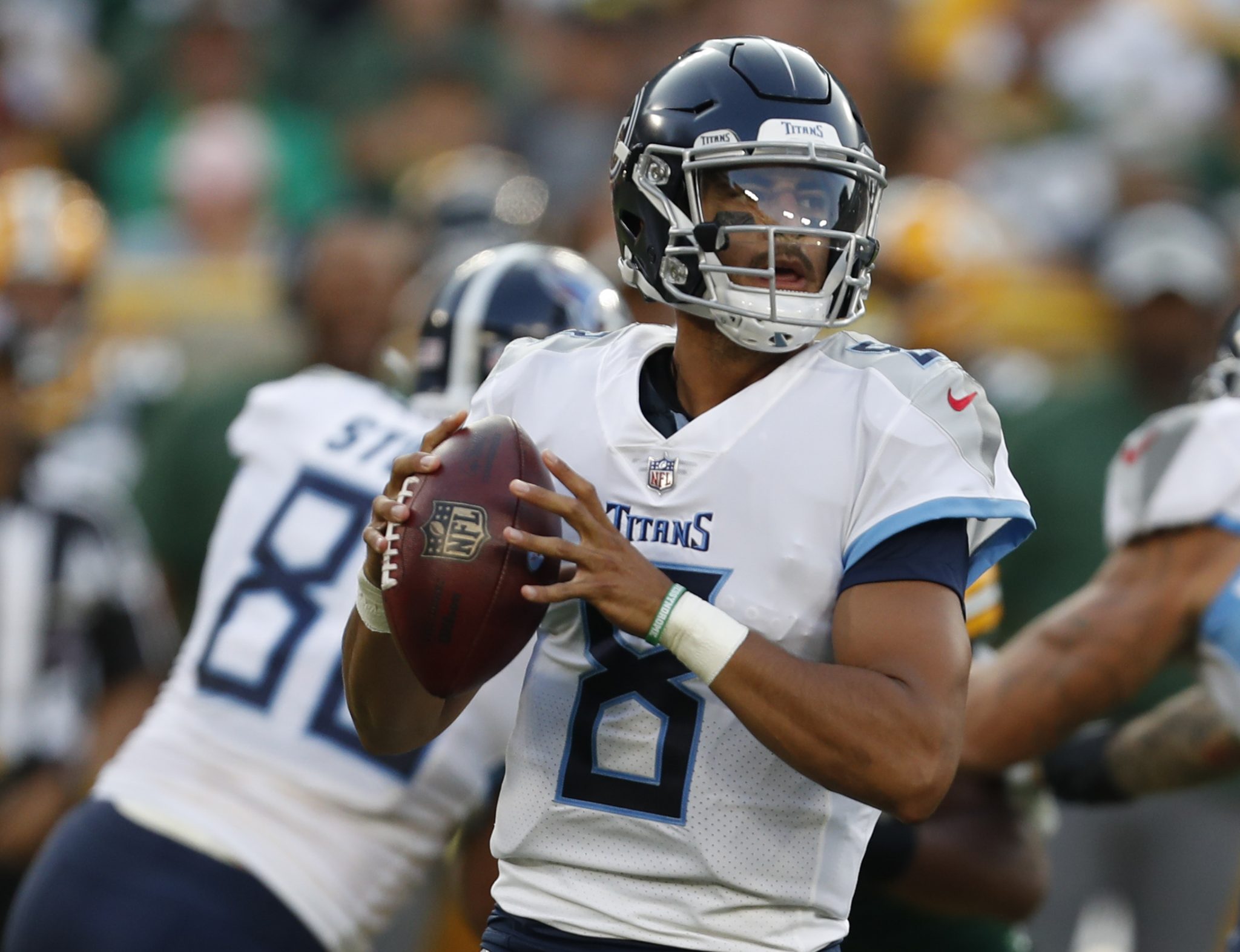 This is probably the most controversial ranking on my list of the top players to build around in the NFL, but Marcus Mariota has many major positives as a franchise player. The former Oregon Duck has four seasons of experience as a starting quarterback, but he's still just 25 years old; he is one of the greatest leaders in the NFL, as his teammates love him and rally around him, particularly in big games and late in games, when Mariota has proven to be a top performer; and he has a unique skill set as someone that's six-foot-four with above-average accuracy, a strong arm, and a naturally-quick throwing motion along with unmatched 4.5 wheels for his size at the position. An undervalued and hugely important asset is that Mariota is also said to "think like a Peyton Manning," according to former Oregon head coach Chip Kelly. The lone obvious concern—and it's a big one—is that Mariota has struggled to stay healthy with multiple different injuries throughout his career, including nerve issues in 2018.
Bottom line: If Marcus Mariota had been able to stay healthy to start his career, he'd likely be a top-five player to build around.
10. Josh Allen | Position: QB | Age: 22 | Team: Bills
Because of the clueless people that probably didn't even watch Josh Allen play at Wyoming yet claimed he was destined to become a draft bust, the top-ten ranking of the six-foot-five Bills quarterback as a franchise player might also be seen as controversial by some. But despite a 10:12 TD/INT ratio as a rookie—actually 18 touchdowns compared to the 12 interceptions if you include Allen's eight rushing scores in 12 games—the big gunslinger had an overwhelmingly positive first NFL season. Allen showed he can basically run around and do whatever he wants as a runner against top-notch NFL defenses, as he would routinely run away from guys and put up historic performances as a rusher. However, Allen obviously must be able to make plays and win games as a quarterback that can throw the ball, which he can certainly do—otherwise, he wouldn't be ranked close to this high. Allen might have an even bigger arm than Patrick Mahomes, and he elevated the play of what was probably the worst supporting cast in the league around him last season. After one season, I feel stronger about Allen's NFL outlook than I did during the pre-draft process last year, especially because of the leadership he displayed as a quarterback that appeared to be "just one of the guys."
Bottom line: Josh Allen has astronomical upside as a supremely-talented quarterback that gets his guys going as the leader of a team.
11. Saquon Barkley | Position: RB | Age: 21 | Team: Giants
It is not my intention to have these rankings be controversial, but I acknowledge some people might find having a running back as a borderline top-ten player to build a franchise around might be crazy (despite two first-round running backs participating in this year's Super Bowl)—when the running back is as good as Saquon Barkley, it's not. Last year, I said I would take Barkley first overall in the draft without hesitation, even over a quarterback like Josh Allen. First of all, Barkley appears to be an amazing guy that's a model leader and example-setter for a team. And then you have the fact that he's an elite, elite talent that is a true three-down back with A+ power, speed, acceleration, quickness, vision, balance, route-running, and hands. Barkley never has to come off the field, he can handle a heavy workload, and he might already be the NFL's top big-play threat. The former Nittany Lion also has a knack for the end zone (15 scores as a rookie) and zooms up the sideline, erasing angles taken by defenders like it's nothing.
Bottom line: Saquon Barkley is a generational talent that appears to be a generational leader, and he's the NFL's best weapon to have an offense run through.
12. Nick Foles | Position: QB | Age: 30 | Team: Eagles*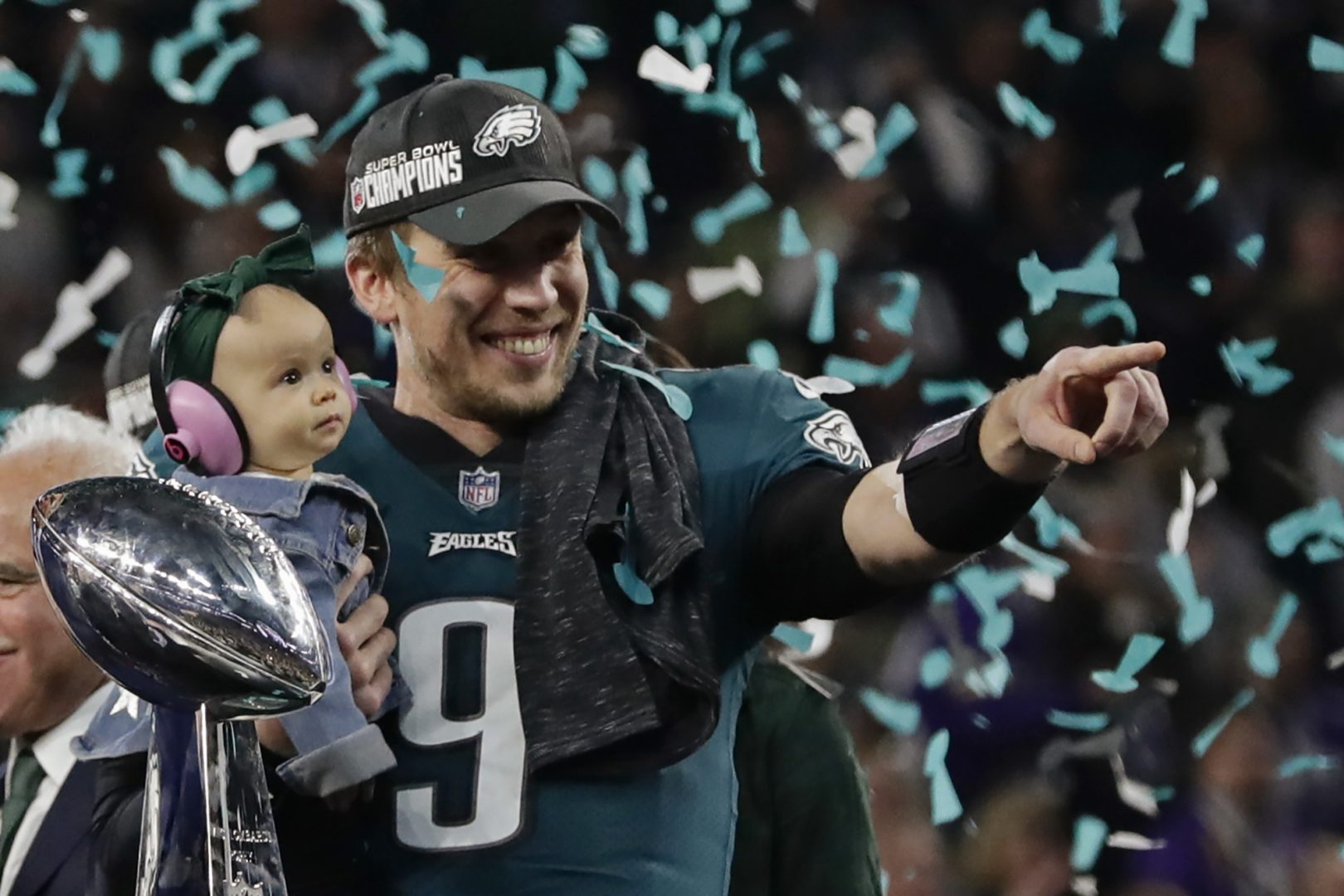 The Eagles struggled in 2018, but when Nick Foles re-entered the lineup in December, the team instantly flipped the switch and picked up huge wins versus the playoff-bound Rams and Texans en route to a postseason appearance and an eventual January win at Soldier Field. If not for an Alshon Jeffery drop in the Superdome, the Eagles might've been in the NFC Championship Game against a Rams team they already beat and potentially in another matchup with the Patriots for another title. The Super Bowl LII MVP is still just 30 years old, and he's 9-2 in his last 11 games as a starter and 23-7 in his 30 starts (including playoffs) for the Eagles since his rookie season (for an astonishing 76.7% winning percentage, a mark that is exceeded only by Tom Brady since 2013). I love that Foles trusts his guys and gives them opportunities to make plays, including on throws down the field where Foles can show his outstanding drop-in-the-bucket deep ball.
Bottom line: Nick Foles is a Super Bowl winning quarterback that has won a bunch of games since entering the league.
13. Deshaun Watson | Position: QB | Age: 23 | Team: Texans
Ahead of the 2017 NFL Draft, I was higher on Deshaun Watson than anyone, and it's still surprising that many decision-makers apparently didn't feel the former Clemson star was a bonafide franchise quarterback—despite Clemson coach Dabo Swinney strongly warning teams not to pass on his championship signal-caller. One of the NFL's best runners at the quarterback position, Watson needs to work on getting more consistent with his accuracy, but he's lethal when he's feeling it as a passer on short, intermediate, and deep throws. I had Watson six spots higher last year, as some of my concerns have been elevated in the past year. I think some of Watson's teammates—and potentially some other people—have been a negative influence on him, and I hope he didn't change too much from when he entered the NFL. Watson is a genuinely good guy, but he might be getting a little too flashy; for example, showboating after first downs when you're basically getting destroyed in a playoff game is not a good look.
Bottom line: Deshaun Watson has the "it" factor, but ideally, he'll get more consistent with staying even-keeled as he develops as a player.
14. Carson Wentz | Position: QB | Age: 26 | Team: Eagles
Carson Wentz might be the most difficult player to rank among the NFL's best franchise players. As indicated by their respective rankings, I believe the Eagles should move forward with Nick Foles as their starting quarterback over Wentz. However, Wentz has shown his All-Pro-level upside when he's on the field and all is going well. He's incredibly smart with definite plus arm strength and accuracy along with the ability to make an impact as both a scrambler and a runner—however, he wasn't quite as good in 2018 at clearly less than 100%, though he might have been pressing after the team won a championship without him on the field during the title run the previous season. There are obvious concerns with Wentz, as he's struggled with injuries dating back to his high school and college days; but the good news is he's determined to prove he can stay healthy. Another concern is that Wentz appeared to lock onto tight end Zach Ertz too often in 2018 while not giving other guys opportunities to make plays on 50/50 balls as frequently as he did during his MVP-level 2017 season. Finally, Wentz admitted there was some truth to the report about him being "selfish," but at least by all accounts, Wentz was previously known as a model person and might have just had an off year.
Bottom line: When at his best, Carson Wentz spreads the ball around and is one of league's better quarterbacks.
15. Mitchell Trubisky | Position: QB | Age: 24 | Team: Bears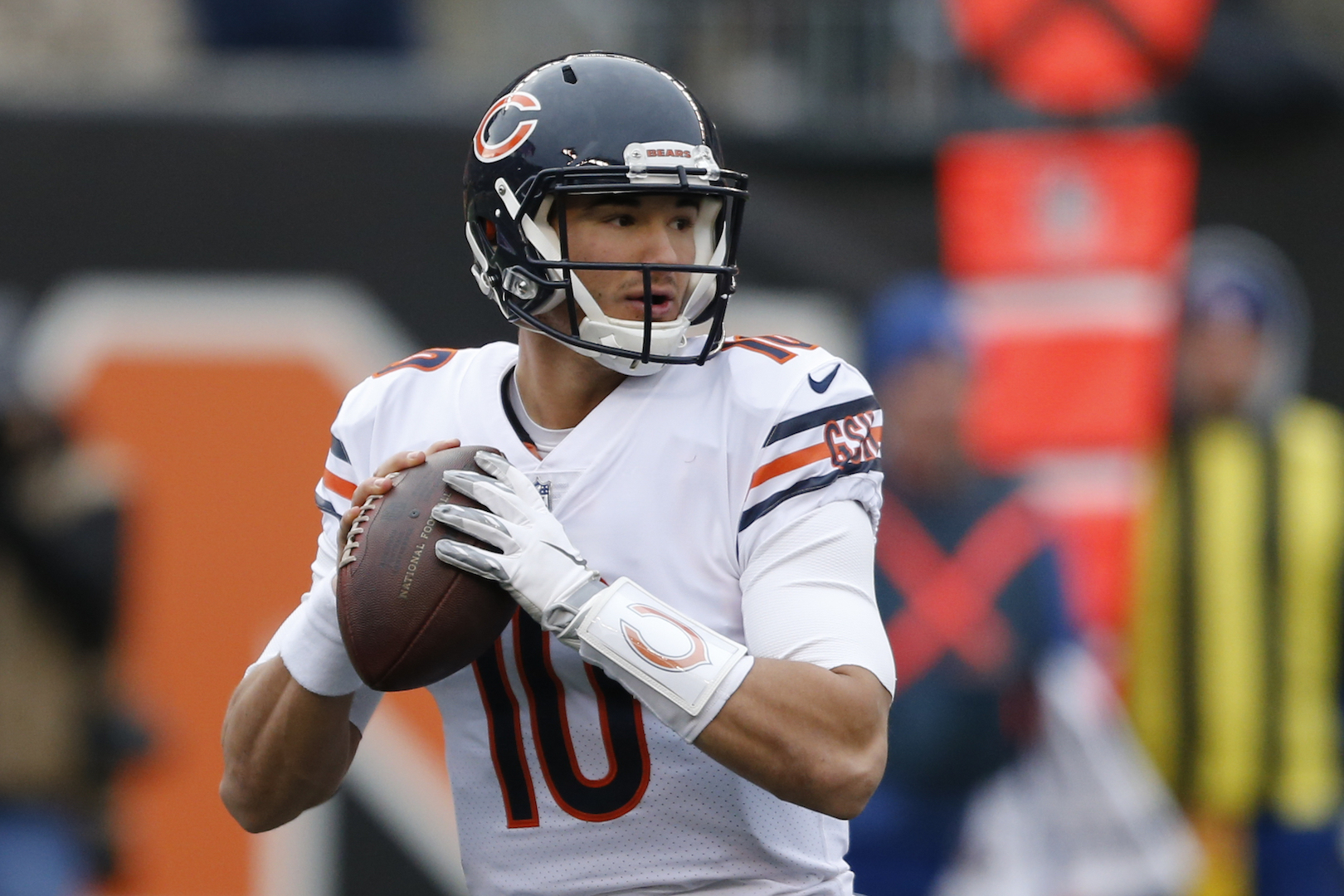 Consistency is the key for Mitchell Trubisky, as the former No. 2 pick showed big-time flashes in his second NFL season while quarterbacking a 12-4 Bears team in his first year under new head coach Matt Nagy. Remember, Trubisky started just one year at North Carolina, so gaining more reps and experience as a professional is critical after not having much time to develop on the field for game days during his college career. It wasn't shown off as often as I thought it would during the 2018 season, but Trubisky has an electric deep ball that headlines his upside as a pocket passer, while his scrambling ability and athleticism is vastly more impressive than what he tested at the NFL Combine (4.67 40-yard dash, 27.5-inch vertical). With backyard-football-like skills as scrambler, watch out for Trubisky if he develops into someone that can pick apart defenses from the pocket.
Bottom line: As indicated by his draft status, Mitchell Trubisky has the tools to become a top-five quarterback.
16. Sam Darnold | Position: QB | Age: 21 | Team: Jets
Sam Darnold's turnovers were a concern for me coming out of USC last year, and he had his ups and downs as a rookie quarterback for the Jets. But the 21-year-old ended the season on a high note with a couple very impressive games at home before a tough game (in Foxboro, perhaps the most difficult place to play in December) to end the campaign, and his rookie season should have people optimistic about his outlook moving forward. Darnold is said to be a natural-born leader, which is obviously exactly what you want from a quarterback—I forget where I heard it, but there's a story about how while at USC, a then-freshman Darnold calmly told upperclassmen and future NFL star JuJu Smith-Schuster to tone it done in practice and to focus on improving instead of celebrating. Clearly, Darnold is comfortable as the face of a franchise, and his football skills matchup to those intangibles.
Bottom line: Sam Darnold has the demeanor and leadership ability desired from a franchise player.
17. Matthew Stafford | Position: QB | Age: 31 | Team: Lions
Matthew Stafford is another tough rank, as he's 31 years old with a below-.500 career record and coming off one of his worst seasons as a starter. At this point outside the top half of the top 32, his ability to make every throw, along with his experience and excellence in late-game situation, would make him worth strong consideration as a player to lead your franchise. Stafford can jump into the two-minute drill and execute the it better than most quarterbacks, and his eight fourth-quarter comebacks in 2016 are an NFL record that basically carried his team to the postseason. Also, Stafford has proven to be one of the toughest players in the league, as he'll stand in the pocket and take big shots while delivering the ball with accuracy.
Bottom line: Matthew Stafford is a former 40-touchdown quarterback with the experience to lead an offense at a high-level for the next several years.
18. Baker Mayfield | Position: QB | Age: 23 | Team: Browns
Baker Mayfield could be a lot closer to the top ten, but his personality is more of a concern than any other quarterbacks ranked among the top 32 franchise players in the NFL. The good news is Mayfield's teammates love his demeanor, but I just hope he doesn't perform too inconsistently throughout his career while leading a team that might be up-and-down if thriving too much on emotion. Going just off on-field play, Mayfield clearly has the ability to lead offenses at a very high level, with nice touch and accuracy to all areas of the field and terrific arm strength for an "undersized" quarterback—even on television, it's clear Mayfield's passes come out of his hand with a ton of zip, and they appear to be easily catchable for his receivers.
Bottom line: When things are going well, Baker Mayfield is a dynamic quarterback that can use his flamboyant personality to his advantage.
19. Julio Jones | Position: WR | Age: 30 | Team: Falcons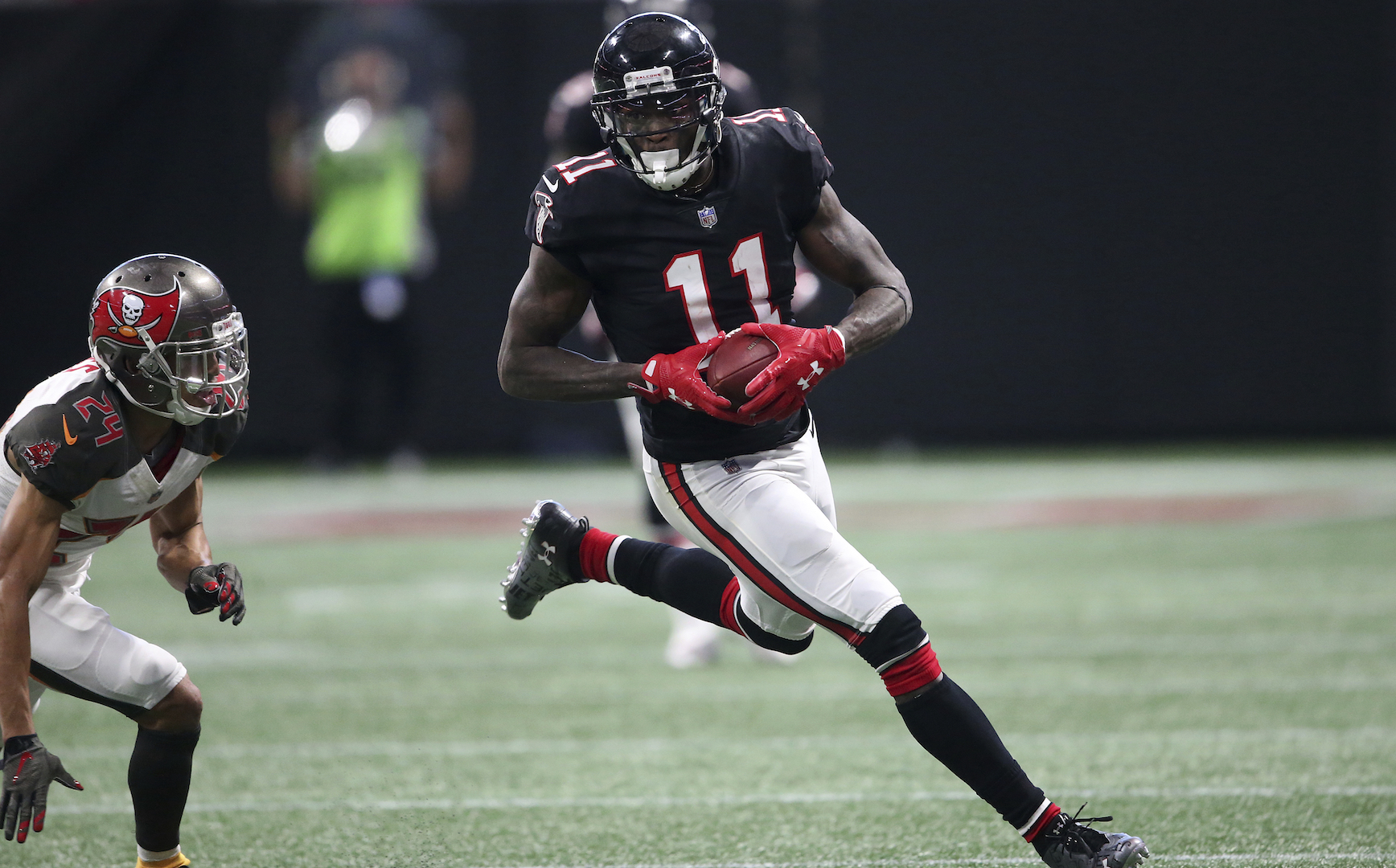 With the way the rules are slanted in favor of offenses, and the high-volume passing attacks around the league, the NFL has gotten to the point where having a true alpha wide receiver is probably more important than it's ever been—and Julio Jones is clearly the best all-around receiver in the league in my opinion. Despite an obvious alpha skill set, the All-Pro receiver doesn't have diva qualities—as is displayed by the fact that he never complains when the ball doesn't come his way and his willingness to block to spring the running game (he's clearly one of the NFL's top handful of blockers at receiver). Jones is a few spots higher than last year, but he has the most receiving yards per game in NFL history and can take over a game unlike any other player at his position.
Bottom line: Julio Jones is one of the greatest football players of all-time and a rare unselfish No. 1 at the wide receiver position.
20. Dak Prescott | Position: QB | Age: 25 | Team: Cowboys
Dak Prescott is another one of those players that has many people—or just trolls that don't actually watch games—that believe he's either overrated or simply not good. While Prescott might not be an elite quarterback, he's certainly not a "bad" player as someone that has been one of the league's best in crunch time over the past three seasons. The former fourth-round pick prefers remaining in the pocket as a distributor, but he is potent on both scrambles and designed quarterback runs—particularly zone-reads down in the red zone. Prescott benefits from a strong offensive line along with Ezekiel Elliott, but it's not like he's had one of the NFL's better receiving corps surrounding him through three seasons. Prescott has won 66.7% of his games, which is behind just Tom Brady and Russell Wilson among all active players with at least 17 regular season starts.
Bottom line: Dak Prescott wins games and prefers to stay inside the pocket despite plus rushing ability.
21. Luke Kuechly | Position: LB | Age: 27 | Team: Panthers
After he was the first non-quarterback in last year's franchise player rankings, Luke Kuechly is the first defensive player on the 2019 list. It feels like Kuechly should be closer to 30 by now, but he'll turn just 28 this April, so he can remain a stalwart on defense for the next decade. To counter all the signal-callers on offense, Kuechly is a player that calls out plays as the defensive leader better than anyone in the league, as he puts in a ton of time studying tape and tendencies to be as prepared as anyone on Sundays. You know Kuechly will get his teammates to play hard, and he'll help put them in favorable positions every snap.
Bottom line: Luke Kuechly is a defensive anchor that covers sideline-to-sideline and all areas of the field against both the run and the pass, while helping his teammates make plays by calling things out pre-snap.
22. Darius Leonard | Position: LB | Age: 23 | Team: Colts
Though not a middle linebacker like Luke Kuechly or a pass rusher that focuses on getting to the quarterback most snaps, Darius Leonard was an immediate force as a rookie outside linebacker for the Colts in 2018. The second-round pick just looks like a physical freak, and he played like he looks in his first NFL season, racking up a league-leading 163 tackles (19 more than any other player) along with seven sacks, five forced fumbles, and two interceptions. It's hard not to like Leonard after his response to a Pro Bowl snub, aiming for 40 tackles the next week—though his play didn't appear much different than any other game, as he flies around the field with extreme effort every single week. Leonard was rightfully named an All-Pro—likely the first of many—and Defensive Rookie of the Year, as his career couldn't have started much better than it did.
Bottom line: Darius Leonard instantly elevated his defense as a rookie, and he'll help get a defense to play fast and hard every week.
23. Derek Carr | Position: QB | Age: 27 | Team: Raiders
This next season might determine where Derek Carr stands as a franchise player to build around for the next decade, and Jon Gruden and the Raiders might be a good test study for it, as they won't have much patience if he's not closer to his 2016 form moving forward. Last year, Carr was 12 spots higher at No. 12, but he still didn't look the same a year removed from his Christmas Eve 2016 leg injury. Carr unquestionably has elite upside because he slings the ball around as well as anyone when he's confident and gets time in the pocket. But he appeared to be pressing at times and didn't always look comfortable in the pocket—it's unclear if this is because he was still adjusting to a new offense, didn't have enough weapons around him, was simply trying too hard, or because he just might not be the same after his injury.
Bottom line: Derek Carr has the track record of a franchise quarterback, but there might need to be a backup plan if he doesn't soon become one of those elite guys that can carry an offense.
24. Aaron Donald | Position: DL | Age: 27 | Team: Rams
Last year, I wrote that "if Aaron Donald isn't double-teamed, he's going to wreak havoc on opposing offenses as both a run defender and pass rusher." The addition of Nndamukong Suh along the defensive line of the Rams helped take pressure of Donald, and the two-time Defensive Player of the Year certainly wreaked havoc on offenses all season with a career-high 20.5 sacks during the regular season. It's slightly concerning that Donald didn't make as big of an impact during the postseason, but his team made it to the Super Bowl with a realistic chance of winning it while holding New England to 13 points. Donald is built unlike any other player in the league—and it's because he works so hard at staying in shape—and it shows with his unique skill set and ability on the defensive line. At just 27, Donald has plenty of prime years left and is eventually going to get fitted for a gold jacket
Bottom line: Aaron Donald is a freak athlete that is too much for almost any offensive lineman to handle often in one-on-one situations.
25. Roquan Smith | Position: LB | Age: 21 | Team: Bears
A long holdout over offset language in contracts led to Roquan Smith missing training camp as a rookie, but it didn't look like he missed much time when he hit the field in Week 1 for the Bears. The former Georgia Bulldog was the eighth pick in the draft, but he instantly played like one of the best defensive players in the league as a starting inside linebacker next to Danny Trevathan in Chicago. Smith covers sideline-to-sideline as well as any linebacker in football, he's great against both as a run defender and in pass coverage, and he's devastating as a timely blitzer that knows how to get home to the quarterback. As a 21-year-old, Smith had 121 tackles, five sacks, and one interception.
Bottom line: Roquan Smith is one of the best all-around defensive players in the league and is an ideal leader for a defense the next 15 years.
26. Khalil Mack | Position: EDGE | Age: 27 | Team: Bears
Just behind his young teammate is fellow Bear Khalil Mack, who is the first prototypical EDGE among the NFL's top franchise players. It's concerning that Mack was apparently willing to miss games to get a new contract—but his play didn't appear to suffer despite missing all of the offseason and training camp before getting traded from Oakland to Chicago. Mack had a sack and a forced fumble in his first four games of the 2018 season, and his 12.5 sacks on the year made it four straight seasons with double-digit sacks and 53.0 for his career at just 27 years old (28 in under two weeks). Mack can drop back in coverage, but he's at his best when he's blowing the game up in the backfield as an elite run defender and pass rusher.
Bottom line: 28 years old at the start of next season, Khalil Mack is in his prime and might keep offensive coordinators up at night more than any player in the league.
27. Fletcher Cox | Position: DL | Age: 28 | Team: Eagles
Fletcher Cox was ranked 18th on this list in 2018, and he could've been up several spots even over the likes of Aaron Donald after he had another very good season for the Eagles including a career-high 10.5 sacks. I really like that Cox has the versatility to play in both 4-3 and 3-4 defenses, as he excels at both a traditional 4-3 defensive tackle and a two-gapping defensive end in a 3-4, as he showed from 2013-2015. That, along with his age at just 28 years old despite going on his eighth year in the league, helps make Cox one of the best players to build a defense around.
Bottom line: Fletcher Cox is one of the most versatile defensive linemen in the NFL and can dominate and elevate a defense in multiple schemes.
28. Tre'Davious White | Position: CB | Age: 24 | Team: Bills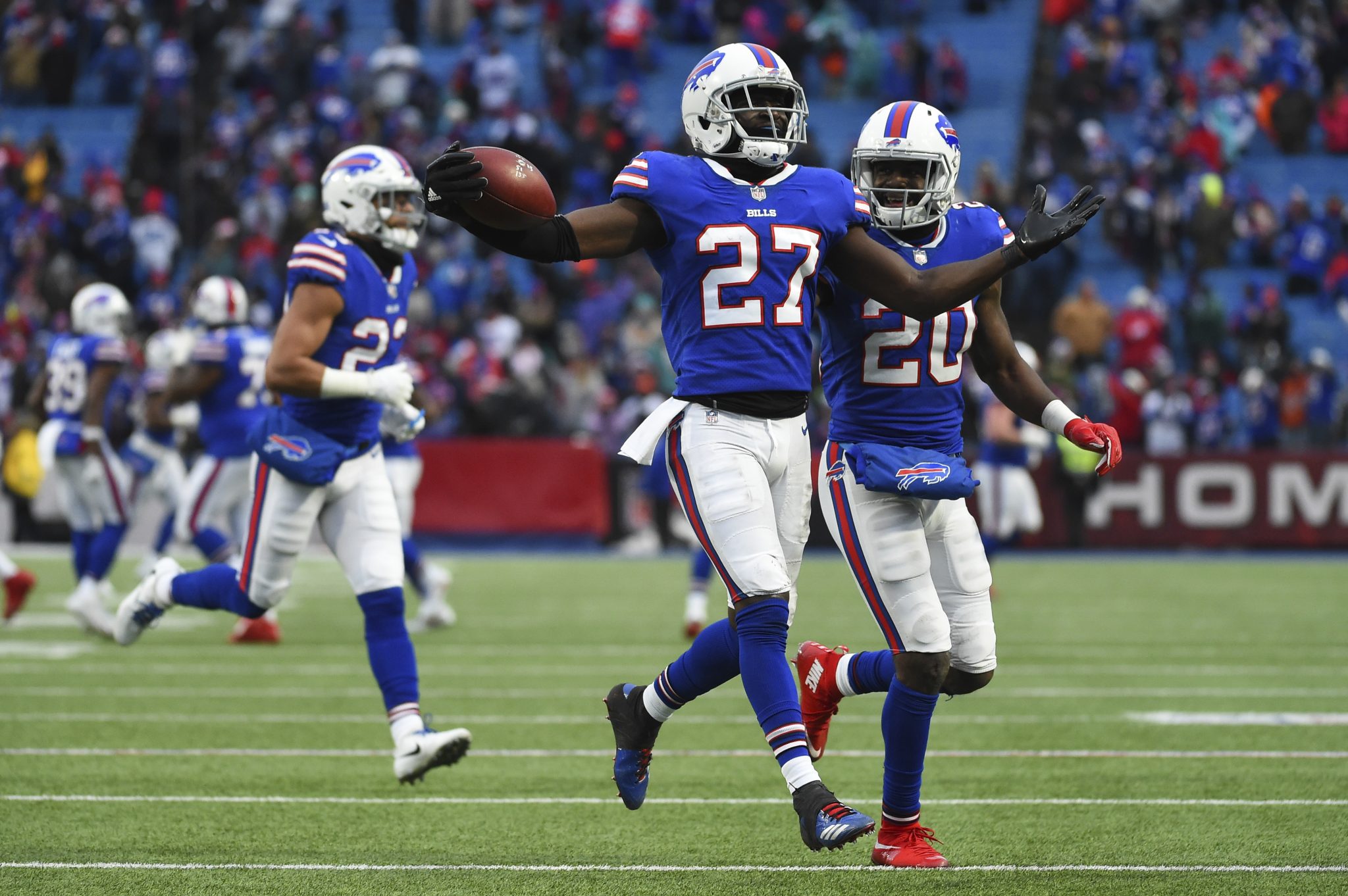 Cornerback is a premium position in a passing league, but just one player at the position makes my top 32 NFL franchise players for 2019. As a 23-year-old in his second NFL season, White arguably became football's top shutdown corner after he was in the discussion as a rookie out of LSU in 2017. Xavier Rhodes and Stephon Gilmore are among the other corners with a case to be named one of the top franchise building blocks, but both Rhodes and Gilmore will turn 29 by September, while White just turned 24 last month. White stays on the hip of opposing receivers despite drawing the tough weekly task of shadowing opposing No. 1 targets—he rarely gets beat in pass coverage, and he also causes turnovers in key spots and is a great tackler.
Bottom line: Tre'Davious White has been a lockdown cornerback since entering the league as the 27th pick in the 2017 draft.
29. Drew Brees | Position: QB | Age: 40 | Team: Saints
Drew Brees took some Most Valuable Player and First Team All-Pro votes from Patrick Mahomes this season, and he's obviously playing at a very high level despite turning 40 years old last month. Brees' completion percentage has gone up in each of the past four seasons, from 68.3% to 70.0% to 72.0%, to a mind-boggling 74.4% in 2018, as he re-took his single-season from Sam Bradford in 2017 and then somehow built on that and re-broke his own record while throwing 32 touchdowns compared to five interceptions and leading New Orleans to the NFC's top seed last season. I don't think Brees has as much time left as Tom Brady, but he should have at least one or two years of elite play, which gives a team a strong shot at a championship.
Bottom line: Drew Brees is a future Hall of Famer and one of the NFL's classiest players, so there aren't many better players to lead a franchise in the short term.
30. Joey Bosa | Position: EDGE | Age: 23 | Team: Chargers
Joey Bosa dealt with a foot injury that kept him out until mid-November last season, but he returned and recorded 5.5 sacks in half a season for the Chargers. The former third overall pick in the draft will turn just 24 in July, but he already has 28.5 career sacks as a pass rusher with a plethora of moves from the moment he stepped into the NFL from Ohio State. Pass rushers are arguably the most important position to target aside from quarterbacks, as they disrupt the quarterback—and Bosa does that with the best of them along with getting in the backfield to stuff the run.
Bottom line: Joey Bosa was immediately a top pass rusher as a rookie, and he now has three years of experience under his belt.
31. J.J. Watt | Position: DL | Age: 29 | Team: Texans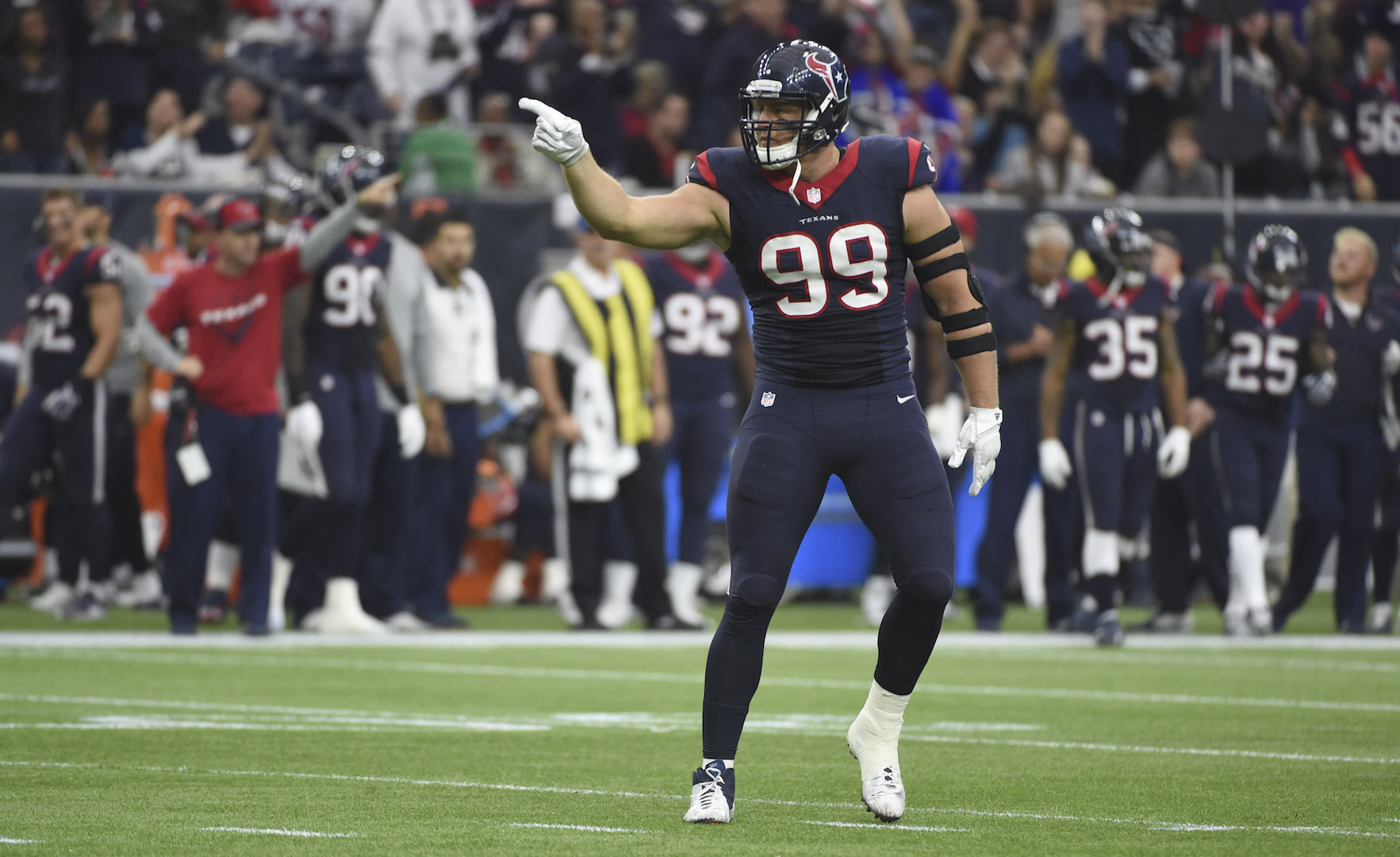 J.J. Watt will turn 30 this offseason, and he's the only defensive player ranked that'll be that age at the start of the 2018 season. However, Watt's body might be fresher than most 30-year-olds after he was able to get over the injury woes of the previous two seasons (just eight games played) to start all 17 games (including playoffs) last year. The three-time Defensive Player of the Year's proficiency on defense is well-documented, and his 16.0 sacks in his return from injury indicate he has several more years of high-impact play left on the defensive line.
Bottom line: J.J. Watt's work ethic should set an example for the younger players on the team and will keep Watt himself an elite player as he ages.
32. Bradley Chubb | Position: EDGE | Age: 22 | Team: Broncos
The 2018 NFL Draft was stacked, and Bradley Chubb makes it my top four players from that draft class—Saquon Barkley, Josh Allen, and Roquan Smith were the top three—to be included in the NFL's top 32 franchise building blocks, along with fellow 2018 draft picks Baker Mayfield and Sam Darnold. Teammate Von Miller could've easily been included among the top franchise players in the league, but Chubb is seven years younger and figures to have more prime years left than his teammate. The former NC State star had 12.0 sacks as a rookie, and he flat-out took over some games, including help keep the Broncos in the mix against the eventual Super Bowl participant Rams. I like the effort Chubb shows against the run in addition to his undeniable ability as a pass rusher.
Bottom line: Bradley Chubb is a franchise player as an all-around defender that figures to put up double-digit sacks most years.
The Next 32: These guys just missed the list and are in the discussion for the Top 32.
-Philip Rivers
-Von Miller
-Derwin James
-Eddie Jackson
-Todd Gurley
-George Kittle
-Stephon Gilmore
-Xavier Rhodes
-Danielle Hunter
-David Johnson
-Melvin Gordon
-Derrick Henry
-Christian McCaffrey
-David Bakhtiari
-Jadeveon Clowney
-Myles Garrett
-Lamar Jackson
-Quenton Nelson
-Malik Hooker
-Byron Jones
-JuJu Smith-Schuster
-Leighton Vander Esch
-Jaire Alexander
-Davante Adams
-Patrick Peterson
-Kevin Byard
-Trent Williams
-Sony Michel
-Nick Chubb
-Kyle Fuller
-T.J. Watt
-Jaylon Smith