If the NFL were to start over tomorrow with a complete redraft, who would be the players that every team would want to build around? In the 2023 edition of my annual franchise players article, which can now release after Aaron Rodgers made his decision to continue playing, I'm diving into who I would want to select if building a team from scratch in a redraft of the entire league. Quarterbacks are typically the most valuable players in the NFL, and it should come as no surprise that they again dominate the list, including the entire top ten. More so in past years after admittedly having some veteran options too high, I'll be taking age into greater account—though, as in years past, I am confident that franchise quarterbacks can be found in the NFL Draft each spring to eventually replace aging signal callers. With that, let's explore the top franchise building block players of 2023.
1. Josh Allen | Position: QB | Team: Bills | Age: 26
This year was extremely difficult to decide on the NFL's top franchise player, and I kept going back and forth before ultimately settling on Josh Allen. The Bills quarterback is entering his sixth NFL season and has arguably become the most valuable player in the league these past three years. (To note, I thought he should have been NFL MVP in 2020.) Allen simply does it all, from both bombs and deadly-accurate throws from anywhere behind the line of scrimmage to doing everything in the quarterback run game to just taking over and keeping the offense moving however necessary—and the mixture of ability, play style, and leadership all endears him to teammates and fans alike. With respect to All-Pro Stefon Diggs and an underrated supporting cast in Buffalo, much of the time the offense feels like it's just "go be Josh Allen", and it's scary to think Allen can and would be even better if he was in an offensive situation like that of Philadelphia or Kansas City. The goal is to build that type of offense and team, and I believe Allen might be the NFL's best in that scenario, if he isn't already. Turnovers might be the Kryptonite at this stage, but having to do too much plays a factor in that. I can't imagine how highly Allen would be thought of if the media didn't totally discredit him coming out of Wyoming.
Bottom line: Josh Allen helped make the Bills relevant again and showed from the start that he can be a team-carrying type of player­—with still upside for more.
2. Jalen Hurts | Position: QB | Team: Eagles | Age: 24
I nearly put Jalen Hurts in the top overall spot among the NFL's current franchise building blocks after his MVP-caliber 2022 campaign that ended with a truly sensational performance in the Eagles' Super Bowl LVII loss to the Chiefs. With the way the game and the league has been trending (though it's worth noting that clear pocket-first passers—which keep in mind Hurts has shown he can be—continue to win championships), Hurts is in many ways built exactly how you would build a quarterback in a lab for today. The former Alabama and Oklahoma dual threat can do anything the coaches draw up for him in the run game, including short-yardage situations where his power can be on display. He was perhaps the most accurate deep passer in the league last season and showed superb touch and precision to all areas of the field. The football IQ and ability at the line of scrimmage appears underrated and is something that should progress close to a master level at some point given the work ethic. And on top of it all, Hurts has the perfect mindset to lead, continue to improve, and perform when it matters most—his stoic demeanor was evident before, during, and after the Big Game when he appeared to have ice in his veins and did not look nervous for one second, like he'd been there 100 times.
Bottom line: Jalen Hurts showed star-quality flashes from his rookie year and has continued to progress into one of the clear top franchise quarterbacks in the league at just 24 years old and a perfect fit in today's NFL.
3. Patrick Mahomes | Position: QB | Team: Chiefs | Age: 27
Now a two-time Super Bowl champion and a two-time NFL MVP, I certainly wouldn't argue strongly against Patrick Mahomes being considered the top franchise player in the league. And I'm sure plenty of people out there will be borderline outraged at him coming in at No. 3. That said, the top two players on the list have an age advantage over him, and he might be ranked at least No. 2 if ages were equal. It's well documented that Mahomes sees the game in a rare way and creates magic on the field with his artful arm and ability to throw while on the move both inside and outside the pocket, and he's another guy that's gotten better with experience. I especially like how at the end of both the AFC Championship Game and Super Bowl LVII, Mahomes made a key play with his legs—basically, he does what it takes to win games, and that includes the rushing tool which he (probably smartly for his health) likes to preserve for certain situations. Aside from the age working as somewhat of a tiebreaker for the top three, part of what keeps Mahomes from being the bonafide No. 1 franchise player in the league for me is that I don't think Andy Reid and the players around Mahomes—the situation has arguably been the best in the league for a quarterback—get nearly enough credit for the superstar gunslinger's success. However, even after losing Tyreek Hill, Mahomes took home another MVP and title, lighting it up by distributing the ball to a deeper group of weapons with a style of play—considering his premier playmaking on top of the more traditional quarterbacking—that can be almost impossible to stop.
Bottom line: Patrick Mahomes is off to a legendary start to his career and maximizes his insane ability and situation to find a way to win games.
4. Joe Burrow | Position: QB | Team: Bengals | Age: 26
Fitting the mold of more of a pure pocket passer like a Tom Brady or a Peyton Manning—not that the first three players can't or don't play that way too—Joe Burrow is someone that probably won't see his level of play drop off at all in the next decade-plus. The Bengals are undoubtedly more than thrilled to have the former No. 1 overall pick as their signal caller, bringing top-notch accuracy, decision-making, ability to read defenses, quick release under pressure, toughness—and perhaps the most confidence of any player in the league, which is a rallying force for his teammates and has helped Cincinnati become perhaps the most confident team in the league each week. And despite not being on an Allen, Hurts, or Mahomes level as a runner, Burrow has plenty of athleticism and is quite underrated in that area; he can also take off in critical situations like third downs to keep possession of the ball and eventually score points. Finally, Burrow has been widely praised for his cold-blooded mentality and already owns upset wins at Kansas City and at Buffalo in the postseason.
Bottom line: Offering a blend of traditional quarterback ability, underrated athleticism, intelligence, and ruthlessness, Joe Burrow should long terrorize defenses.
5. Trevor Lawrence | Position: QB | Team: Jaguars | Age: 23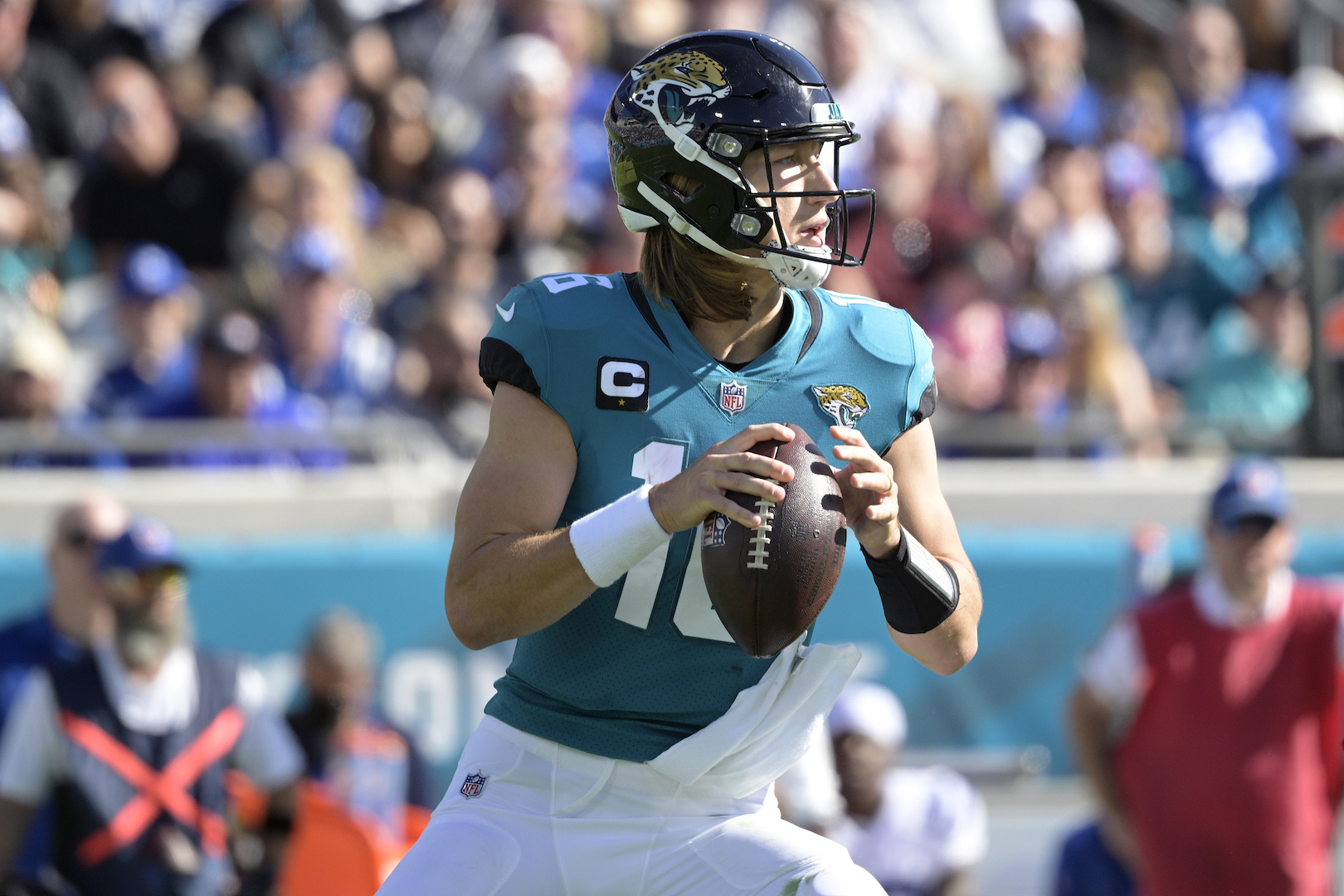 Making the top five for the second consecutive year, Trevor Lawrence showed everything I had hoped to see from him entering Year 2, building on his promising Week 18 performance as a rookie and taking advantage of an improved supporting cast and the steady hand of Doug Pederson as his new head coach. The former Clemson quarterback is one of those "alien" type of talents, standing at six-foot-six with a laser arm and jaw-dropping accuracy on many throws—the 2022 comeback victory over the Ravens, with two total dimes for the touchdown and two-point conversion were a prime example of what Lawrence can do. After a relatively slow start to the season, the poor performance in a loss to the Broncos in London appeared to have flipped the switch for Lawrence, who played about as well as anyone in the second half of the season and led a 27-point comeback in the Wild Card Round before showing fight with his teammates in their loss at Arrowhead the next weekend. Lawrence is another guy that can do just about everything at the position, including some quarterback run stuff that he typically unleashes more often in the big games dating back to his college career.
Bottom line: While battling through adversity his first two NFL seasons, Trevor Lawrence is living up to the massive expectations placed on him when he entered the league.
6. Justin Herbert | Position: QB | Team: Chargers | Age: 24
There is a drop for Justin Herbert in this year's rankings, but I wouldn't have much of a problem with any of the top six quarterbacks being ranked as the NFL's No. 1 franchise building block. It should first be mentioned that Herbert was dealing with a rib injury for much of last season, which I believe probably impacted his play more than we know—as he really didn't look like himself at times. Of course, today's NFL is a bit more wide open and easier on offenses, but Herbert has the most yards and touchdowns through three seasons in league history, and he's done it while dealing with some injuries to his supporting cast and battling injury himself. Ultimately, Herbert is as talented of a thrower as anyone, with the ability to fire absolute strikes anywhere on the field almost like a video-game cheat code. He's also an underrated leader with genius-level intellect.
Bottom line: Justin Herbert is a supreme talent that might be the most fun quarterback for coaches to plan a passing attack around given his wicked arm.
7. Lamar Jackson | Position: QB | Team: Ravens | Age: 26
Last season was a tough one for Lamar Jackson while playing on the franchise tag and missing the final stretch due to a knee injury, but he's the first player outside my clear top six. At just 26 years old, Jackson has four-plus seasons of starting experience and a league MVP under his belt, and I think there's upside for even more as a passer in more of an open offense that throws the ball more. The Heisman Trophy winner can take over with his legs, but I'd be interested to see how he fares in the type of offense he played at Louisville. The Colts game from 2021 (37/43 for 442 yards and four touchdowns along with 62 rushing yards) remains an example of the sheer upside Jackson possesses. For three straight seasons Jackson settles in at just around the No. 7 or No. 8 spot, primarily because of the lack of consistency against top defenses you'll typically see in the playoffs. Also, it should be noted that Jackson has played in just 12 games in each of the past two seasons.
Bottom line: One of the NFL's top all-around talents and still young, the playmaking Lamar Jackson has the skillset to evolve and remain one of the league's top franchise players.
8. Dak Prescott | Position: QB | Team: Cowboys | Age: 29
I'm going to say the thumb injury suffered in Week 1 had an impact on Dak Prescott's 2022 season enough to keep him in the top eight among the NFL's franchise players, because the interceptions (a career-high 15, followed by some poor decisions in the Divisional Round) were a bit shocking. Before last year, Prescott has taken care of the ball throughout his career, playing efficiently while operating one of the top offenses in football. While the regular season was a relative struggle for Dak, and he and the Dallas offense didn't play well versus the stingy Niners defense, the five-touchdown performance at Tampa Bay gave a glimpse of what the veteran quarterback can do with a chip on his shoulder. Prescott should resume taking care of the ball moving forward, as well as hitting on one of the league's best deep balls and making plays with his legs in big spots. And the leadership qualities are evident for the 2022 Walter Payton Man of the Year winner.
Bottom line: Dak Prescott is an all-around quarterback that's shown he can consistently lead a top NFL offense.
9. Jared Goff | Position: QB | Team: Lions | Age: 28
I wrote last year that "I'll take the 27-year-old quarterback with good playing experience, a Super Bowl appearance, and impressive wins (look at the NFC title game at New Orleans) on his resume", but I still had Jared Goff too low in my rankings (No. 14 overall), probably subconsciously not believing enough in the offensive situation in Detroit and letting that affect Goff's ranking. But I've always believed in the talent of the former No. 1 pick, and general manager Brad Holmes did an awesome job of surrounding Goff with the pieces to again show what he can do and continue his strong play from the end of 2021. Goff has displayed throughout his career that he can roll out and make precise throws on the run, but he mostly throws accurate darts from within the pocket to all areas of the field. The former Rams starter led his new team to a winning record in his second year with them, capping it off with an upset win at Lambeau Field to conclude the NFL regular season.
Bottom line: With protection in the pocket, Jared Goff, who has won many big games, is clearly among the best quarterbacks in the league.
10. Tua Tagovailoa | Position: QB | Team: Dolphins | Age: 25
Perhaps the first thing that should be mentioned for Tua Tagovailoa when thinking about him as one of the NFL's top franchise players is the injury history. Hopefully, Tua will have a lengthy career, and this ranking is with the assumption that he will, as the Dolphins have made it clear is their expectation. But when Tagovailoa is one the field, he throws with about as good of timing as any quarterback in the league, and he's also one of the most accurate passers—an ideal combination that makes him challenging to go against defensively, particularly when you surround him with weapons like Miami did in 2022. Tagovailoa is 22-13 through three seasons, and his value to the Dolphins has been apparent when he's been off the field. After just turning 25 years old, Tagovailoa has a bright future as an accurate distributor if health cooperates.
Bottom line: Tua Tagovailoa is a bit of a throwback style of quarterback that operates at a high level.
11. Mac Jones | Position: QB | Team: Patriots | Age: 24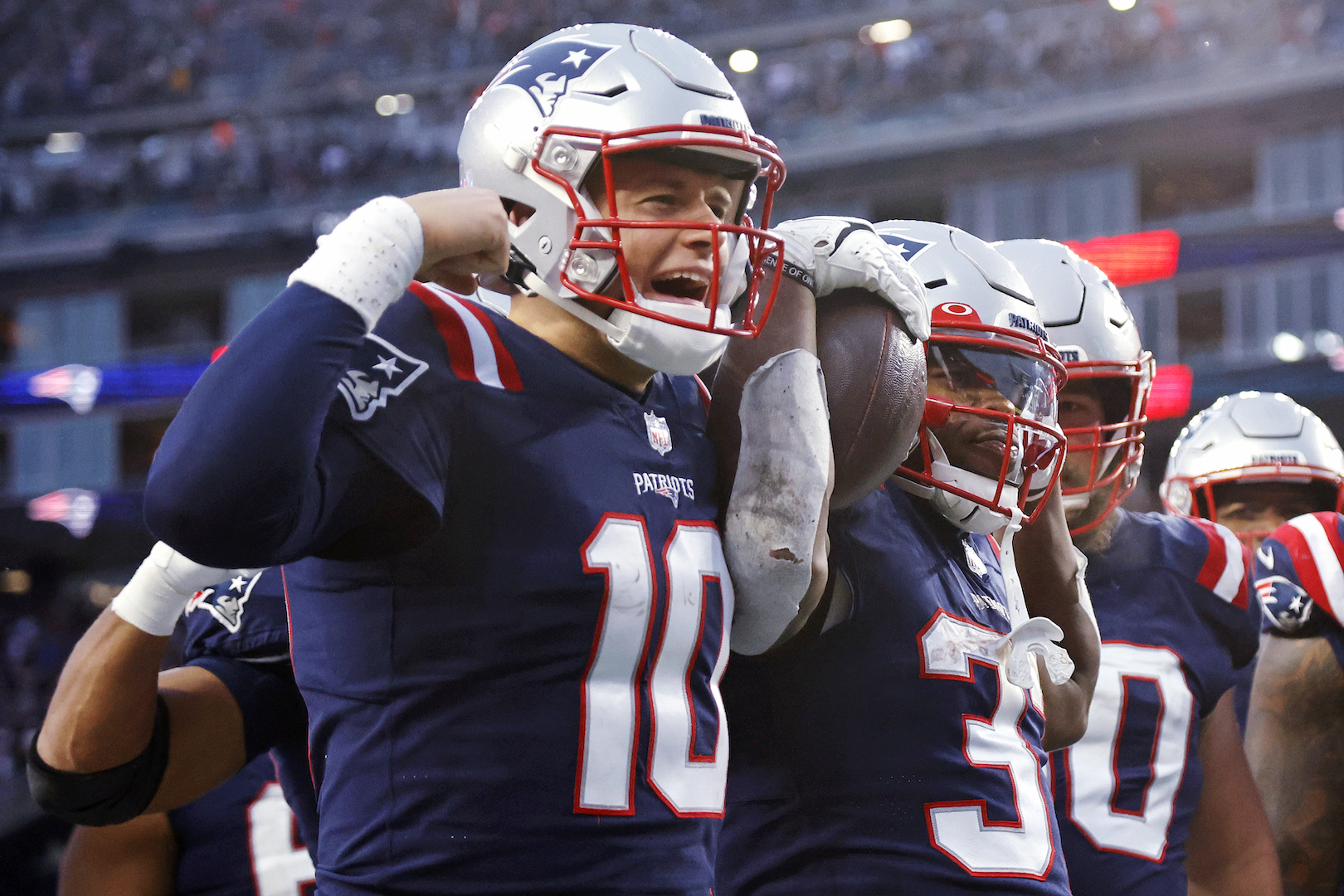 Mac Jones came in at No. 10 after his promising rookie year, and I expected him to rise in Year 2. However, Jones dealt with a high-ankle sprain and difficult circumstances during his second NFL season. He flat-out did not play well at times, making almost stunning decisions with how he put the football in harm's way. I hope and expect that will change moving forward, and the Patriots bringing back Bill O'Brien as their offensive coordinator should only help the former Alabama quarterback a) take care of the football, and b) show off the fantastic touch and accuracy to all areas of the field. It should also be mentioned that there was some of the personality and borderline-dirty stuff that might be a concern for a franchise quarterback, and you don't want Jones putting a target on his own back; but the way Jones' teammates talk so highly of him helps alleviate that concern.
Bottom line: Mac Jones has exhibited the ability to be an excellent pocket passer with a tremendous feel for throwing the football, a skill that should allow him to run a top-flight passing game.
12. Micah Parsons | Position: LB | Team: Cowboys | Age: 23
As was the case last year (but now one spot higher), Micah Parsons is both the highest non-quarterback and the highest defensive player among the NFL's top building block players. While the former Nittany Lion might have—relative to his normal level of play—started running out of gas toward the end of last season, he's a relentless Swiss Army Knife of a defender that hustles all over the field and has had a huge hand in changing and lifting the entire Dallas defense over the past two years. Parsons followed up his 13.0-sack rookie campaign with a 13.5-sack 2022 season, and there's upside to be closer to around 20 sacks per season as he continues to rush off the edge. For the next ten years, the versatile Parsons should be one of football's most impactful players at any position.
Bottom line: Whether lining up on the edge or in the box, Micah Parsons—with his tenacity, athleticism, and instincts—can wreck offenses.
13. Justin Jefferson | Position: WR | Team: Vikings | Age: 23
In three NFL seasons as a 21-, 22-, and 23-year-old, Vikings wide receiver Justin Jefferson has posted season lines of 88/1,400/7, 108/1,616/10, and 128/1,809/8—blowing past league records while quickly becoming known as one of the NFL's best overall players. Jefferson took home the NFL's Offensive Player of the Year award for 2022, and his unique Gumby-like capacity to run smooth routes, get open, and make plays is something that should mature nicely over the years. It's scary to think that people including his head coach Kevin O'Connell believe that Jefferson can get even better moving forward. Jefferson showed last year that he's someone to build a passing game around given his ability to run every route from anywhere inside or outside.
Bottom line: Justin Jefferson is looking like he will be one of the all-time greats at his position and can play at an A+ level in any offense.
14. Ja'Marr Chase | Position: WR | Team: Bengals | Age: 23
The college teammate of Jefferson, Ja'Marr Chase entered the league a year behind him and similarly came in to immediately light it up as one of the NFL's most electric playmakers. Chase runs every route in the book—and that includes the ability to simply take the top off the defense on go routes. With the ball in his hands, Chase is almost like a running back, and the Bengals smartly try to get him involved on quick screens that he can take to the house. Additionally, the LSU product is very tough and a willing blocker. He was banged up last season and appeared in just 12 games, but he still put up over 1,000 yards and hopefully will be able to stay healthy moving forward.
Bottom line: Ja'Marr Chase does it all, both racking up yardage on every type of play at receiver and becoming a top touchdown-maker at 23 years old.
15. A.J. Brown | Position: WR | Team: Eagles | Age: 25
A.J. Brown's trade from the Titans to the Eagles was perhaps the most surprising move of last offseason, and I still can't believe Philadelphia was able to pull the deal off considering Brown's talent and production through three NFL seasons. Brown is simply a dominant player, and he promptly set the Eagles' single-season franchise record in receiving yards during his 88-reception, 1,496-yard, 11-touchdown regular season—also showing out in a tough loss in Super Bowl LVII. Brown averages an exceptional 16.5 yards per reception in his career, as he's a catch-and-run maven particularly on in-breaking routes; he breaks tackles with the best of them at his position; and, as he showed in 2022, he will win on deep routes about as much as anyone. I actually think a strong case can be made that Brown is currently the best receiver in football, but being slightly older than Jefferson and Chase keeps him right behind them among the NFL's top franchise players.
Bottom line: He had gone slightly under the radar compared to his talent level while with the Titans, but A.J. Brown showed he's one of the best players in the game and a massive difference-making gamebreaker.
16. Sauce Gardner | Position: CB | Team: Jets | Age: 22
He doesn't smoke. He doesn't drink. He doesn't give up touchdowns—or much of anything while operating at corner. Ahmad "Sauce" Gardner lived up to his moniker during his rookie campaign, being named a First-Team All-Pro for his play on a stingy Jets defense. Gardner was the first All-Pro rookie cornerback since Hall of Famer Ronnie Lott in 1981. Gardner has desired length for his position, but he also plays tight to whoever he's guarding and plays with amazing poise for such a young player. Sauce is a clear foundational piece on defense that looks to be building his own island that the opposition stays at each week.
Bottom line: Sauce Gardner is all about football, and it shows on the field while he's locking down receivers to make things easier on his coaches and teammates.
17. Nick Bosa | Position: EDGE | Team: 49ers | Age: 25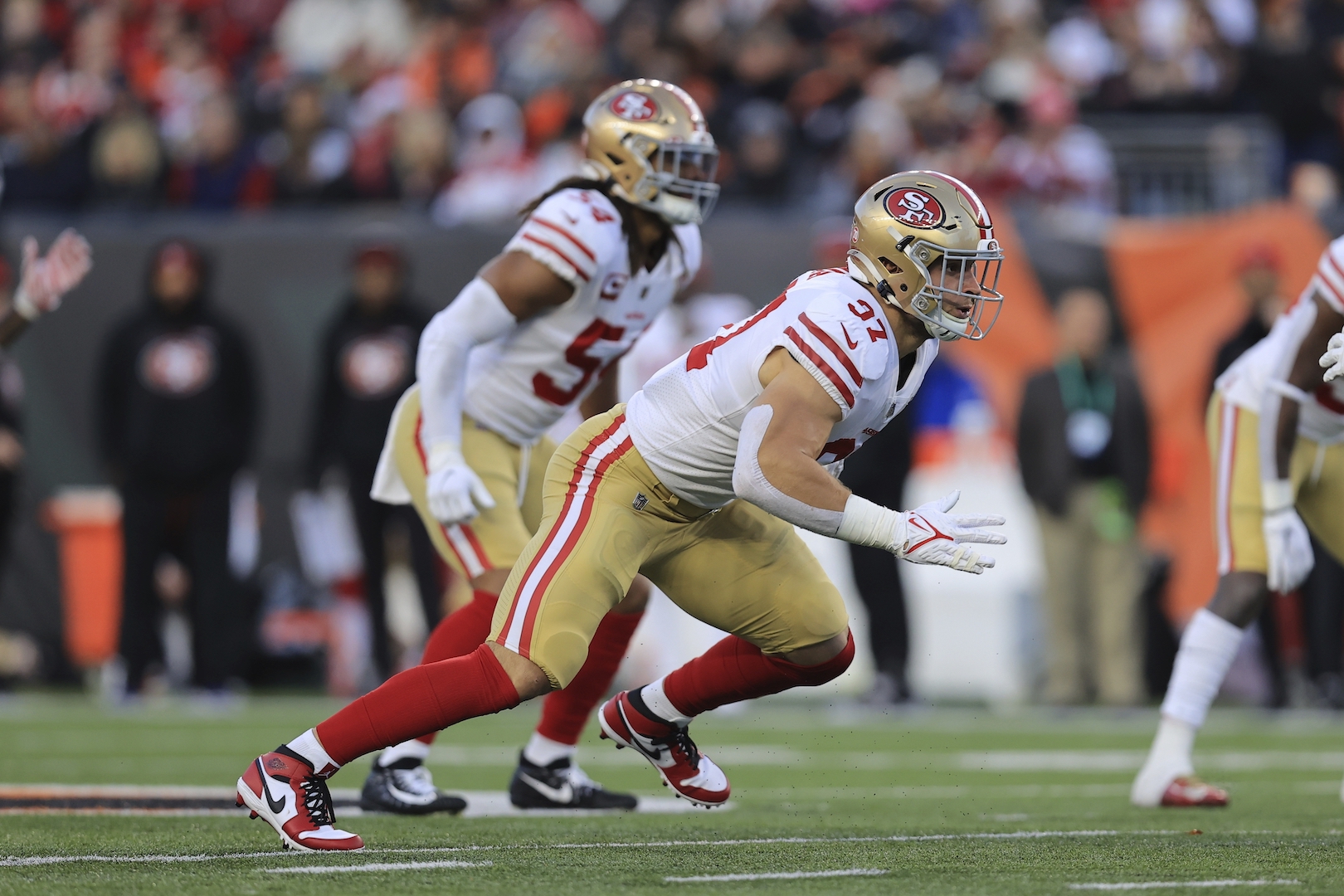 Following a torn ACL suffered at the beginning of the 2020 season, Nick Bosa rounded right back into form the past two seasons to pick up where it looked like he was headed after his rookie campaign. After 15.5 sacks a couple of seasons ago, Bosa led the NFL with 18.5 sacks in 2022 while winning Defensive Player of the Year and helping lead the league-best 49ers defense. Bosa can get after the quarterback with an assortment of pass-rush moves that implement a top-notch combination of speed, power, refinement, and pure athleticism that all also make him difficult to work against in the run game.
Bottom line: Nick Bosa is just 25 years old with two 15-sack campaigns, and he should have several more years among the game's top sack artists.
18. Russell Wilson | Position: QB | Team: Broncos | Age: 34
With more of an emphasis on age that I probably should have put on every quarterback except for the G.O.A.T. Tom Brady in past years of this exercise, Russell Wilson was going to drop some either way in the 2023 ranking of the NFL's top building block franchise players. But, while I was not close to as high on the Broncos' supporting cast as a lot of people were, I did not at all see that type of year coming for Wilson in Denver. However, Wilson had ten years of playing quarterback at a very high level for the Seahawks; I do not think he is totally "broken", and I still think he can and will prove to be an obvious franchise quarterback. As he showed with the flashes toward the end of his tough first year with the Broncos, Wilson is at his best when he's using his legs—while he can be deadly accurate from the pocket, he seems to be more in a rhythm and in the game when he's able to scramble around and throw darts on the run when necessary. Overall, Wilson—someone that has made it clear he wants to play many more years—can get back to being the championship-level quarterback with pinpoint throws to all areas of the field including one of the top deep balls in the league.
Bottom line: There might be some risk at the age considering the poor 2022 season, but Russell Wilson wants to play for a long time and has lofty goals—with the commitment to get back on track as a no-doubt franchise signal caller.
19. T.J. Watt | Position: EDGE | Team: Steelers | Age: 28
The value of T.J. Watt was on full display this past season, with the Steelers going 8-2 and playing like one of the league's top defenses when he was on the field—compared to going 1-6 and struggling without him defensively in the seven games he was out with a pectoral injury. A season removed from a record-tying 22.5-sack year, and always making an impact with tipped passes, turnovers forced (he had two interceptions in 2022 despite the missed time), and the way the entire unit gets better by his presence on the field, Watt is still arguably the league's best defensive player. The prototypical edge defender, Watt might be inside the top ten if he was in his second or third NFL season.
Bottom line: T.J. Watt's near-unmatched impact is evident both by the eye test and the splits when he's in and out of the lineup for his team.
20. Daniel Jones | Position: QB | Team: Giants | Age: 25
Despite playing with what was arguably by far the worst group of receivers in the league last season, Daniel Jones showed what he can do in an overall positive situation under NFL Coach of the Year Brian Daboll. The former sixth overall pick totaled 22 touchdowns (seven rushing) and had just eight turnovers while also leading five game-winning drives in 2022, doing exactly what his team needed from him to help the Giants end their playoff drought and then get a road postseason victory. Because he's never been particularly well liked by conversation-drivers in the media and on Twitter (he was laughed at—embarrassingly by those that did it—when he was selected by the Giants in 2019), Jones has an uphill climb to get recognition for his play. But he throws complete darts right into the chests of his targets (helping elevate the undermanned group) and can do serious damage as a runner to keep drives going and break off chunk plays. Playing in New York, Jones has shown that he doesn't let much phase him, and he's someone that can get better with continued experience and more talent around him.
Bottom line: Daniel Jones always had the look of a very promising all-around quarterback out of Duke, and—while he had a super promising rookie campaign—he's navigated tough situations and might have emerged a better player and a potential clear franchise quarterback.
21. Kyler Murray | Position: QB | Team: Cardinals | Age: 25
I had Kyler Murray ranked at No. 15 overall last year, and his ranking continues to be a difficult one; but overall, I think around this range is fair. The talent level is tantalizing, with his scrambling ability paired with a very good arm in terms of strength and accuracy—the way he put the team on his back in the comeback win over the Raiders last season showed what the former top overall pick can do when he's on his game. But there are a couple of concerns, one being the injury history including the unfortunate torn ACL from last season. Perhaps the bigger concern, though, is that Murray might still need to mature—at least a little bit. I don't want to be unfair to him as someone that's not in the Arizona building, but the body language hasn't been ideal when things go south, and I'm taking former teammates (two All-Pros in Patrick Peterson and Larry Fitzgerald) that have indicated there might be some work to do leadership wise at their word.
Bottom line: At his best, Kyler Murray can be a video-game-like quarterback that's a headache for opposing defenses to stop.
22. Jimmy Garoppolo | Position: QB | Team: Raiders | Age: 31
If not for the age, Jimmy Garoppolo would be ahead of Jones and Murray and perhaps closer to the top-15 or so among the NFL's franchise players. That said, I believe Garoppolo has several years of playing quarterback at a very high level and keeping teams in the championship mix like he's done with the 49ers over the past five-plus seasons. Jimmy G has one of the best releases in the league, throws with tremendous timing, puts passes right on the money so his guys can transition and do damage after the catch, his teammates love him, and the bottom line is he's 40-17 in his career as a starter. The obvious problem with Garoppolo is the durability, as he's simply had trouble staying on the field even dating back to his time in New England when he filled in for a suspended Tom Brady. You also have to occasionally deal with boneheaded throws, but Garoppolo's confidence also leads to money throws and big plays.
Bottom line: Jimmy Garoppolo commands respect from his teammates and has found a way to win a lot of games in the league as a phenomenal pocket passer.
23. Trevon Diggs | Position: CB | Team: Cowboys | Age: 24
Trevon Diggs gave up a few big plays during his mind-blowing 11-interception 2021 campaign, and people wrongly started throwing the "overrated" term around him. That couldn't have been further from the truth, and now Diggs has become one of the game's most underrated players. The interception numbers (three in 2022) dropped, but Diggs was a shutdown corner for much of last year, including limiting Ja'Marr Chase and Justin Jefferson (the second consecutive year for Jefferson). The former second-round pick out of Alabama continues to get better overall, and he'll always have insane receiver-like ball-hawking ability for quarterbacks that want to test him.
Bottom line: Trevon Diggs is becoming a true lockdown corner that can also take the ball away about as well as anyone.
24. Patrick Surtain II | Position: CB | Team: Broncos | Age: 22
After just barely missing the top 32 last season, Patrick Surtain II had to be included among the NFL's best building block players following an All-Pro second season in the league. As the son of former All-Pro cornerback Patrick Surtain, the second almost already looks like a ten-year veteran with how comfortable he appears in coverage. Surtain has coveted size at six-foot-two, and he can get up near the line of scrimmage and throw receivers off with press coverage that will frustrate quarterbacks. Surtain had four interceptions as a rookie, and he's the type of corner that can get the ball back for his offense when he's tested.
Bottom line: Patrick Surtain II has the size and skills to be a blue-chip defender over the next decade.
25. Andrew Thomas | Position: OT | Team: Giants | Age: 24
A perfect example of why it's crazy to call someone a "bust" after maybe one bad game or subpar season—especially on a bad team—Andrew Thomas has become an unquestioned stalwart left tackle for the Giants. Thomas would've been a First-team All-Pro in Year 3 if the great Trent Williams wasn't still in the league, and he has a chance to be the best player at his position for years. Aside from allowing a couple of sacks to Micah Parsons, Thomas was a wall in pass protection, and being so technically sound and reliable made things easier on his quarterback to hang in the pocket and know where to escape when necessary. He's also made strides in run blocking since entering the league and is a well-rounded player and foundation piece to an offensive line.
Bottom line: Not only is Andrew Thomas a steady and reliable left tackle, but he can also be the best blindside protector in the league.
26. Jonathan Taylor | Position: RB | Team: Colts | Age: 24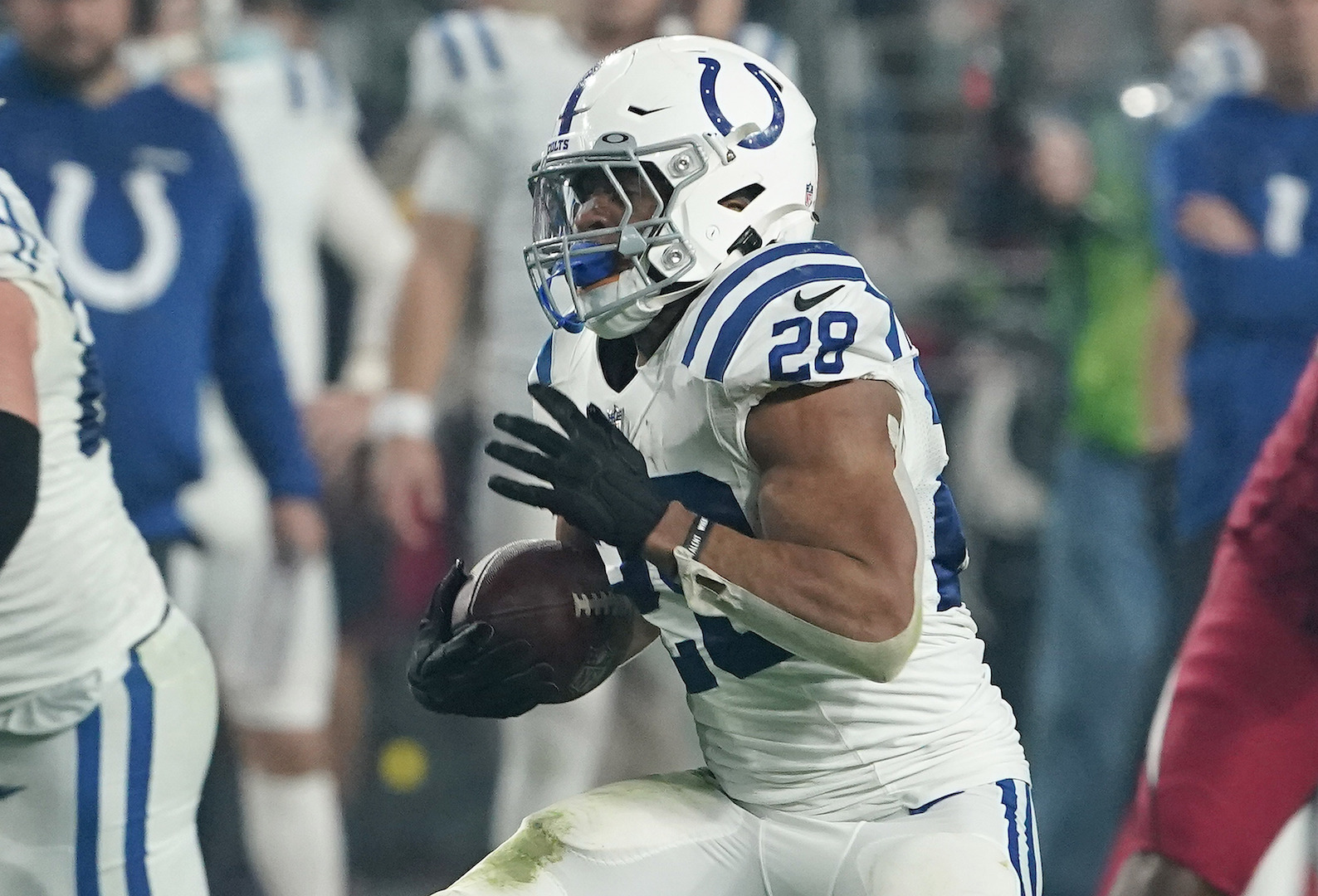 There are a several running backs that can be advantageous foundational pieces in an offense, some of which land in the Next 32 below. But, despite an injury-riddled 2022 campaign, the 24-year-old Jonathan Taylor is someone that makes the top-32—with the age being a big factor in that. As awful as the Colts offensive line played last year, and even with Taylor banged up and not quite looking like himself, he still averaged 4.5 yards per carry. Through three seasons, Taylor is top-ten all-time with 5.1 yards per carry. The former Wisconsin star is like a tank with the way he moves forward for positive yardage on runs, and that paired with track-star speed and plus agility—as well as underrated receiving ability that's been underutilized by Indy—makes him one of the most desirable players to build an offense around today. Again, the age helps, and Taylor will hopefully have at least a handful of years of A+ production that includes finding the end zone and setting the tone for a squad.
Bottom line: Ideally you can build a top offensive line that makes things easier on running backs, but Jonathan Taylor is still a premier player that can keep offenses in favorable positions and break games open as a key member of a title contender.
27. Roquan Smith | Position: LB | Team: Ravens | Age: 25
This is the third consecutive season that Roquan Smith makes the top 32, and his value was on full display last season when he was traded from the Bears to the Ravens and helped totally elevate Baltimore's defense to help them make the postseason and give the Bengals a battle in the Wild Card Round. Smith ranges sideline-to-sideline to make a major impact all over the field, and he has 101+ tackles, two-plus sacks, and at least one interception in all five of his NFL seasons as an off-ball linebacker. The Georgia product cashed in with the richest contract for his position in NFL history, and his leadership qualities match his play on the field to make him well worth the price for the draft capital and contract price Baltimore paid in 2022.
Bottom line: The impact of Roquan Smith was evident last season after he joined a new team and lifted its level of play, and he's becoming one of the greats at his position.
28. Jaire Alexander | Position: CB | Team: Packers | Age: 26
The first thing you notice about Jaire Alexander's current game is how much swagger he plays with—he only seems to get more confident by the year. After his 2021 was basically eliminated because of a shoulder injury, last season was a huge resumption of the track Jaire was on as one of the NFL's premier corners. Alexander had a career-high five interceptions, and his highlight was a shutdown performance of Justin Jefferson in Week 17—of which he basically called his shot on before the game. In addition to his coverage prowess, Alexander is a forceful tackler that isn't afraid to fly in and blow things up near the line of scrimmage.
Bottom line: Jaire Alexander brings attitude to a defense from a flashier position at cornerback, and he really provides the best of both worlds in that regard.
29. Aaron Rodgers | Position: QB | Team: Jets | Age: 39
After yet another lengthy and deliberate process, Aaron Rodgers lands on a new team after 18 seasons with the Packers. But the reason Rodgers falls so far in this year's rankings is that it seems clear Rodgers has just one or two seasons left based on everything he's said in recent years. However, as I did in the past with quarterbacks near the end of their career, it wouldn't be that crazy to have Rodgers closer to the top dozen or so franchise building blocks—with the confidence that you'll get MVP-level play while he's on the field and can find a long-term solution in the draft. Really, it would depend on the state of your team and roster, as he'd be valued much more highly in some situations than others. Rodgers remains one of the best throwers of the football out there, and he's just a year removed from coming off his second consecutive MVP.
Bottom line: Building a team from scratch in a re-draft of the league, Aaron Rodgers probably becomes worth it at around this range knowing you'll likely just have a season or two of him.
30. Justin Fields | Position: QB | Team: Bears | Age: 24
Justin Fields showed flashes as a passer out of Ohio State and continues to be inconsistent there through two NFL seasons, but the insane damage he's done as a runner makes me more optimistic about his chances of being a definite franchise quarterback in today's wide-open league. Fields set the regular season record for rushing yards in a game by a quarterback (178), became the third quarterback run for 1,000 yards in a season, and broke a host of other rushing records throughout his second year in the league—including the first quarterback in history with 100+ rushing yards, two passing touchdowns, and two rushing touchdowns in a game. As stated, the passing remains inconsistent, and it ultimately might hold Fields back. However, I'm a fan of the leadership qualities he's shown, and perhaps he'd be more comfortable as a passer with a better supporting cast around him. Fields simply carried the Chicago offense for much of 2022.
Bottom line: Justin Fields has freakish running ability at quarterback, so there ceiling is enormous if he can make strides as a passer.
31. Christian Darrisaw | Position: OT | Team: Vikings | Age: 23
I mentioned Trent Williams holding back Andrew Thomas from First-team All-Pro honors last season, and Christian Darrisaw is someone that's drawn comparisons to Williams—including from the future Hall of Famer himself. As Williams said, Darrisaw can just wake up and win his blocking assignments, and it's frightening to think how good he can be as he continues to progress with training and experience. That said, like Williams, Darrisaw is already a dominant type of player thanks to his skill level; but he can be a Hall of Famer if he reaches an unstoppable level like Williams did. It remains a major mystery as to why Darrisaw dropped to No. 23 to the Vikings in the 2021 draft.
Bottom line: Christian Darrisaw has prototype size and ability as a top-tier blindside protector entering his third NFL season.
32. DeVonta Smith | Position: WR | Team: Eagles | Age: 24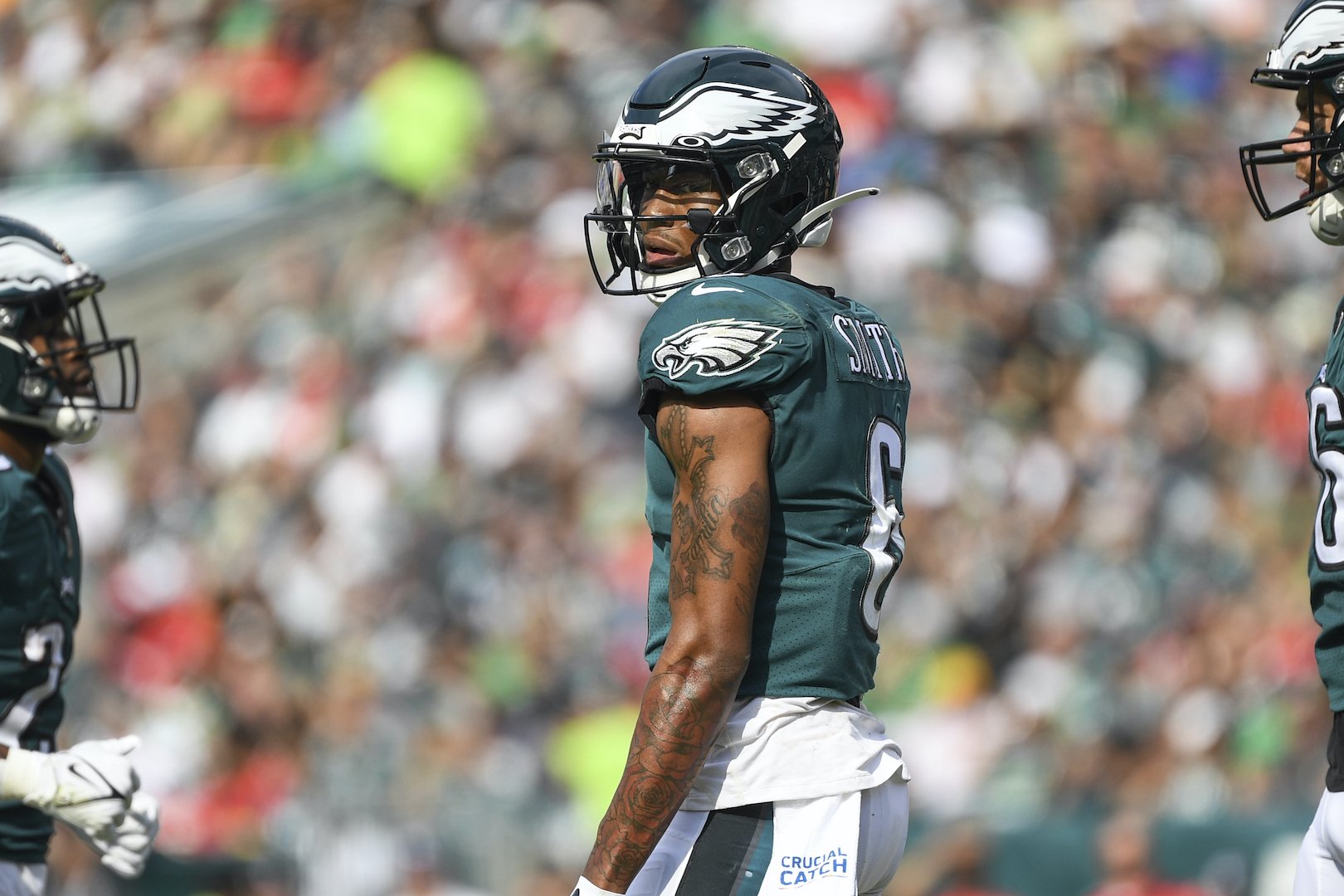 Philadelphia's top two receivers both make my ranking of the NFL's most coveted franchise building blocks, as DeVonta Smith picked up where he left off through two professional seasons after winning the Heisman Trophy in his final year at Alabama. Smith plays well above his uncommon thin frame, both down the field with the way he can elevate and get the ball in traffic as well as play tough with the ball in his hands. One of the best spectacular-catch virtuosos in the game, Smith has glue-like hands and a remarkable catch radius that earns the trust of his quarterback and coaches to make plays. Furthermore, Smith is not the type of player to cause issues when the ball doesn't come his way. Last season, Smith had 100+ yards in five of his final nine games, including seven receptions for 100 yards in the Super Bowl. Smith should be a perennial 1,200-1,500-yard receiver, and he could arguably be up in the Jefferson-Chase range as a young elite weapon that wins on all three levels.
Bottom line: DeVonta Smith was the first receiver to win the Heisman Trophy in nearly three decades for a reason, and he's a do-it-all receiver despite the atypical stature.
The Next 32: These guys just missed the list and are in the discussion for the Top 32.
-Aidan Hutchinson
-Devin White
-Fred Warner
-Shaquille Leonard
-Jordan Davis
-CeeDee Lamb
-DK Metcalf
-Travis Kelce
-Kyle Pitts
-Derrick Henry
-Nick Chubb
-Minkah Fitzpatrick
-Derwin James
-Haason Reddick
-Brian Burns
-Christian McCaffrey
-Jaylen Waddle
-Jahan Dotson
-Saquon Barkley
-Derek Carr
-Kenny Pickett
-Rashawn Slater
-Stefon Diggs
-Davante Adams
-Cooper Kupp
-Garrett Wilson
-A.J. Terrell
-Tre'Davious White
-Tariq Woolen
-Tristan Wirfs
-Brock Purdy
-Aaron Donald