If the NFL had a fantasy-style re-draft of the entire league tomorrow, who would be the top players to build around? The young superstar-level talent around the league is awesome news for the NFL, especially after losing Tom Brady (an annual No. 1 on the list, as I thought he'd be playing a few more years still) to retirement, so this was a challenge in stacking everyone up. These are the top players I would want to build an NFL team around. If you don't have a quarterback, you can move them up in terms of value (i.e., in real life how teams are currently constructed, these values would not be completely accurate in the trade market). But these rankings reflect who I would go with first if starting a team from scratch. For example, in a complete redraft of the league, I would go with some position players late in Round 1 with the confidence I can get a quarterback I like later or in future years. That's not to say that a non-quarterback would fetch more trade compensation than a quarterback, but we are building an entire team here, and this Top 32 (and the Next 32 listed at the end of the article) is just a start.
1. Josh Allen | Position: QB | Age: 25 | Team: Bills
After landing in the No. 2 spot behind only the G.O.A.T. last year, this might be the easiest ranking of the entire top 32 for me. If you're reading this you know about the talent level and success Josh Allen has had: he has a rocket arm, mind-blowing accuracy, top-tier running ability, near-superpowers in the red zone, tremendous leadership qualities, and ice in his veins. While the Bills were ultimately knocked out in the AFC Divisional Round due in large part to a defensive collapse with 13 seconds remaining against the Chiefs, Allen could not have played better in the postseason this January, with 771 total yards, nine touchdowns, and just 14 incompletions in two playoff games. Like Brady, albeit in a different manner, Allen is the offense and the system to some extent. You know that the Wyoming product is an absolute superstar given that even the most serious of haters—of which there were many during the pre-draft process and early in his career—have come around and now hold the Bills starter in extremely high regard and treat him as the epic talent that he is. Allen has simply been too great to ignore.
Bottom line: As stated in his bottom line last year, Josh Allen is getting better the more he plays; it's a scary sight for the rest of the league.
2. Justin Herbert | Position: QB | Age: 23 | Team: Chargers
As easy as No. 1 was in my opinion, you could make a case that No. 2 is almost as easy. Last year, Justin Herbert came in at No. 4 among my NFL's top franchise players after his rookie campaign, and he did nothing in 2021 to not move up even higher as he approaches Year 3. Following his record-breaking 31 touchdown passes as a rookie in 2020, Herbert threw for 5,014 yards and 38 touchdowns last season, leading the Chargers to a 9-8 record—with more than half of those wins (five) coming on game-winning drives—and about as close as possible to making the postseason. Herbert did his part in the de facto Week 18 playoff game at Las Vegas, coming up supremely clutch on a final fourth-quarter drive to send the game to overtime (throwing for 383 yards and three touchdowns in the loss). There isn't much Herbert can't do throwing the football and running any offense.
Bottom line: Justin Herbert has quickly developed into an elite quarterback that can do almost anything his coaches ask of him—including standing strong in the pocket and throwing bombs to his receivers.
3. Trevor Lawrence | Position: QB | Age: 22 | Team: Jaguars
Built in a similar alien-like mold as the top two players on the list, Trevor Lawrence's No. 3 ranking is admittedly a bit more of a projection for someone this high after some struggles as a rookie during which the Jaguars' No. 1 overall pick threw 12 touchdowns and 17 interceptions. However, the situation was flat-out terrible under Urban Meyer, who was fired during the season following multiple controversies. But all things being equal, Lawrence is a phenomenal talent that can light it up with a solid supporting cast. In addition to the natural gifts Lawrence possesses as a passer and as a runner, he profiles as the type of guy that will do what it takes to win games, and his teammates appear to rally around him. Lawrence's final game as a rookie—a Week 18 upset of the playoff-hopeful Colts—was his best showing in my opinion, and the very encouraging outing helped me feel comfortable putting the former Clemson Tiger this high among the NFL's top building blocks.
Bottom line: Instant results might not have been there as a rookie, but Trevor Lawrence has all the tools to again become a championship quarterback at the next level.
4. Joe Burrow | Position: QB | Age: 25 | Team: Bengals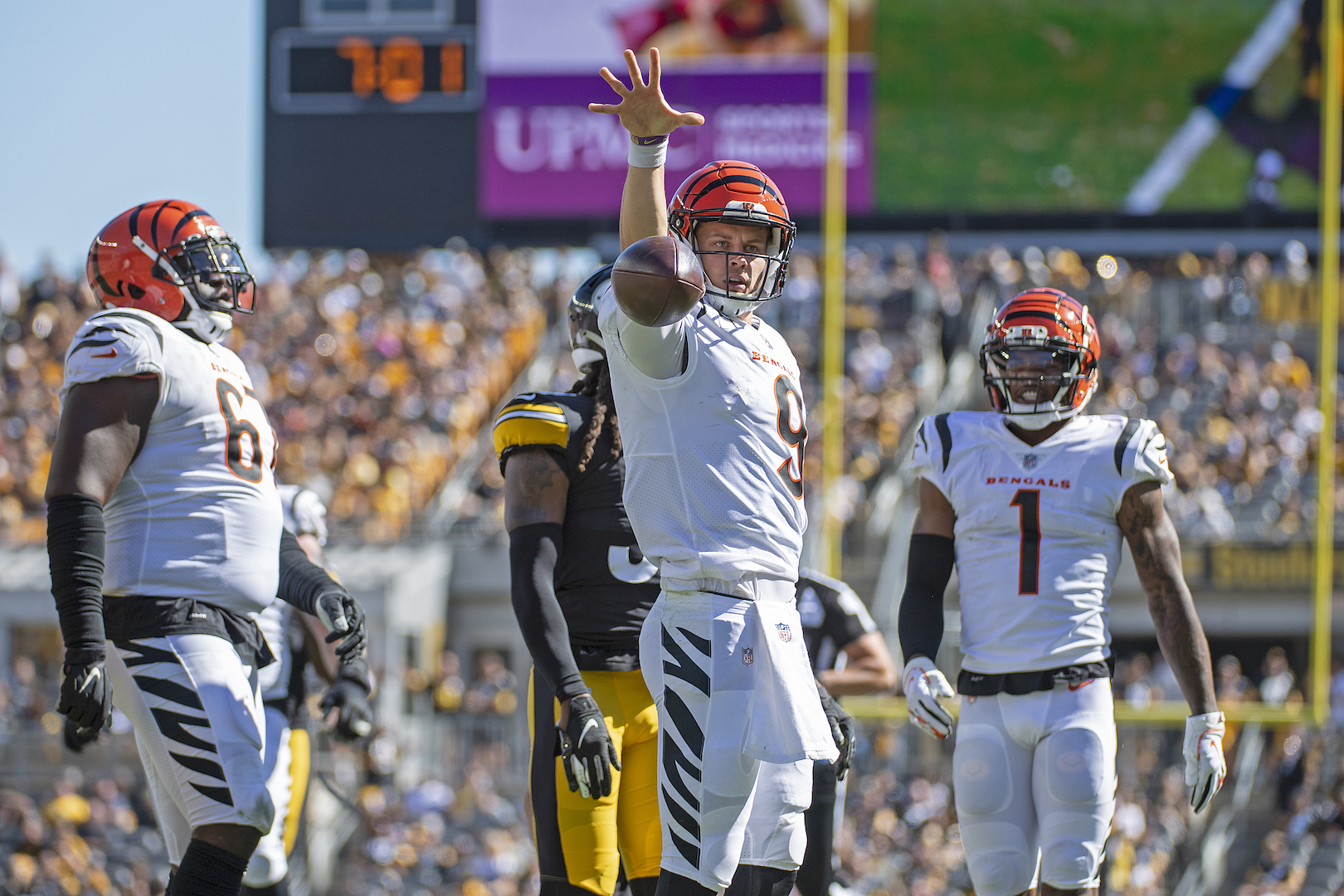 Joe Burrow was probably going to land in or near the top-five regardless, but the run to the Super Bowl—including an incredibly difficult win at Arrowhead in the AFC title game versus the Chiefs—puts him squarely in this range. The confidence Burrow helps instill in his teammates is nothing to be taken lightly, so that—paired with the admirable toughness he's shown dating back to his time at LSU—is a major boost for his ranking. The former top pick of the Bengals is also very accurate with a quick release and will distribute the ball to all his weapons—not afraid to launch a deep ball or take a check down, he plays the position the way you want to see. Now, Burrow did look a little shaky in the Super Bowl loss at times, but overall, it was an outstanding season that could not have gone much better after coming off the serious knee injury suffered as a rookie in 2020.
Bottom line: Joe Burrow has the eye of the tiger and should be able to pick apart defenses with the best of them for the next decade.
5. Patrick Mahomes | Position: QB | Age: 26 | Team: Chiefs
Patrick Mahomes continues to drop in the annual rankings of the NFL's top franchise players, but a lot of that has to do with the guys above him just rising higher on the list. That said, it should be stated that Mahomes is arguably in the best quarterback situation in the league with Andy Reid as his head coach and Travis Kelce and Tyreek Hill as his top two weapons on offense. And, while there are times where he completely lights it up in the postseason, he's had some struggles in big games, including the AFC Championship Game a couple of months ago. Still, at his best, Mahomes is basically unstoppable; and (while you can blame the Buffalo defense) as he showed at the end of the AFC matchup with the Bills, you are rarely out of the game with Mahomes under center. Age is also a part of Mahomes landing at No. 5 instead of above younger options and closer to the No. 1 spot.
Bottom line: Many coaches would give up just about anything to have Patrick Mahomes as their quarterback, but some inconsistency and his age relative to the rest of the top five has him at No. 5.
6. Aaron Rodgers | Position: QB | Age: 38 | Team: Packers
Perhaps the most difficult player to rank given he's 38 years old and has the type of personality where he could retire at any moment, Aaron Rodgers comes in at No. 6 behind the younger crop of quarterbacks in the top five. The back-to-back league MVPs (while I think they should have gone to Josh Allen and Tom Brady) indicate that Rodgers is playing at an insane level this late in his career, and the arm talent is still arguably the best in the NFL and still "wows" you on a weekly basis. The way Rodgers takes care of the ball is mind-blowing, and a lot of that has to do with how accurate he is with his passes. While the postseason success hasn't been there for some time, Rodgers appears as comfortable with himself as ever, and I don't think it's a thing where he's getting nervous in key situations in January.
Bottom line: Aaron Rodgers remains an MVP-level quarterback that should give your team a good shot at a high seed and a title for as long as he keeps playing.
7. Dak Prescott | Position: QB | Age: 28 | Team: Cowboys
Returning from a devastating leg injury from 2020, Dak Prescott came out firing to begin last season, ultimately throwing for a Cowboys single-season franchise record 37 touchdowns (compared to just ten interceptions) while completing a career-high 68.8% of his passes. First and foremost, Prescott can and wants to win from the pocket—the rushing element became a lesser part of his game in 2021, but he was still one of the league's top quarterbacks, and that's a good sign for him continuing to have success late in his career. When Prescott is on as a passer (the season opener against the Buccaneers is a prime example), it's a highly impressive sight. Dak's deep ball is undoubtedly one of the best in football, and his intermediate passes are darts when he's at his best.
Bottom line: Dak Prescott has always been underrated as a passer, but he's still also getting better from the pocket and is developing into one of the NFL's best throwers.
8. Lamar Jackson | Position: QB | Age: 25 | Team: Ravens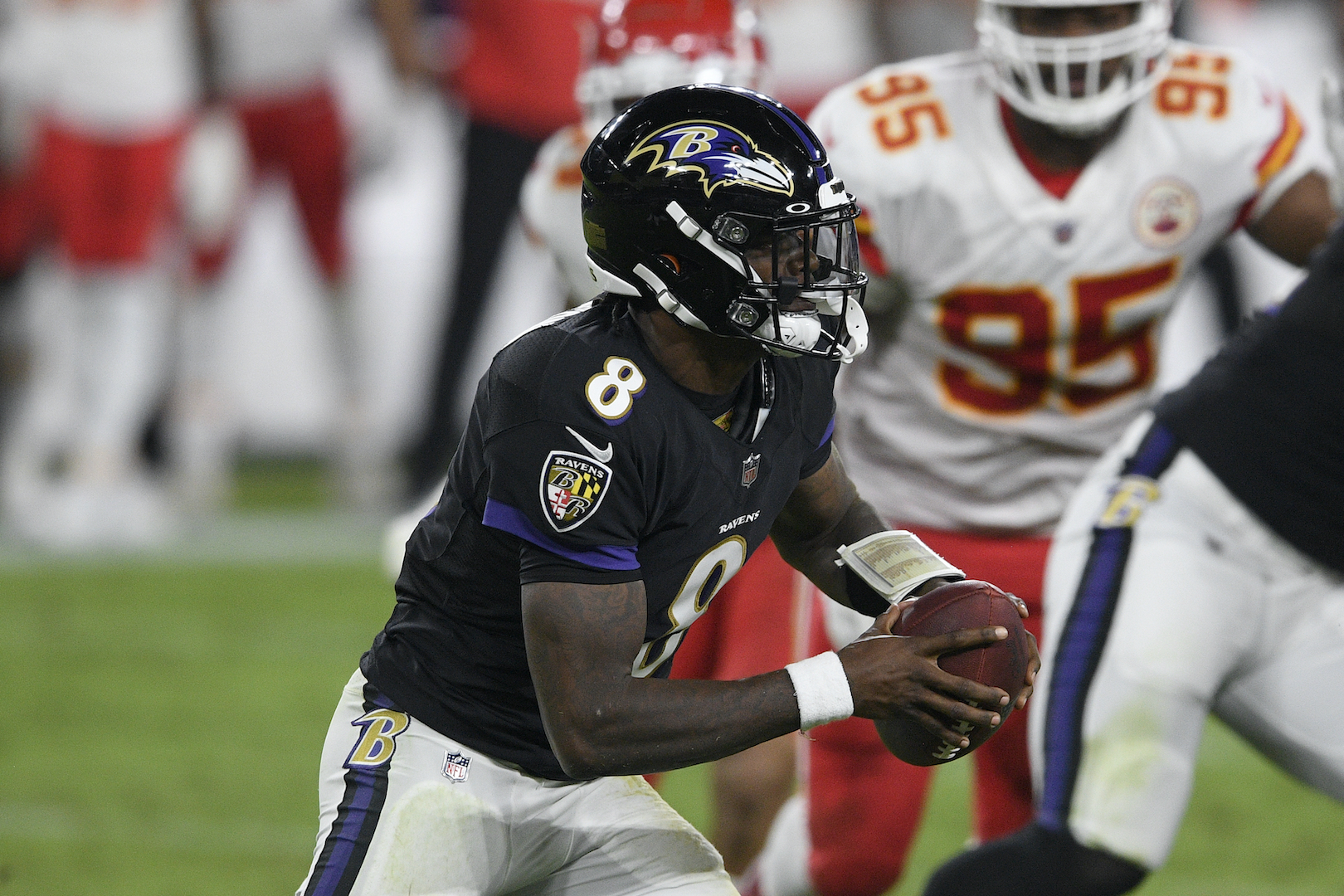 Probably the most exciting player in football when he's running around and making plays, Lamar Jackson essentially had the second half of his 2021 campaign wiped out due to COVID then an ankle injury. But the former NFL MVP is still in the same slot as last year, coming in at No. 8 for me among the league's franchise players. Granted, this is relatively boom/bust compared to the other options in the top ten or so quarterbacks. There's no question Jackson is at the top of his game when he's running the football in an option attack. However, some of the tougher defenses have sometimes done a nice job of limiting the former Heisman Trophy winner to not allow him to do what he does best. To note, I have always liked Jackson as a passer, and the Colts game from this year (when he threw for over 442 yards and four touchdowns along with 62 rushing yards in an unforgettable Monday Night Football comeback) was a display of his upside there; the passing ability just hasn't consistently been to the level compared to the league's other top quarterbacks.
Bottom line: Lamar Jackson still needs to show that he can get it done in January, but he offers immense upside as a flat-out playmaker and gamebreaker.
9. Russell Wilson | Position: Seahawks | Age: 33 | Team: Seahawks
If age wasn't a factor, Russell Wilson might be in the top three among the players I would want to build a team around. You must love the leadership qualities Wilson brings to a team, and he's obviously been an integral part of the Seahawks finishing above .500 every season during his tenure there until he finally missed time due to injury in 2021, which played a part in Seattle finishing with a losing record. As Wilson has shown in skills challenges at the Pro Bowl, he's naturally pinpoint accurate to all areas of the field; and the escape-ability remains a headache for opposing defenses. The Super Bowl winning quarterback has indicated that he wants to play into his 40s like Tom Brady did, so this might be too low for a stud that I had in the top five last season. Wilson might shoot back up into that range if he stays healthy and the Seahawks get back on track this season.
Bottom line: Russell Wilson is a winner of a person and player.
10. Mac Jones | Position: QB | Age: 23 | Team: Patriots
The Patriots appear to have landed another gem at quarterback after Mac Jones fell to the middle of the first round last spring. As was the case during the media-driven pre-draft process, the consensus might not have the former Alabama quarterback close to this range, but he's no question a fantastic option to build around in my opinion. Some of the throws from Jones as a rookie were truly jaw-dropping. The Browns game in particular was a standout performance, displaying how deadly pinpoint he can be. Jones might not get on a popular highlight reel with his playing style, but I personally think he can be very entertaining to watch, with the upside of playing almost like a flag football quarterback dropping it in the bucket all over the place—and he can run for first downs if lanes open in the defense. Jones showed promising pocket presence as a rookie, but if he can be kept completely clean and has top weapons around him, he could potentially put up Drew Brees-type numbers while operating a pass-heavy attack if called upon.
Bottom line: The media and some casual fans might not be too excited about it, but Mac Jones profiles as someone that can win a ton of games from the pocket.
11. Jalen Hurts | Position: QB | Age: 23 | Team: Eagles
This might be a second consecutive somewhat controversial ranking, but I am persuaded by the progress and flashes Jalen Hurts has shown, and I would be willing to bet on his undeniable leadership qualities as a potential franchise quarterback option moving forward. Remember, Hurts only started the final four games as a rookie without a full offseason (due to COVID-19) before becoming a full-time starter in 2021, so he's still relatively inexperienced. In 19 starts, Hurts has 35 total touchdowns, operating as a quarterback that does what it takes—often with his legs—to move the offense—and at his best, to win games in crunch time. Personally, I think Hurts sometimes tries to be too precise on the deep balls; when he lets it fly, he can sling it down the field with accuracy.
Bottom line: Progression as a passer is a must, but Jalen Hurts can develop into a sensational dual threat quarterback—and he already has A+ leadership.
12. Matt Ryan | Position: QB | Age: 36 | Team: Falcons
Matt Ryan is a tough one to rank because he'll be 37 years old this offseason and is coming off just an OK season in his first year under new head coach Arthur Smith (not having Calvin Ridley, putting a dent in Atlanta's weapons overall after already losing Julio Jones in the offseason, certainly didn't help). However, I feel that in a situation with a top supporting cast, Matty Ice can still play at an MVP level and would give a team an excellent chance to compete for a championship. Keep in mind that Ryan hasn't had much of a run game for a few years now, but that and a strong offensive line should be a point of emphasis for any franchise built around him—and that would be the goal here for this hypothetical exercise of franchise players, allowing Ryan to take advantage of his elite ability off play-action to throw strikes down the field. Ryan is a championship-caliber quarterback and a future Hall of Famer.
Bottom line: Matt Ryan is a clutch, experienced quarterback that—in an ideal situation—gives about as good of a chance as almost anyone to accomplish the No. 1 goal of winning a championship.
13. Micah Parsons | Position: LB | Age: 22 | Team: Cowboys
Looking back, it's almost funny to think that the big concern for Micah Parsons during the pre-draft process last year had to do with his character. The Cowboys completely unleashed their first-round pick as a dynamic fast, hard-hitting, relentless, and versatile defender that can be a huge lift to an entire defense and team. Despite opting out of his final year at Penn State, Parsons recorded 84 tackles and 13.0 sacks in his first NFL season while winning Defensive Rookie of the Year and receiving votes for Defensive Player of the Year. He's a guy that would be a ton of fun to build a unit around at 22 years old. Now, the leadership is a big reason Parsons is my top non-quarterback and top defensive player to build a team around in 2022.
Bottom line: Micah Parsons appears to have quickly grown out of any past character concerns and into a leader—and a premier chess piece—on defense.
14. Jared Goff | Position: QB | Age: 27 | Team: Lions
The Lions appear to be a group on the rise under Dan Campbell, but the Rams still sent former top pick Jared Goff to somewhat of a wasteland and in a tough situation to have success in Detroit. That doesn't mean he should be downgraded a ton when considering this is about players to build a team around from scratch—also, what Goff showed down the stretch last season for a bad team was solid: a 3-3-1 record with 11 touchdowns and two interceptions over his final seven starts. Truthfully, I strongly feel that the Rams also could have easily won it all with him at quarterback this past season. Overall, I'll take the 27-year-old quarterback with good playing experience, a Super Bowl appearance, and impressive wins (look at the NFC title game at New Orleans) on his resume.
Bottom line: Jared Goff might not get a ton of respect, but I think he at least profiles similarly to fellow former top pick Alex Smith, who had an MVP-caliber campaign in the right situation.
15. Kyler Murray | Position: QB | Age: 24 | Team: Cardinals
I will say this might end up being far too low for Kyler Murray, who has had a huge hand in turning the Cardinals back around over his three seasons in the league. But it's at around the same spot he was last season, and there are a couple of heightened concerns after 2021. One, not that he's a total troublemaker or isn't good with his teammates or something, but anyone that's even watched the television broadcasts can see that his body language has not been ideal at all when things aren't going well. Many of the great competitors get frustrated, but like the greatest of them, Murray needs to find a way to channel that into motivation instead of looking like he's totally down and dejected when things go south. Two, Murray has dealt with injuries over the past couple of years, and his electric ability as a scrambler might need to be reined in at some point—and it's when he's running around and playing like a kid that he's really frustrating for opposing defenses. As for the good, there's a lot to like for Murray. He doesn't need to rely on his legs to make plays, as he's proven to be a reliable passer, particularly on the go ball and high-point throws to the sideline.
Bottom line: Kyler Murray should mature as he gets more experience, and the talent level is spectacular.
16. Jonathan Taylor | Position: RB | Age: 23 | Team: Colts
I would content that Derrick Henry suffered a freak broken foot last year, but other running backs (Christian McCaffrey and Saquon Barkley, both dealing with multiple injuries) have not worked out well on this list. However, I am not discouraged. Jonathan Taylor is a remarkable talent that had no business going so late in the 2020 NFL Draft, and he's just 23 years old and will hopefully have some injury luck and several years of difference-making to power an offense. Taylor had 178 more total yards than any other player last season (and that was with Cooper Kupp nearly breaking the single-season receiving yardage record), and it's scary to think that his ceiling has not even been reached—there were a number of times where Taylor should have gotten the ball on checkdowns that would have picked up chunk yardage, but Carson Wentz did not go his way. Anyway, the second-rounder out of Wisconsin grinds out tough yardage yet can break big plays with ease, and his receiving ability is arguably underutilized through two seasons. In addition to the prodigious talent level, Taylor is a humble and low-key model citizen and teammate.
Bottom line: League-leading production is already here for Jonathan Taylor, but there is room for even more—and he is an awesome guy to have in a locker room.
17. Ja'Marr Chase | Position: WR | Age: 22 | Team: Bengals
Playing with his college quarterback helped, but as a 21-year-old rookie, Ja'Marr Chase racked up 81 receptions for a rookie-record 1,455 yards and 13 touchdowns after going fifth overall to the Bengals. The age is a considerable factor in Chase ranking this high among the NFL's top franchise players, as it's easy to envision the former LSU star giving a decade of that type of production in the league. Chase is a do-it-all receiver, and that includes him being a willing and physical run blocker. But what gets the headlines is his ability as a receiving weapon. Chase is almost like a running back when he gets the ball in his hands, with breakaway speed paired with smooth and strong moves in the open field. He's also a very good route runner and one of the best deep threats in the game, effortlessly stacking defenders to get open deep for his quarterback.
Bottom line: Quickly one of the best receivers in the game, Ja'Marr Chase is one of the youngest impact players in NFL history.
18. Devin White | Position: LB | Age: 24 | Team: Buccaneers
While Devin White didn't have quite the type of season that he did a year ago in helping lead the Buccaneers to a Super Bowl (and recording 140 tackles and nine sacks during the regular season), the fourth-year linebacker is still an absolute stud of a player in the middle of a defense. White flies around and makes it very difficult for offenses to get the edge and up the field, navigating sideline-to-sideline as well as anyone to shutting plays down before they get started. The No. 5 pick in the 2019 NFL Draft is also a timely blitzer, and he already has a memorable championship run on defense.
Bottom line: Devin White is a disruptive linebacker that plays both downhill and sideline-to-sideline at an elite level.
19. Darius Leonard | Position: LB | Age: 26 | Team: Colts
I don't like to point too much to stats when arguing in favor or against a player's ability, as I (unlike some people, mostly haters) actually watch all these guys and much prefer relying on the eye test. But the numbers say at lot for Darius Leonard. Through four NFL seasons, Leonard has 538 tackles, 15.0 sacks, 11 interceptions, 30 pass deflections, 17 forced fumbles, seven fumble recoveries, and one touchdown as an off-ball linebacker. And, as expected, the leadership shined and was plain to see on HBO's Hard Knocks during last season. Where Leonard has the advantage over the other linebackers in the top 32 is in pass coverage, but the age is what keeps him slightly behind the two defenders ahead of him in my ranking of the players I'd want to build an NFL team around.
Bottom line: Darius Leonard has a knack for making plays and forcing turnovers, also helping provide the boost for the guys around him to do the same on defense.
20. T.J. Watt | Position: EDGE | Age: 27 | Team: Steelers
The reigning Defensive Player of the Year moves up the list from his No. 30 spot last year, when I said he "appears to just be getting better by the year" despite already being an easy double-digit sack guy that also makes an impact by getting his hands on the ball or messing with passing lanes if he can't get home to the quarterback. Watt tied the NFL's single-season record with 22.5 sacks in 2021, and there was a noticeable difference in the Pittsburgh defense when he wasn't on the field—and he tied that sack record despite missing two games and not being himself for large parts of others he played in while injured.
Bottom line: T.J. Watt is a prototypical edge and one of the most impactful players in football.
21. A.J. Brown | Position: WR | Age: 24 | Team: Titans
Injuries are the biggest concern for A.J. Brown, who missed a few games and was banged up when he was on the field for most of the 2021 season. However, I've felt Brown could become the best receiver in the league, and I'm hoping he can get past the durability issues and become a perennial 1,500-yard receiver. AJB was basically doing the types of things Ja'Marr Chase did before Chase, as they have similar playing styles as guys that can break huge plays and break games open for their squads. Last season, Brown's 11/145/1 outing against one of the league's top defenses in the 49ers was an indication of what the former Ole Miss receiver can do when he's featured in an offense.
Bottom line: When healthy, 24-year-old A.J. Brown is one of the top weapons in the NFL and can take over games.
22. Derrick Henry | Position: RB | Age: 28 | Team: Titans
The aforementioned Derrick Henry still makes the top 32 franchise players of 2022 despite coming off the broken foot and getting closer and closer to 30 years old. In half a season (eight games) last season, Henry ran for 937 yards and ten touchdowns before his injury, which, again, I am hoping is just more of a freak injury than anything else for a runner that's handled a heavy workload and has been durable throughout his career. "King Henry" can still take over games more than any non-quarterback in football, and he's almost like the ultimate weapon when the weather gets colder and defenses might be less eager to tackle him—but, as the numbers indicate, Henry was playing at his normal end-of-season level before the weather even turned in 2021.
Bottom line: It might be just a few years of top production remaining at best, but Derrick Henry is a great neutralizer that can carry offenses and make things easier on everyone else in the quest for a title.
23. Nick Bosa | Position: EDGE | Age: 24 | Team: 49ers
Coming off a torn ACL suffered in Week 2 of the 2020 season, Nick Bosa returned and recorded 15.5 sacks for the 49ers last year, putting on a showcase of his high-level pass rush ability. The second overall pick by the Niners in the 2019 draft, Bosa came into the league with a pro-ready skillset, and he's recorded 24.5 sacks in two full seasons and only appears to be getting better and even more refined the more he plays. Bosa is also a thickly built edge player that plays the run well. He was a key reason for San Francisco turning things around in a big way after he was out during their disappointing 2020 season. One concern is that the 24-year-old plays so hard that he can get banged up quite a bit, but Bosa should be an exceptional pass rusher for years.
Bottom line: Nick Bosa has shown that he can be a critical piece of a winning defense, and he's someone you can rely on getting after the quarterback.
24. Kyle Pitts | Position: TE | Age: 21 | Team: Falcons
There was some consideration to putting Kyle Pitts even higher than this among the NFL's franchise players; he has a real case to be the top non-quarterback you'd want to build a team around moving forward. The 2021 first-round pick out of Florida is the youngest player ever on the list, as he just turned 21 years old during his rookie season. Legendary head coach Bill Belichick can sometimes maybe sweet talk his opponents ahead of a game, but he described Pitts well by calling him "phenomenal", adding:
I was reading through some of the Atlanta comments, and you hear them comparing him to a cross between Tony Gonzalez and Julio Jones, and I'd say that's about right. That's what it looks like. This guy is one of the superstars of the NFL already.
Bottom line: Kyle Pitts is a tight end, but he's basically as effective as a wide receiver in terms of being a pure weapon in the passing game that you can build the offense around, with not many defenders that can match up with him.
25. Marcus Mariota | Position: QB | Age: 28 | Team: Free Agent
Having a quarterback that's been a backup the past two-plus seasons might be a little ambitious, but I have seen enough from Marcus Mariota during his time as a starter with the Titans—and add to that his time in Las Vegas to rebuild himself a bit—to feel very confident in him as a franchise quarterback. Despite sitting mostly on the bench for the past three seasons, Mariota is still just 28 years old—yet he has 61 career starts under his belt. As a 24-year-old in 2017, Mariota tied the NFL lead for game-winning drives and fourth-quarter comebacks. He led an insane comeback victory at Arrowhead in the postseason. The former No. 2 pick had a lot to do with getting the Titans turned around to the point where they are now—and his benching back in 2019, when the offense was dealing with injuries and he had seven touchdowns compared to two interceptions, was puzzling (though you could say it worked out with the Titans playing well since then and grabbing the top seed in the AFC in 2021). But Mariota can be a dazzling dual threat that will take off and run for big gains when it's available yet is effective in the pocket as a precise thrower with a quick release. The superb performance off the bench in December 2020—his only extended action of the past two seasons—gives hope that Mariota can be a legitimate factor at quarterback if and when he gets another crack at a starting job.
Bottom line: Marcus Mariota is still young enough—and certainly talented enough—to be a long-term franchise quarterback.
26. Trey Lance | Position: QB | Age: 21 | Team: 49ers
Trey Lance was one of the toughest players to rank among the league's franchise players, as we only saw him in limited action (two starts) in 2021. The No. 3 pick last year only played in one game during his final college season at North Dakota State (due to COVID wiping out his normally scheduled season at the FCS level), so there should be a ton of room for growth as he gets more experience in the NFL. Overall, it's difficult not to get excited about Lance's ability. He's a big guy out there at six-foot-four (it looks to me like he's gotten noticeably bigger since his time in college) but moves effortlessly and brings a lot to the run game on designed quarterback runs. More importantly, as a passer, even if the accuracy was a touch off at times, I think it's something that is correctable, and Lance stepped up in the pocket and moved behind the line of scrimmage with his eyes down the field while throwing the ball to the right spot. He's undoubtedly a top-32 option to build around, and this might prove to be far too low a year or two from now; it's the inexperience dating back to college that holds him back some for now.
Bottom line: Trey Lance has enticing physical gifts and appears to have been coached right throughout his life to play the quarterback position well while not always relying on natural ability.
27. Justin Jefferson | Position: WR | Age: 22 | Team: Vikings
Through two NFL seasons, Justin Jefferson has put up lines of 88/1,400/7 and 108/1,616/10 playing in an offense that hasn't at all been a pass happy unit—the third-year player just finds a way to get open down the field, impressing even peers such as All-Pro (and arguably the current best wide receiver in football) Davante Adams. A concern coming out was that Jefferson spent a lot of time in the slot during his time at LSU, which is probably why he didn't go in the top half of the first round in the 2020 draft. But Jefferson has clearly shown that he can line up anywhere and present a major challenge for defenses. Jefferson is one of the smoothest and craftiest route runners in the league, particularly down the field on double moves, and he has a Gumby-like length and catch radius despite a relatively modest size. Like his former teammate Ja'Marr Chase, Jefferson should have at least several years of elite production. The age is also a key factor in him being considered among the NFL's top franchise players.
Bottom line: Justin Jefferson is a crafty and explosive target that stepped into the league playing like a top receiver.
28. Trevon Diggs | Position: CB | Age: 23 | Team: Cowboys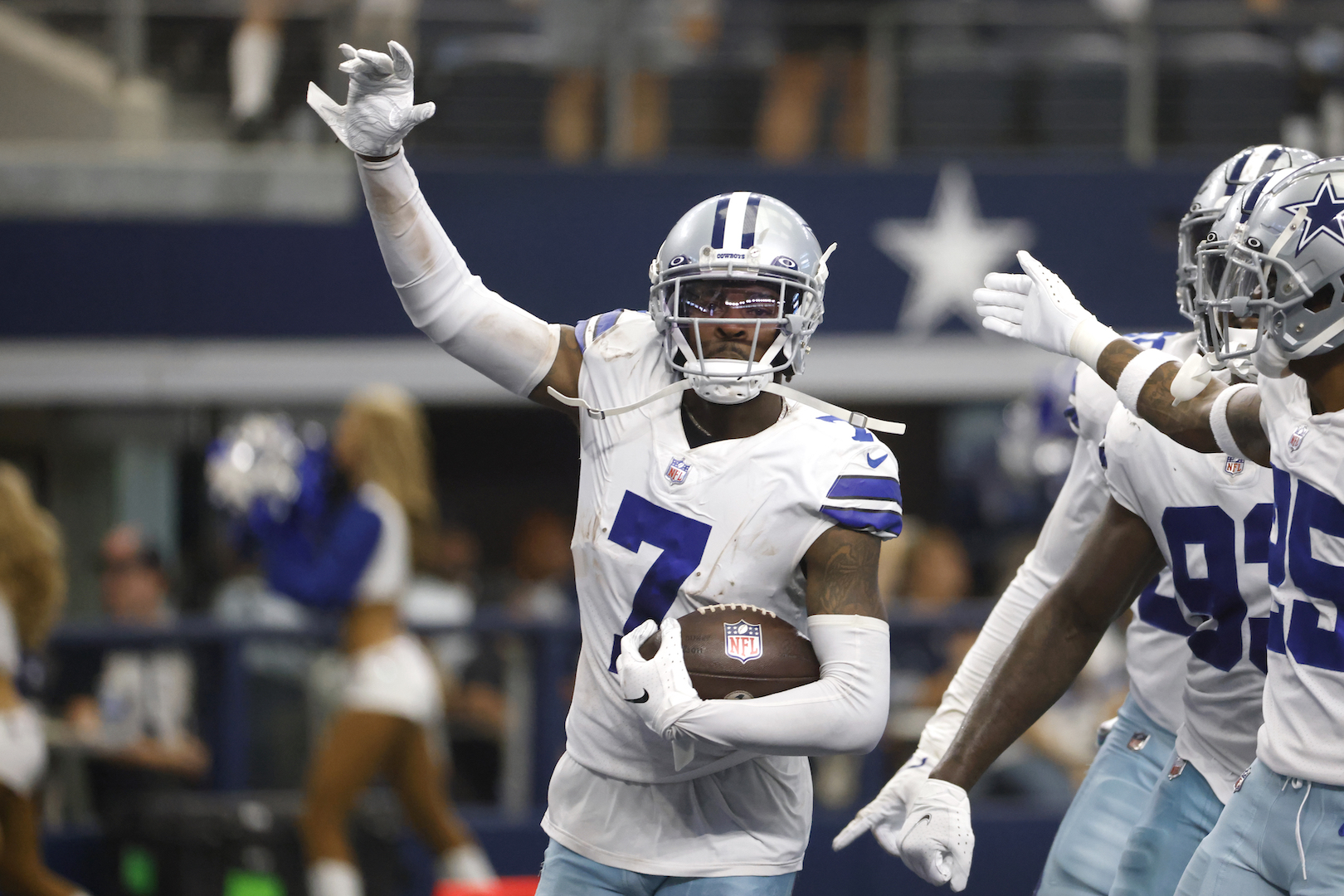 In middle of last season, I was surprised to hear so much criticism headed Trevon Diggs' way for occasionally giving up some yardage and big plays—almost completely ignoring the game-changing plays the young cornerback made for the Cowboys defense. The aggressive playing style of Diggs could sometimes lead to quarterbacks and receivers getting the better of him, but that's almost bound to happen when the Dallas corner tries to bait offenses into trying him—and he got the better of most matchups, rightfully earning an All-Pro nod after the season. Diggs had 11 interceptions and two pick-sixes on the year, and he also was very effective in limiting DeVonta Smith and Terry McLaurin; in other words, he isn't just a turnover machine, as he can shut down opposing wide receivers when he's locked in—he's just occasionally bound to take chances that can get him burned. Finally, Diggs hasn't been playing cornerback for that long, starting his career as a wide receiver at Alabama, so he should continue to progress as an extraordinary defender.
Bottom line: The cost-benefit analysis makes it worth having the rare playmaking ability of Trevon Diggs on defense, and I think he can be more of a straight-up shutdown guy as he gets more experience at corner.
29. Quenton Nelson | Position: OG | Age: 25 | Team: Colts
These final four spots were maybe the toughest for me, as there were a bunch of players that I wanted to include in the top 32. Quenton Nelson was already widely considered the best offensive lineman in the league as an immediate perennial All-Pro at left guard for the Colts, but I am somehow now even higher on him after watching his leadership qualities on HBO's Hard Knocks last season. Nelson straight up pushes people around in the run game, and he's a wall on the interior in pass protection. But you could tell that the fifth-year stud prefers running the ball and setting the tone—which carries over to the rest of the team, including when the defense gets excited to see him leveling the opposition. Nelson is an ideal lineman to build a team around.
Bottom line: As a formidable player and leader, Quenton Nelson elevates the players to his left and to his right, his entire offensive line unit, and his entire team.
30. Roquan Smith | Position: LB | Age: 24 | Team: Bears
Roquan Smith made the list of the NFL's top 32 franchise building blocks last year, when I said he was coming off his best season yet. Year 4 might have been even better for the former Georgia Bulldog, as he recorded a career-high 163 tackles along with three sacks and an interception (a pick-six of Joe Burrow) while flying around for the Chicago defense all season. Smith is a bit like Devin White in that they will both roam sideline-to-sideline and blow things up for the opposing offense, and the style of play helps lift his defense and team. Smith has been named second-team All-Pro in each of the past two seasons at a position that's stacked with worthy options across the league.
Bottom line: Roquan Smith is still under 25 years old and should remain one of the league's top defensive players.
31. Jimmy Garoppolo | Position: QB | Age: 30 | Team: 49ers
Jimmy Garoppolo has become one of the most criticized athletes in sports by the media, and many of those people will probably laugh at him being included here (though they have been wrong about a lot of things and I'm not sure how much the harshest of hot-take critics actually watch). But, while it's tough to win without a good team around you, I'm not going to ignore someone that is 37-16 (including 4-2 in the playoffs) as a starter in his career no matter how much support he's gotten. The individual numbers aren't amazing, but there has been a noticeable and undeniable difference for San Francisco when Jimmy G has been on and off the field over the past handful of seasons. Garoppolo's teammates love him, and he was super clutch for the Niners this past season (and he also previously led the NFL in fourth quarter comebacks with four in 2019). Just ignore the statistics and watch Garoppolo play, and you'll see an efficient quarterback that puts his throws on the money, particularly to the intermediate and over-the-middle parts of the field; he's a huge reason the Niners have been a big-play offense, hitting his guys in stride to rack up yards after the catch. As for the downside, some of the boneheaded throws are still there for Garoppolo, but that's partly because he thinks he can fit passes into almost any tight window—but it often pays off, too. I'd take the good with the bad and be happy with him leading a team.
Bottom line: Jimmy Garoppolo is an accurate pocket passer that—despite a championship missing on his resume as a starter—has shown he can be a clutch performer at the game's most important position.
32. Tre'Davious White | Position: CB | Age: 27 | Team: Bills
There are so many young superstar talents all over the field on both sides of the ball, and there are many in the next 32—including some promising quarterbacks—that I would be happy to put in the top 32. Derek Carr and Matthew Stafford typically make the list with relative ease, but the league is so stacked with young talent that they just miss this year. It's a statement that obviously cannot be proven, but the Bills probably would have won the Super Bowl if Tre'Davious White didn't suffer a torn ACL on Thanksgiving Night in my opinion. He'll have to come back strong from the knee injury, but White just turned 27 and is a legitimate shutdown cornerback that can line up and limit just about anyone in the league. In addition to his prowess as an in-your-hip cornerback, White has a knack for finding the ball and forcing turnovers, whether interceptions, forced fumbles, or fumble recoveries.
Bottom line: Tre'Davious White is an all-around cornerback that also might be the top guy in the league when it comes to locking up opposing receivers.
The Next 32: These guys just missed the list and are in the discussion for the Top 32.
-Patrick Surtain II
-DeVonta Smith
-Derek Carr
-Matthew Stafford
-Tua Tagovailoa
-Mitchell Trubisky
-Zach Wilson
-Kirk Cousins
-Ryan Tannehill
-Daniel Jones
-Justin Fields
-Joey Bosa
-Jaylen Waddle
-Josh Allen
-Jaire Alexander
-A.J. Terrell
-Vita Vea
-Nick Chubb
-Fred Warner
-Tristan Wirfs
-Rashawn Slater
-Andrew Thomas
-Jeremiah Owusu-Koramoah
-Stefon Diggs
-Davante Adams
-Kevin Byard
-Minkah Fitzpatrick
-Chase Young
-Danielle Hunter
-Christian Darrisaw
-Trent Williams
-Jeffery Simmons
-Aaron Donald
-Cooper Kupp