Before a wild offseason continues, it's time for the 2021 rankings of the NFL's top franchise players. If the NFL had a fantasy-style re-draft of the entire league tomorrow, who would be the top players to build around? The roster pool is deeper than ever in my opinion, so plenty of worthy options missed both the Top 32 and the Next 32 (listed at the end of the article). Today, too many people feel it's not OK to have opinions considered too different from the norm. Keep in mind that this is my own personal opinion and preference, and it doesn't matter what others think; that doesn't mean I'm right—but this wouldn't be any good if I just fell into groupthink and gave some consensus list. Last year, I was probably one of the only people that would have had both Tom Brady and Josh Allen in the top five, and many laughed at that at the time. It's good to have different thoughts, and no two lists should be exactly the same. As is always the case, these rankings do not include rookies (so no Trevor Lawrence). Let's get started.
1. Tom Brady | Position: QB | Age: 43 | Team: Buccaneers
After he was No. 1 in each of the first two years of this annual exercise, I feel foolish for moving Tom Brady down to No. 4 last year. But the 43-year-old is squarely back in the top spot after joining a new franchise and leading them to a Super Bowl in his first season. As displayed as clearly as ever in Tampa Bay, Brady has a way of elevating everyone around him and making everyone believe that the team can accomplish anything and that they themselves can be great as individuals. The G.O.A.T. is just one of the guys, but he happens to play quarterback at a level that surpasses mastery—he's seen everything and always has an answer for whatever a defense throws at him, and there hasn't been a more clutch athlete in perhaps the history of sports. Tom used to say that he didn't care what other people would say or think because it's out of his control, but now he's angry (almost like an older, wrathful Bruce Wayne in Batman v. Superman) and he's keeping receipts—a scary sight for the rest of the league. Even as he's set to turn 44 years old before the 2021 season, there's no player I'd rather take to start a franchise with than Brady. It's about winning Super Bowls, and even if Brady just plays another three years (I actually think he might play another several; he's shown no signs of slowing down thanks to his unmatched commitment and his TB12 Method), you can't choose anyone else over him—and while this is a theoretical, I would be confident in being able to find an heir whenever Brady retires.
Bottom line: Tom Brady gives you a better chance to win championships than any player in history.
2. Josh Allen | Position: QB | Age: 24 | Team: Bills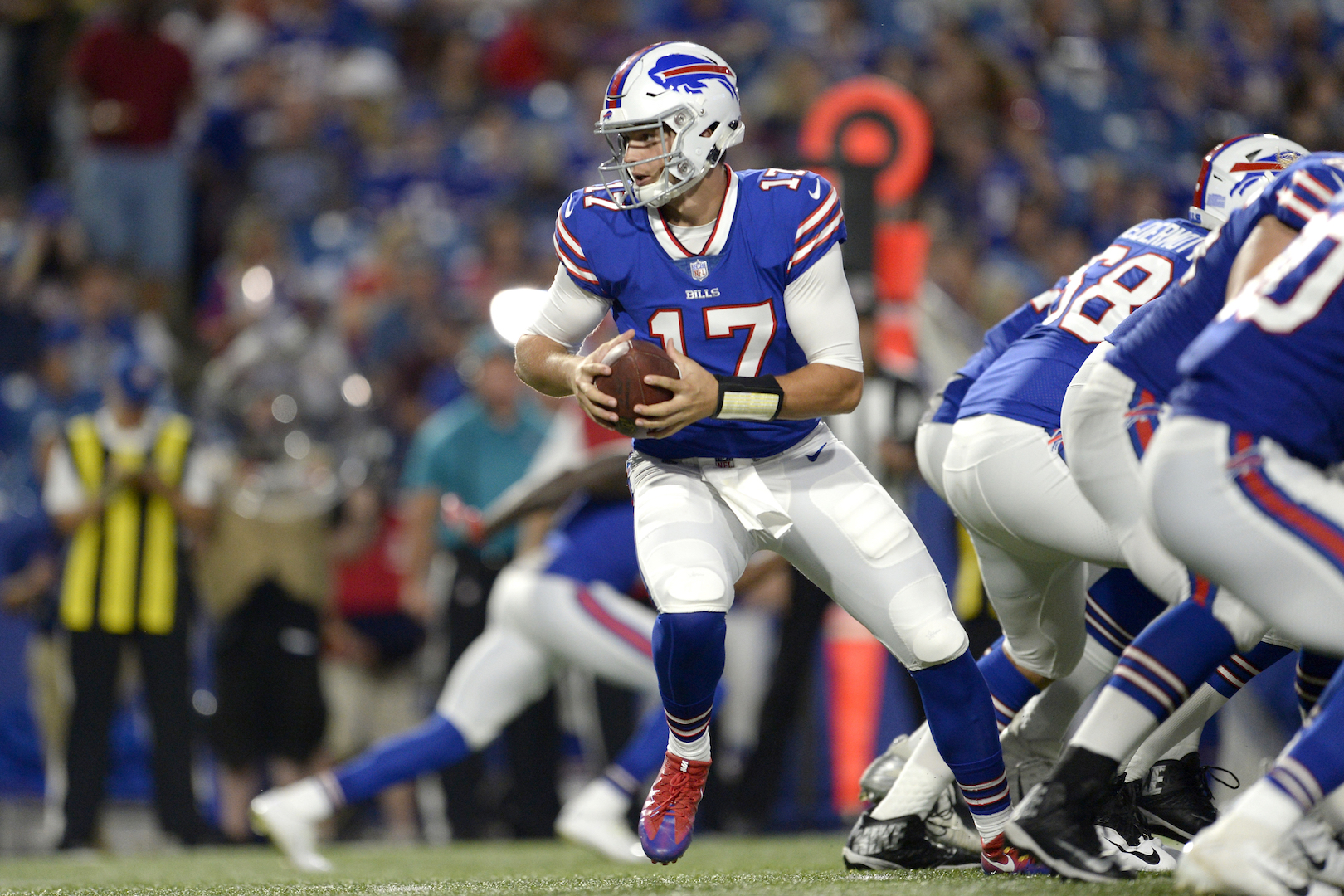 I understand this may be controversial, but if you follow along and know me you know this isn't some "hot take" to get attention or to be different for the sake of being controversial. Josh Allen's rise into legitimate superstar quarterback puts him in the mix as the top player that teams around the league would want to build around. Allen was my pick for 2020 NFL MVP, and—while unlike others, I thought he played well and showed serious promise in each of his first two NFL seasons—he took the step forward into undeniable stud franchise player last year. Allen possesses the strongest arm in the league and throws with mind-blowing accuracy to all areas of the field from anywhere behind the line of scrimmage. He can absolutely shred defenses as a designed runner and scrambler. He doesn't turn the ball over in the red zone and has the premier dual threat ability to get six points however possible when his team is in scoring territory. And he's clutch late in games. Allen is the total package at quarterback, and he's a big part of a winner developing in Buffalo.
Bottom line: Josh Allen is built like the old school prototype in terms of size and throwing ability, but he also possesses the skills to light it up in today's more wide-open NFL—and he's getting better the more he plays.
3. Patrick Mahomes | Position: QB | Age: 25 | Team: Chiefs
For many, the choice for the top spot among the NFL's franchise players is easily Chiefs quarterback Patrick Mahomes. The former league MVP has been to the Super Bowl in each of the past two years, winning one and giving a tremendous effort despite not playing well (though his entire team played poorly) in the other. It's well documented what magic Mahomes can pull off on the football field, and he's a humble guy despite the extraordinary attention and praise heaped onto him—many people wouldn't remain so grounded in similar situations. Everyone knows about Mahomes' ability, so I'll stick to the reasons why he's No. 3 instead of No. 1 or No. 2. One, he has not played well in either of his Super Bowl appearances (despite winning the game's MVP a couple of years ago, which should have gone to Damien Williams). Two, he's coached by Andy Reid. And three, he has the best supporting cast in the league led by Tyreek Hill and Travis Kelce (along with others like Sammy Watkins and Mecole Hardman). Obviously, he's an awesome player, though—just not on a completely different level than everyone else in the league, as some have claimed.
Bottom line: NFL teams would give up almost anything to have Patrick Mahomes as their quarterback.
4. Justin Herbert | Position: QB | Age: 22 | Team: Chargers
Having a player this high after one season may be a bit risky, but Justin Herbert was so good as a rookie that I feel he clearly belongs in the top five of the NFL's building block franchise players. Herbert is similar to Josh Allen and Patrick Mahomes in that he can calmly stand back in the pocket or scramble around behind the line of scrimmage while keeping his eyes down field and delivering perfect on-the-money throws in an instant when he sees a receiver open or with the chance to make a play on the ball. The Oregon product was thrust into action literally a minute before kickoff in his NFL debut, and he showed nothing but poise throughout the year while shattering the rookie record for touchdown passes (31). Aside from his on-field ability, Herbert is known as an impressive person at a young age, and it probably wasn't easy to get a veteran team to rally around him and play for him after respected veteran Tyrod Taylor lost his starting job because of a medical mishap out of his control, but it says a lot about Herbert that his guys responded to his play and leadership.
Bottom line: The sample size is relatively small, but Justin Herbert has the look of one of the league's top quarterbacks for the next decade-plus.
5. Russell Wilson | Position: QB | Age: 32 | Team: Seahawks
In any industry (not just among NFL players), there aren't many more consistent year-over-year producers than Russell Wilson. The former Super Bowl champion quarterback has made the postseason in eight of his nine NFL seasons with the Seahawks, and he's always had an above-.500 record. It's totally insane, and Wilson has had a ton to do with that team success over the past nine years. Wilson used to do more damage as a runner, but—despite being "short" for an NFL quarterback—his ability as a pocket passer ranks among the league's best, which will help him as he continues to age and accomplish a goal of playing into his 40s. And even as his athleticism dwindles, Wilson's craftiness will always help him have success on broken plays, where he can launch one of the game's best deep balls in rainbow-like fashion to his receivers down the field.
Bottom line: It doesn't matter what's around him, Russell Wilson will find a way to lead a productive offense and team.
6. Deshaun Watson | Position: QB | Age: 25 | Team: Texans
Deshaun Watson might be the toughest player to rank among the NFL's franchise building blocks, but he settles in at No. 6 judging him mostly by his on-field ability only. But personally, I would pass on Watson and go in another direction if the NFL were to have a re-draft and he was available. This is coming from someone that was higher than anyone on the dynamic quarterback when he was coming out of Clemson. As stated last year, in the past Watson has thought it was a good idea to celebrate in a playoff game when his team was getting beaten badly; and now, he's trying to force his way out of Houston after just signing a long-term extension less than a year ago. There are warning signs there, and he might be getting negatively influenced by people around him. I don't blame Watson for wanting to leave, but it's not a good look and a sign of disrespect if he's really been ignoring his new head coach. That said, it's easy to understand why the Texans don't want to trade Watson, who is one of the NFL's top dual threat quarterbacks and the type of guy that can put an offense on his shoulders.
Bottom line: Deshaun Watson is a top-tier playmaker at quarterback and is probably around his prime at 25 years old.
7. Dak Prescott | Position: QB | Age: 27 | Team: Cowboys
While contract negotiations have not gone smoothly with the Cowboys over the past couple of years, Dak Prescott is not someone you really have to worry about causing trouble or doing anything but showing up to work and leading his team. Prescott is coming off a devastating leg injury, but all indications are he's progressing well and will be back to his usual self next season. When Dak was on the field last year, he was playing as well as ever and became the first quarterback ever to throw for 450 yards in three consecutive games—the crazy numbers were partly because of the defense that let Dallas down and led to a 2-3 record as a starter for Prescott last season, but the 27-year-old quarterback was outstanding throwing the ball. Russell Wilson and a couple of others may say otherwise, but I think Prescott might have the best deep ball in the league, and his intermediate throws are also pinpoint, not to mention his ability to tuck the ball on zone reads and his physical and mental toughness.
Bottom line: Assuming he will get back to full health, Dak Prescott is an all-around quarterback you can count on.
8. Lamar Jackson | Position: QB | Age: 24 | Team: Ravens
Since taking over as a starter for the Ravens during the 2018 season, Lamar Jackson owns a 30-7 regular season mark (the most wins in the league for a quarterback during that span). The issue has been the postseason. While Jackson and Baltimore got over the hump and beat the Titans in the Wild Card Round last season, Jackson in January still concerns me as a passer, and it might be something that's in his head because of how much he hears and is asked about it. The margin for error just feels smaller for Jackson when every drive and moment is critical in the playoffs, but there's no question the 2019 NFL MVP is one of the most exciting players in football, and he's not fun for opposing defenses to attempt to contain for 60 minutes. Two consecutive 1,000-yard rushing seasons for a quarterback is sensational, and when Jackson is on as a passer, he can be difficult to stop both from the pocket and on creative scrambles while using different throwing angles in both cases.
Bottom line: Lamar Jackson is one of the most entertaining players in the game, and he needs to put it together in January/February.
9. Aaron Rodgers | Position: QB | Age: 37 | Team: Packers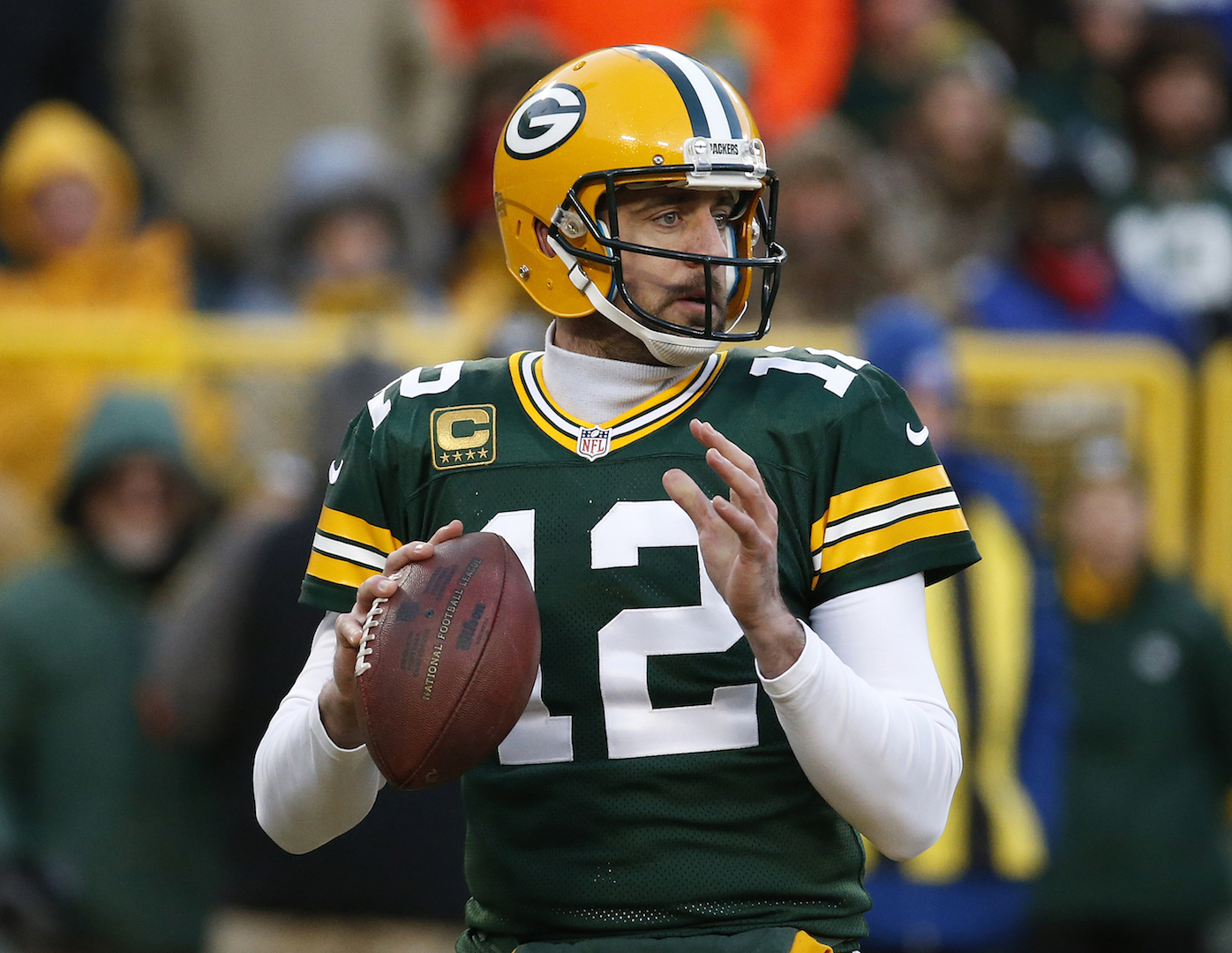 Aaron Rodgers is another quarterback that's said he wants to play into his 40s, but he's a different type of character than most people, and I wouldn't be surprised if he suddenly decided to retire earlier than expected. Therefore, coming off a third league MVP, it's the age that has Rodgers down at No. 9 among the NFL's top franchise players—if this was a one-year ranking of the players you'd want for 2021 only, it'd be a different story. Rodgers can still sling the ball with the best of them, and he's played so much football that his precise passing along with his knowledge leads to a devastating combo. One knock for the former Super Bowl MVP is that while he certainly has the ability to come back in games, he's clearly better as a frontrunner when things are going well and his team is leading.
Bottom line: Aaron Rodgers is a future Hall of Fame quarterback still showing he can play as well as ever while nearing 40 years of age.
10. Marcus Mariota | Position: QB | Age: 27 | Team: Raiders
Despite not landing a starting job in the offseason, Marcus Mariota was ranked near the top ten of the NFL's franchise players last year, so if anything, he was going to rise this year after lighting it up in his lone game of 2020 for the Raiders while also getting a year of tutelage under Jon Gruden, allowing himself to get rebuilt to channel the most of his natural ability. In Mariota's lone appearance last season, he showed what makes him a player to be hopeful about: fearlessness in the pocket, a quick release, pinpoint accuracy, a catchable deep ball, rushing upside, and leadership. Mariota's teammates rally around him when he's on the field, and you know what type of teammate the former No. 2 overall pick is based on Titans players reacting and cheering for him when he entered the game in primetime last year. In the right spot, the very talented Mariota could explode into one of the league's best signal-callers.
Bottom line: Marcus Mariota is still just 27 years old despite a few years of starting experience, and he had the opportunity to step back and hit reset ahead of his next opportunity as a starter.
11. Matt Ryan | Position: QB | Age: 35 | Team: Falcons
The Matt Ryan Hall of Fame "debate" is crazy to me. The longtime Falcons starter is clearly a future Hall of Famer in my opinion as a former league MVP that was the greatest comeback in history away from a Super Bowl ring. Ryan's teams have struggled due in large part to the lack of a run game and the defense, but Matty Ice's play remains consistent in the second half of his career. Ryan actually appears to be more athletic now than he was early in his career, and he has underrated movement within the pocket that allows him to buy extra time and find his receivers. Also, considering Ryan is one of the top play-action passers in football, his game could get back closer to an elite level on a balanced offense. Ryan remains hungry for his first championship, and he lives up to his nickname as one of the most clutch quarterbacks in the league.
Bottom line: Matt Ryan is an experienced quarterback that isn't slowing down with age, and he's shown he can operate top offenses in the league.
12. Jared Goff | Position: QB | Age: 26 | Team: Lions
The No. 12 through No. 15 range was one of the most difficult sections for me (you can maybe even extend it to No. 17), and the order could be much different. This ranking might be a surprise to some, but it can't be a bigger surprise to me and many around the league when Jared Goff was traded away along with two first-round picks and a third-round pick all in a deal for another quarterback. Just a little over two years ago, Goff was in the Super Bowl leading an electric Rams attack, and I don't think his own play has dropped off too much when you consider the offensive line and injury issues he dealt with. The No. 1 pick in the 2016 draft is a very accurate passer that excels on play-action, and he's proven to be clutch, tough, and calm with huge road wins and playoff wins throughout his career.
Bottom line: Jared Goff is a proven capable quarterback that I believe has the potential to lead the league in passing in the right offense.
13. Jalen Hurts | Position: QB | Age: 22 | Team: Eagles
I liked Jalen Hurts coming out of college because of his can't-miss intangibles. As a championship quarterback, Hurts didn't complain one bit when he was benched for Tua Tagovailoa at Alabama. He didn't immediately transfer or make a raucous; instead, he put his head down and got to work. Hurts showed progress as a passer and a as player overall while with the Crimson Tide, taking advantage when he was inserted into the game in big-time spot in the SEC title game; and he put it all together while becoming a Heisman Trophy finalist in one season at Oklahoma. There were some turnover concerns as a rookie, but Hurts did nothing in his first NFL season to make me pessimistic about his chances to develop into a bonafide franchise quarterback. Hurts has an A+ work ethic and attitude, which you shouldn't bet against; and he appears to have the "it" factor that's drawn comparisons to Russell Wilson. Hurts throws the ball on time and with good touch all over the field, and he's one of the most dangerous quarterbacks in the league as a runner. The jolt he gave his team when he entered the lineup in 2020 was evident.
Bottom line: In today's game, Jalen Hurts should be an average starter at worst, with the mindset and talent to develop into an MVP-level player.
14. Daniel Jones | Position: QB | Age: 23 | Team: Giants
The turnovers (particularly the fumbles) are the big concern for Daniel Jones as he enters his third NFL season, but if he can get those under control, he has the makings of an elite quarterback. The well-coached former Duke team captain has promising traits to work with, from natural accuracy in the short, intermediate, and deep areas of the field to underrated tuck-and-run aptness that's not overused and has surprised defenses on occasion. I just really like Jones' all-around game, and his deep ball is a standout attribute. Because of the turnovers, Jones may be more of a risk-reward type of franchise player compared to most of the quarterbacks in the top half of the rankings, but I think that can be coached out of him especially as he gets more game experience.
Bottom line: Like every player, Daniel Jones has room for growth, and he can become a key member on a championship team.
15. Jimmy Garoppolo | Position: QB | Age: 29 | Team: 49ers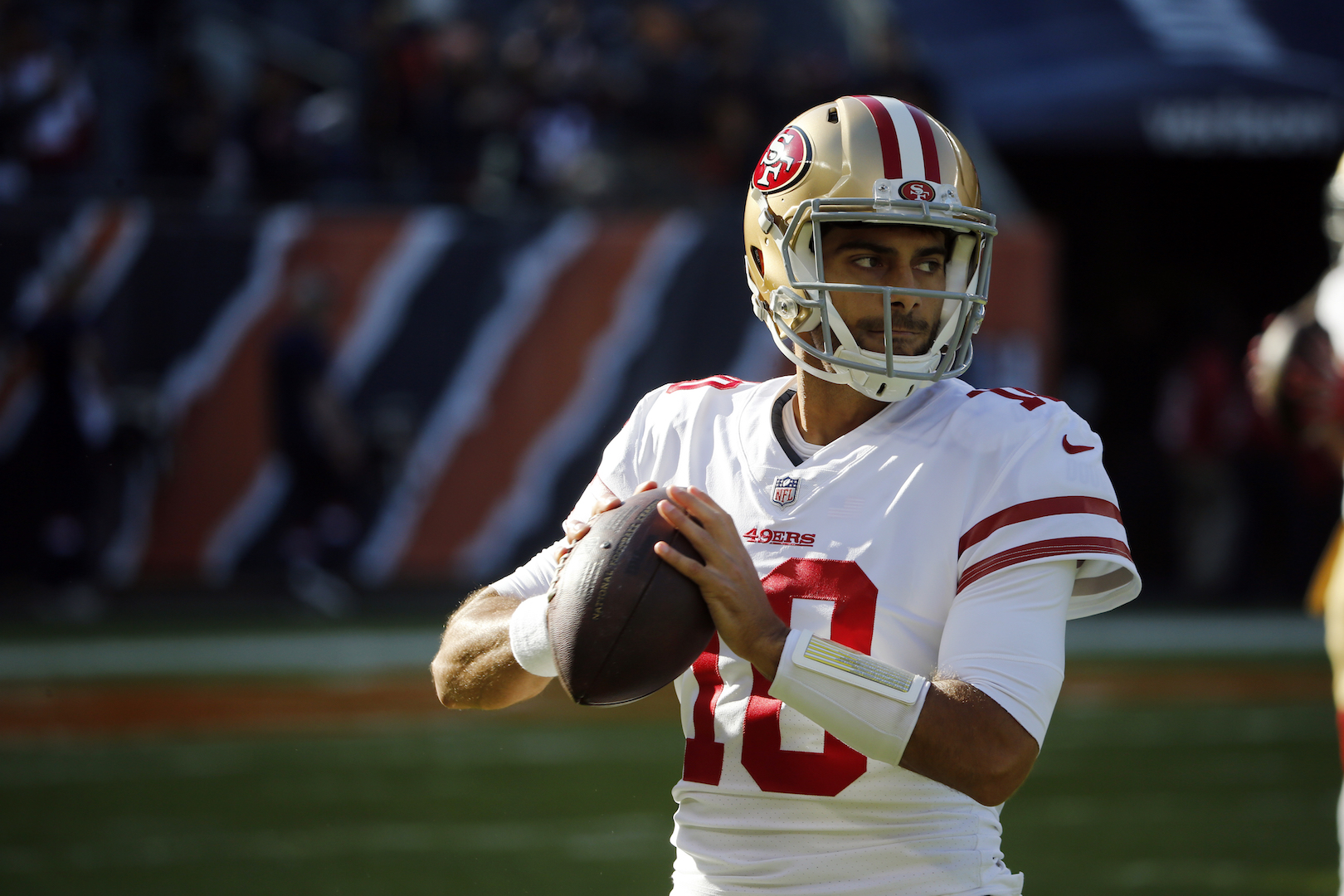 The case of Jimmy Garoppolo is a tricky one, mainly because the injuries have taken away a lot of time on the field. But Garoppolo was just in the Super Bowl and close to winning it a couple of seasons ago, and the 49ers have been a much better team when he's been on the field over the past few years (24-9 record including playoffs with Jimmy G under center; 7-26 without him). Of course there are other factors, but it says a lot that the records are so different with one player out, especially at the game's most important position. Garoppolo knows how to win games, with the ability to deliver the ball on time to his receivers with a lightning-quick release and keep drives going—his playing style is somewhat similar to former quasi-mentor Tom Brady. The age is what has Jimmy G lower than the three younger options ahead of him.
Bottom line: Health is the big concern for Jimmy Garoppolo, but he can run an offense with high efficiency when he's on the field.
16. Kyler Murray | Position: QB | Age: 23 | Team: Cardinals
Based on the first part of last season when Kyler Murray was destroying defenses with his legs, he might have been somewhere in the top ten. However, some late-season injuries are cause from concern, perhaps even more so than someone like Jimmy Garoppolo because Murray is undoubtedly at his best when he's running around making plays as opposed to playing as a traditional pocket passer. When Murray is feeling it, he can throw with superb accuracy; but when things go south, they appear to snowball a bit and Murray looks to get dejected. Is the book out on Murray? Maybe not, but some of what the Patriots and other defenses did to him late last year was interesting. The former Heisman Trophy winner and No. 1 pick needs to get better standing back in the pocket and distributing the ball when defenses want to force him to stay stationary and throw.
Bottom line: The upside is sky-high for Kyler Murray, but he must get more consistent from the pocket (which he is capable of doing).
17. Joe Burrow | Position: QB | Age: 24 | Team: Bengals
Coming off a serious knee injury is a factor in Joe Burrow being down at No. 17, as some young quarterbacks have struggled in their returns from similar injuries, and the sample size was pretty small during his shortened rookie season. But Burrow is unanimously ultra-impressive to almost everyone that watches him, and you could see him getting more comfortable the more he played for a subpar Bengals team. If Burrow is surrounded by a strong roster—which is the goal if you're building an NFL team—he has the ability to carve up defenses and lead his team to a bunch of wins like he did at LSU.
Bottom line: It'll be good to see more, but Joe Burrow showed enough as a rookie to be optimistic about his chances of becoming a star at the next level.
18. Derrick Henry | Position: RB | Age: 27 | Team: Titans
Finally, a non-quarterback—and it starts with a running back! I've said over the past couple of years that Derrick Henry is the most unstoppable and impactful non-quarterback in the league, and he went off for the eighth 2,000-yard rushing season in NFL history in 2020 while again helping the Titans get to the postseason. It's rare for a player at Henry's position to dominate the game as much as quarterbacks, but that's exactly what "King Henry" (he's earned the title) does late in the season when it matters most (and when the weather is cold and many defenders are naturally less eager to get in the way of the bulldozing back). Having Henry in the backfield helps control games and make things easier for everyone else on the roster.
Bottom line: Derrick Henry is built different than most humans, and he should be able to continue carrying a heavy workload as a difference-maker over the next few years.
19. Devin White | Position: LB | Age: 23 | Team: Buccaneers
If you watched the Buccaneers' Super Bowl run it was easy to see the impact second-year linebacker Devin White made on the field. The former fifth overall pick in the 2019 draft was a missile against opposing ball-carriers, and he'd frequently let the offense hear that there wasn't much they'd be able to do on his unit—and he's often right. As White continues to progress entering his third season, it's frightening to think about how great one of the NFL's best defenders can become. The age gives White the narrowest of edges over the next guy on the list.
Bottom line: Devin White should become a perennial All-Pro and Defensive Player of the Year candidate.
20. Darius Leonard | Position: LB | Age: 25 | Team: Colts
You have to love Darius Leonard's attitude as a leader for the Colts—he recently made an announcement to free agents that if you are thinking about joining the team, "we don't want you if you don't play hard, run to the ball, make plays or not willing to sacrifice yourself for [your] teammate to make the play!" Leonard is the type of player that you can insert into the locker room and defense to ensure everyone is held accountable, which should be on the players in most cases, as they are professionals getting paid a lot of money and shouldn't need coaches to pump them up. Like Devin White, Leonard is a menace that does it all for his defense, including from a leadership standpoint. The two linebackers make the top 20 because of their ability to rally and elevate an entire defensive group around them.
Bottom line: Darius Leonard has it all as a motivator that also walks the walk on the field.
21. A.J. Brown | Position: WR | Age: 23 | Team: Titans
Playing on two hurt knees, A.J. Brown still found a way to put up his second consecutive 1,000-yard season to start his career while scoring 11 touchdowns (12 including playoffs). Julio Jones, who barely misses out on the top 32 for the first time, has always topped this list among receivers, but I think Brown (due in part to Jones' age, which is what keeps him off this year) may finally be the player to take the title of best receiver—eventually, at least, I feel he'll get there. Brown can run every route in the playbook, and he's one of the top gamebreakers in the league. When the former Ole Miss star gets the ball in his hands, he's a threat to break away from the defense and race to the end zone with running-back-like prowess.
Bottom line: Perhaps the NFL's top gamebreaker and still below 25 years old, A.J. Brown is the top franchise receiver.
22. Tre'Davious White | Position: CB | Age: 26 | Team: Bills
Tre'Davious White is a rare shutdown cornerback that can not only limit and take away top receivers but also force turnovers. White is simply a baller that finds a way to make game-changing plays for his defense, whether it's a key interception, a forced fumble, or a fumble recovery. He can play man or zone at an All-Pro level, and he comes up and plays the run well. White might not get the recognition other top cornerbacks receive, but he's squarely among the league's best and is just 26 years old. White has made the list all four years I've done this.
Bottom line: Tre'Davious White is a remarkably consistent all-around cornerback that makes clutch plays on defense.
23. Saquon Barkley | Position: RB | Age: 24 | Team: Giants
Saquon Barkley is coming off a torn ACL that essentially wiped out his 2020 campaign, but he's one of the last players to bet against to come back strong and go on to have the type of career you'd expect from one of the best running back draft prospects ever. Barkley's complete package of top speed, acceleration, quickness, vision, balance, power, and receiving ability aside, he's a remarkable leader that puts in work and will push teammates to also want to be their best selves in the weight room and on the practice field. If he's not affecting the game as a ball-carrier, defenses still need to account for him at all times as someone that can take it to the house in an instant when he touches it.
Bottom line: Saquon Barkley is a generational talent with 1,000/1,000 (yards rushing and receiving) potential.
24. Christian McCaffrey | Position: RB | Age: 24 | Team: Panthers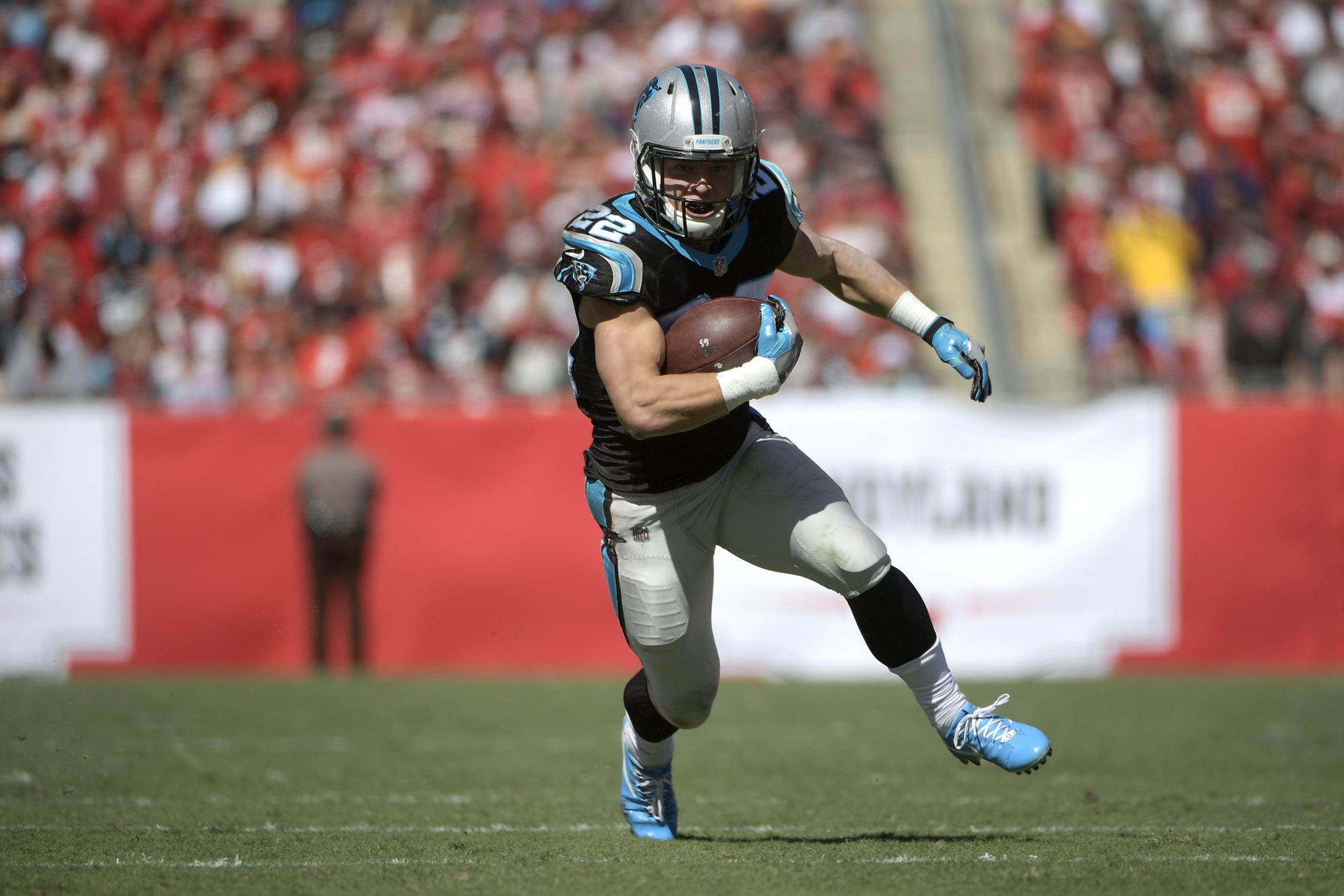 Due to various injuries as opposed to season-ending surgery, 2020 was a bit of a lost year for Panthers superstar Christian McCaffrey. The All-Pro running back has admitted that he may need to change some of his training methods as to no overwork himself; but whatever he does, I think it'll work and we'll see him remaining uncommonly durable as he was during his time at Stanford and early in his NFL career. McCaffrey could probably play in the slot full time, but his impact from the backfield makes him the ultimate chess piece on offense. The fifth-year runner knows how to get into the end zone, scoring six times in just three games last season (45 total touchdowns through four seasons).
Bottom line: Christian McCaffrey is one of the most versatile players in the league while also being one of the game's top touchdown-makers.
25. Ryan Tannehill | Position: QB | Age: 32 | Team: Titans
The next three quarterbacks on the list are three that I don't feel quite as good about as the top 17, but I would feel pretty confident with them as my starting quarterback long-term. In the case of Ryan Tannehill, he could not have played much better than he has over the past couple of years, putting up similar numbers (55 passing touchdowns, 13 interceptions) to Patrick Mahomes; but he's 32, he hasn't had the top-flight long-term success of some other veteran quarterbacks ranked higher, and it helps to have Derrick Henry running the ball and A.J. Brown to throw to. Awareness is sometimes an issue for Tannehill, but he can really hurt a defense when he gets a clean pocket and can rip it over the middle.
Bottom line: Ryan Tannehill has put together two super-efficient seasons, continuing to show he can play at a high level in an ideal situation after an undervalued early-career stretch in Miami.
26. Derek Carr | Position: QB | Age: 29 | Team: Raiders
Derek Carr has gone over 4,000 passing yards while completing over 67.3% of his passes over each of the past three seasons, and he could probably put up bigger numbers if the Raiders offense tasked him to throw often more consistently. What I like about Carr is that you can trust him to get offenses in the right play (he appears to have a firm grasp on Jon Gruden's complex offense) and avoid mistakes, which I feel makes him a guy you can win with if a top roster is put around him. Sometimes you'd like to see Carr take more chances and open it up more, but I thought he showed signs of doing that last season. I believe many coaches would be very happy with Carr as their quarterback, and his value around the league is probably pretty high.
Bottom line: Almost like a coach on the field, you can rely on steady quarterback play from Derek Carr.
27. Matthew Stafford | Position: QB | Age: 33 | Team: Rams
I don't think anyone would have anticipated Matthew Stafford would be traded for the package the Lions received for him in their trade agreement with the Rams, but the rocket-armed gunslinger is held in high regard around the NFL. It's not easy to win in Detroit, but the lack of postseason success—along with the injury history and age—are big reasons Stafford isn't higher among my franchise player rankings. But Stafford stands in the pocket and can throw from any angle with all kinds of pressure in his face; his passing ability paired with the right environment could make for a fun combination.
Bottom line: Matthew Stafford still throws the ball about as well as anyone in the league.
28. Roquan Smith | Position: LB | Age: 23 | Team: Bears
All three off-ball linebackers from the Wolf Sports 2020 All-Pro defense make the top 32 franchise players this year—and it helps that they are all 25 years old or younger and can an impact all over the field defensively. Roquan Smith had his best season yet last year, racking up 139 tackles, four sacks, and two interceptions, and we should get used to seeing him running sideline to sideline while making plays in the open field, in the backfield, and in pass coverage. Smith's playing style and propensity to fly around and make plays is something that energizes the entire defense and team.
Bottom line: Roquan Smith is a do-it-all linebacker that gets everyone to play fast on defense.
29. Jaire Alexander | Position: CB | Age: 24 | Team: Packers
The interception numbers aren't anything notable, but Jaire Alexander is so good in coverage that he doesn't get as many opportunities to make plays on the ball as he might like—even Tom Brady learned it's probably not a great idea to throw Alexander's way too much (two interceptions in the NFC Championship Game), no matter how much you trust your receivers to make plays. Alexander mostly plays the left side of the defense for the Packers, but he's someone that could be moved around and kept on an island against No. 1 receivers. And Alexander is more than just a cover corner, as the young Louisville product plays with a ton of swagger and makes both big hits and sure tackles while coming from the side.
Bottom line: Jaire Alexander can nearly erase one side of the field, both in coverage and against the run.
30. T.J. Watt | Position: EDGE | Age: 26 | Team: Steelers
As stated in the open, the NFL appears as deep as ever. Plenty of edge rushers could have made this top 32 and been ranked much higher than this, but T.J. Watt tops his position at No. 30. Watt, who has recorded sack totals of 13.0, 14.5, and 15.0 over the past three seasons, appears to just be getting better by the year. As the numbers indicate, he excels at relentlessly rushing the passer, but he also deflects passes, plays the run very well, and forces turnovers. At 26, Watt should continue to push for well into double-digit sack totals over the next handful of years.
Bottom line: T.J. Watt is a prototypical 3-4 outside linebacker that has a knack for finishing plays with sacks and deflections to help his defense get off the field.
31. Xavien Howard | Position: CB | Age: 27 | Team: Dolphins
Xavien Howard became the first player since Antonio Cromartie in 2007 to record ten interceptions in a season, so he's a major playmaker as a lengthy cornerback that recorded another seven interceptions in his previous full season in 2018. Howard has the skill to travel with top receivers if called upon, and he might currently be the top press cover guy in the league thanks to his length, athleticism, and technique. If he was slightly younger, he'd be higher than this.
Bottom line: Xavien Howard can eliminate No. 1 receivers, and he'll force turnovers and take the ball the other way if quarterbacks test him.
32. Chase Young | Position: EDGE | Age: 21 | Team: Washington
Chase Young had a solid rookie season with 7.5 sacks, and he wasn't a slam-dunk Defensive Rookie of the Year pick like many expected him to be when he was selected second overall by Washington in last year's draft. But the age (just 22 years old later this offseason) and leadership ability is what puts him over the top and into the final spot among the NFL's top franchise players. Young is a monster against the run, and he has the potential to develop into a perennial double-digit sack terror off the edge. Despite his age and professional inexperience, Young was instantly a leader that supported and motivated his teammates as a rookie.
Bottom line: Chase Young is a building block on both the defensive side of the ball at a critical position and in the locker room.
The Next 32: These guys just missed the list and are in the discussion for the Top 32.
-Aaron Donald
-George Kittle
-Darren Waller
-Danielle Hunter
-D.K. Metcalf
-Stefon Diggs
-Davante Adams
-Josh Allen
-David Bakhtiari
-Quenton Nelson
-Nick Bosa
-Julio Jones
-Joey Bosa
-Nick Chubb
-DeForest Buckner
-Baker Mayfield
-Tua Tagovailoa
-Deion Jones
-Chris Godwin
-Derwin James
-Minkah Fitzpatrick
-Eddie Jackson
-Trent Williams
-Andrew Thomas
-Tristan Wirfs
-J.C. Jackson
-Vita Vea
-Alvin Kamara
-Dalvin Cook
-Justin Jefferson
-Byron Jones
-Bradley Chubb