Overall: 151-88-1
ATL (4-11) @ TB (10-5) | SUN 1:00 PM ET | FOX
Although the Chiefs are the only team locked into a playoff seed (with homefield advantage in the AFC), the final week of the regular season always has some mystery in terms of who might or might not play as coaches weigh rest/health with trying to improve their seeding. For the Bucs, though, Bruce Arians has been adamant that they want to finish 11-5, going as far as to say he'd "probably have to beat some guys in the head with a stick to try and get them not to play" this week. I'm sure a white-hot Tom Brady is a part of that group, and the six-time Super Bowl champion is unsurprisingly hitting his stride as we enter January with 668 yards, six touchdowns, and zero interceptions over his past 60 minutes of football. Todd Bowles and the defense need to find a way to stop Calvin Ridley (10/163/1 in the previous meeting), but the Bucs are rolling at the right time.
Winner: Tampa Bay Buccaneers
DAL (6-9) @ NYG (5-10) | SUN 1:00 PM ET | FOX
The first matchup between Dallas and New York was a high-scoring affair (37-34), but the defenses actually played better than the final score might suggest—and the only passing score allowed in the game was on a Cedrick Wilson trick play. Since then, both units have improved significantly, so a cold and rainy game on Sunday could be decided by which side is able to run the ball better; that would have been bad news for the Cowboys over the first three months of the season, but their defense has seemingly figured things out with just 3.9 yards per carry allowed in the past three games, while Ezekiel Elliott looked healthy and perhaps more explosive than he has all year in last week's blowout win over Philadelphia. I think Daniel Jones can play well with a chance to silence the doubters, but he won't have a shot if the offensive line continues to struggle (12 sacks allowed over the past two weeks).
Winner: Dallas Cowboys
NYJ (2-13) @ NE (6-9) | SUN 1:00 PM ET | CBS
Being swept by Buffalo—a team that Bill Belichick has historically dominated—in blowout fashion to clinch a losing season was clearly frustrating for Bill Belichick on Monday night, but he has a shot to end the season on a high note versus the Jets. New England has notably made Sam Darnold very uncomfortable in two career meetings (losses of 38-3 and 33-0), so it will be interesting to see if New York is able to have similar success to Week 9 when an aggressive Joe Flacco nearly upset the Pats in a 30-27 defeat; I tend to believe Belichick will have some different things in store to atone for the previous result, especially if J.C. Jackson (knee) and Devin McCourty (shoulder) are on the field. As for the quarterback situation in New England, there is a crop of upcoming prospects that they could look to target, but I'd say winning this week is more important than securing a higher draft pick for Belichick and company.
Winner: New England Patriots
MIN (6-9) @ DET (5-10) | SUN 1:00 PM ET | FOX
The Vikings won't have Dalvin Cook on Sunday following the unfortunate passing of his father, but similar to Bill Belichick, I'm sure Mike Zimmer wants to end 2020 with a victory, and Detroit is a team that they have absolutely owned since signing Kirk Cousins (5-0 record with a +72 point differential). The way the Lions played in coverage last Saturday afternoon does not bode well for them being able to stop Justin Jefferson, Adam Thielen, and Irv Smith Jr., but it'd be nice if they showed some fight to build something in the 2021 calendar year ahead of an offseason that is expected to include plenty of organizational turnover.
Winner: Minnesota Vikings
PIT (12-3) @ CLE (10-5) | SUN 1:00 PM ET | CBS
The Steelers resting Ben Roethlisberger and some other key players is a wise move by Mike Tomlin for a roster that basically didn't have a bye week due to other teams having COVID-19 issues, but that doesn't mean they aren't going to do all they can on the field to stop the rival Browns from getting into the playoffs. Mason Rudolph gets a lot of criticism from those who don't like him for whatever reason, but he's played some quality football (5-3 record as the starter last year), and the nature of a rivalry game should make it close—particularly if the Browns inexplicably decide to throw it 50+ times again instead of feeding Nick Chubb. The superstar runner has seen his carries go from 18 to 17 to 15 to 11 since three consecutive 100-yard games, and Cleveland won't have a shot in the playoffs if they don't re-commit to him as their best player.
Winner: Cleveland Browns
BAL (10-5) @ CIN (4-10-1) | SUN 1:00 PM ET | CBS
The win-and-in situation for Baltimore is similar to back in 2017 when they just needed to beat a 6-9 Bengals team to clinch the final wild card spot, but a last-minute 49-yard touchdown pass from Andy Dalton to Tyler Boyd ended their season. Despite the current group for the Ravens being significantly different, I'm sure John Harbaugh has highlighted the previous heartbreak so his guys come ready to play, and the run-centric game plan should help them on the road. Perhaps ironically because it's usually the team's biggest strength, the concern for me is in the secondary with Marlon Humphrey (knee/shoulder), Marcus Peters (calf), and Jimmy Smith (ribs/shoulder) all banged up, but this is a spot where the Baltimore defensive front needs to control things and get to Brandon Allen.
Winner: Baltimore Ravens
MIA (10-5) @ BUF (12-3) | SUN 1:00 PM ET | CBS
Snow is in the forecast for Dolphins-Bills, but what can't yet be forecasted is whether Miami will be facing the Buffalo starters for a full game. The Dolphins lacking a feared pass rush could mean the Bills feel comfortable with Josh Allen being out there, and staying hot would be the big reason—aside from clinching the No. 2 seed—to do all they can to knock out Brian Flores' squad. On the flip side, Miami's defense is one of the best in the league, and the team already had Cole Beasley (leg) go down last week when Allen was done for the night. No matter who they face, the Dolphins know they won't have an easy game versus one of the best-coached teams in football, and hopefully Tua Tagovailoa watched Ryan Fitzpatrick (who won't be available due to COVID-19) enough on Saturday night to know Mike Gesicki needs to be featured as a dangerous vertical threat. I'll go with the more desperate team.
Winner: Miami Dolphins
SEA (11-4) @ SF (6-9) | SUN 4:25 PM ET | FOX
This matchup was probably the favorite to be Game No. 256 when the schedule released earlier this year, but San Francisco is now hoping to play spoiler (again, after beating the Cardinals) to ruin any chance Seattle has at homefield advantage, and a tough, physical game should be expected. The Seahawks getting back to their traditional style of play with more balance has coincided with the defense going from one of the worst in the league to one of the best, though I wonder if Russell Wilson and the passing attack will be able to flip a switch if it's needed next month for matchups versus the high-powered offenses in the conference—it's worth noting that Wilson has failed to throw for multiple touchdowns in four of the past five games. George Kittle is always the main option to worry about in Kyle Shanahan's offense, but stopping Jeff Wilson and the running game needs to be a priority to reach 12-4.
Winner: Seattle Seahawks
ARI (8-7) @ LAR (9-6) | SUN 4:25 PM ET | CBS
Los Angeles can get some help to sneak into the postseason with a loss, but Sunday will obviously be viewed as an elimination game by both sides, which is exciting. Historically, Sean McVay has known how to attack the Cardinals with 33.3 points per game in seven matchups against them (including at least 31 points in every meeting), so John Wolford—in his first career NFL action—will hope to efficiently move the offense with Jared Goff (thumb) out; having Cam Akers (ankle) back in the lineup would be a big boost. On defense, Jalen Ramsey will try to erase DeAndre Hopkins, but I'm not so sure Kyler Murray is going to be anything less than 100% after an apparent leg injury suffered on the final play of their Week 16 loss, as he missed zero practice time with full participation on Wednesday. If so, the rushing ability needs to be more of a factor than the first game earlier this month when the Rams limited him to a season-low 15 yards. Arizona is favored, but I have more trust in McVay to find a way to win.
Winner: Los Angeles Rams
JAX (1-14) @ IND (10-5) | SUN 4:25 PM ET | CBS
Indianapolis was able to jump out to a 24-7 lead last week in large part thanks to the play of Jonathan Taylor with two early scores (and physical running in general), so for him to see just one touch over the final 20 minutes—with the Colts holding that 17-point lead with 3:34 to play in the third quarter—is inexcusable. Frank Reich's team now has to rely on help from one of three current underdogs to make the playoffs, but they can't mess around by getting away from their rookie runner in a game that should be controlled similar to last Sunday. Remember, Indy was upset by Jacksonville back in Week 1, and there might be some sense of relief for the Jags with their draft position (and Clemson quarterback Trevor Lawrence) locked in as they now go all-out to keep the Colts out of postseason play. Still, the clear edge on both sides of the ball should go to the home team, and all they can do is take care of their own business at this point.
Winner: Indianapolis Colts
TEN (10-5) @ HOU (4-11) | SUN 4:25 PM ET | CBS
Tennessee offensive coordinator Arthur Smith has gotten plenty of buzz over the past two years, but it doesn't exactly take a mastermind to know Derrick Henry should get the ball, and there have been too many head-scratching games for the Titans in my opinion; most recently, the team declined to consistently line up A.J. Brown against Kevin King on Sunday night, which allowed Jaire Alexander to make a bigger impact on the game than opponents should let happen. Maybe the Texans will suddenly come out with a stout run defense this week if J.J. Watt has everyone fired up, but Henry—with 423 rushing yards and five touchdowns in the past two matchups versus Houston—needs to be fed upwards of 30+ carries to make sure Tennessee's season doesn't end this weekend.
Winner: Tennessee Titans
LV (7-8) @ DEN (5-10) | SUN 4:25 PM ET | CBS
Las Vegas needs to fix the defense to contend in 2021, but I still have faith in general manager Mike Mayock building things through the draft—and his picks so far should be given another year to grow together. Offensively, the core of Darren Waller, Josh Jacobs, Nelson Agholor (assuming he is re-signed), Henry Ruggs III, Hunter Renfrow, and Bryan Edwards is already among the most promising in the NFL, and they should lead the way on Sunday as Jon Gruden hopes to avoid a losing record in Year 3. Denver is arguably in a similar position with a stacked collection of young talent on offense, but they will have Von Miller back to pair with Bradley Chubb on defense—and the primary question mark is Drew Lock and the state of the quarterback position. An impressive finish might make it less likely that the Broncos seriously consider a signal-caller early in the 2021 NFL Draft.
Winner: Las Vegas Raiders
LAC (6-9) @ KC (14-1) | SUN 4:25 PM ET | FOX
There have been some serious game-management issues for Anthony Lynn and the Chargers this season, but enough support might have been thrown around this month—from Hall of Fame quarterback Terry Bradshaw (even though he has no connection to the franchise) to star safety Derwin James—that he will stick around. To me, the development of Justin Herbert coming off a season in which he set the rookie record for touchdown passes (28, with one game to go) is reason to keep Lynn if there isn't a home-run replacement that the franchise has in mind, and going 3-0 since a 45-0 loss to the Patriots is proof that the roster has responded to their head coach… and maybe even has learned how to win close games.
Winner: Los Angeles Chargers
GB (12-3) @ CHI (8-7) | SUN 4:25 PM ET | FOX
Chicago has only gone 1-4 against the Packers under Matt Nagy, but prior to a 41-25 defeat at the end of November, the previous three losses were all by one possession, and confidence should be high for Mitchell Trubisky in the midst of a three-game winning streak (which includes two blowout wins). Overall, the Bears are 6-2 this season with Trubisky as the starter, so Green Bay—on the road versus a division rival that would make the playoffs with a win—certainly won't have a cakewalk trying to clinch homefield advantage in the NFC. And unlike the Titans last week, Nagy has done a great job getting his top receiver (Allen Robinson) away from Jaire Alexander, while the complementary options are all capable of doing big-time damage to spread out Mike Pettine's defense. I can't pick against Aaron Rodgers with the way he's played all year, but Trubisky bringing his A-game would give Chicago a shot.
Winner: Green Bay Packers
NO (12-3) @ CAR (5-10) | SUN 4:25 PM ET | FOX
Carolina is going to play hard every week of the Matt Rhule era, but will they be able to find a franchise, Super Bowl-caliber quarterback?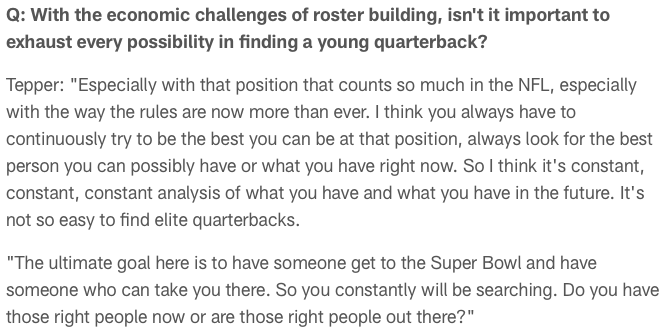 Winner: New Orleans Saints
WAS (6-9) @ PHI (4-10-1) | SUN 8:20 PM ET | NBC
In a perfect world, the Sunday Night Football matchup would have featured two rivals still competing for a playoff spot/seeding, but Washington is entering a do-or-die game, and the storyline—Alex Smith having a chance to make the playoffs as the next step in his remarkable comeback—could be one for the ages. Even if it's as a decoy to occupy Darius Slay, getting Terry McLaurin (ankle) back would be huge for Washington, especially since the defense of the Eagles in general could be down most of their starters, including Fletcher Cox (neck) as the anchor of the front four. Philly's offensive line isn't in much better shape with left tackle Jordan Mailata in the concussion protocol, so Chase Young could end up making a closing argument for NFL Defensive Rookie of the Year versus Brett Toth (28 career snaps). Jalen Hurts is scary as a dual-threat quarterback that can make enough plays to pull off an upset, but Washington is the best team in the NFC East.
Winner: Washington Football Team