The 2020 NFL season is just around the corner despite the COVID-19 pandemic, and it's time to reveal my top 32 NFL franchise players for 2020. If the entire league did a redraft tomorrow, who would be the top players to build a franchise around? These are my own opinions and personal preferences, and keep in mind that many players are very close, particularly in the No. 10 to No. 17 range this year. For this exercise, we need to separate current real-life situations and pretend you are placing this player into your own franchise from scratch. Ideally only guys that have had a good amount of playing time will be included, and no rookies are allowed before they've played a down in the NFL.
1. Patrick Mahomes | Position: QB | Age: 24 | Team: Chiefs
The NFL's top franchise player should be no surprise after Patrick Mahomes signed a contract worth over half a billion dollars with the Chiefs this offseason. Everyone knows Mahomes is an exceptional quarterback—he has a golden arm, maximum confidence, and both a league MVP and Super Bowl on his resume at 24 years old. However, I will say that I am not of the belief that it's Mahomes at the top and then everyone else at quarterback in the NFL. The former Texas Tech gunslinger was put in the ideal situation with the Chiefs, sitting behind Alex Smith for a year before taking over the most stacked offense in football coached by the great Andy Reid. It wasn't just a scenario where Mahomes lifted the franchise out of nowhere into a powerhouse alone, and the fourth-year signal caller isn't perfect—those that actually watch see he misses throws (just like everyone else), and he did not play particularly well in his first Super Bowl appearance despite being named the game's MVP. The media hype for Mahomes is so out of control that it's a bit ridiculous and embarrassing at this point, but thankfully he appears to have the right mindset to handle all the praise heaped his way.
Bottom line: Many executives and coaches are probably envious of the Chiefs right now.
2. Lamar Jackson | Position: QB | Age: 23 | Team: Ravens
Last season, the Ravens unleashed a revamped offensive attack that helped Lamar Jackson thrive as both a passer and a runner. The former Heisman Trophy winner not only improvises as a scrambler, as people might not realize that he is also a creative passer that fits throws into tight windows and puts defenses in a serious bind when he's outside the pocket with the threat of run or pass—and first and foremost, he's looking to spread the ball around to his weapons instead of tucking it to run. There are two main concerns with Jackson. One, can he stay healthy while carrying the ball so much? And two, are the early postseason struggles a major issue? Health is obviously difficult to predict, but Jackson appears to have the slippery running style to avoid big hits. Also, the 2019 NFL MVP should get better in January as he gains more experience; after all, he has the highest winning percentage of any quarterback in NFL history. All that said, I've been sold: Jackson's upside is simply insane, and he might be the league's most humble superstar.
Bottom line: The NFL hasn't seen anyone at the quarterback position like Lamar Jackson.
3. Russell Wilson | Position: QB | Age: 31 | Team: Seahawks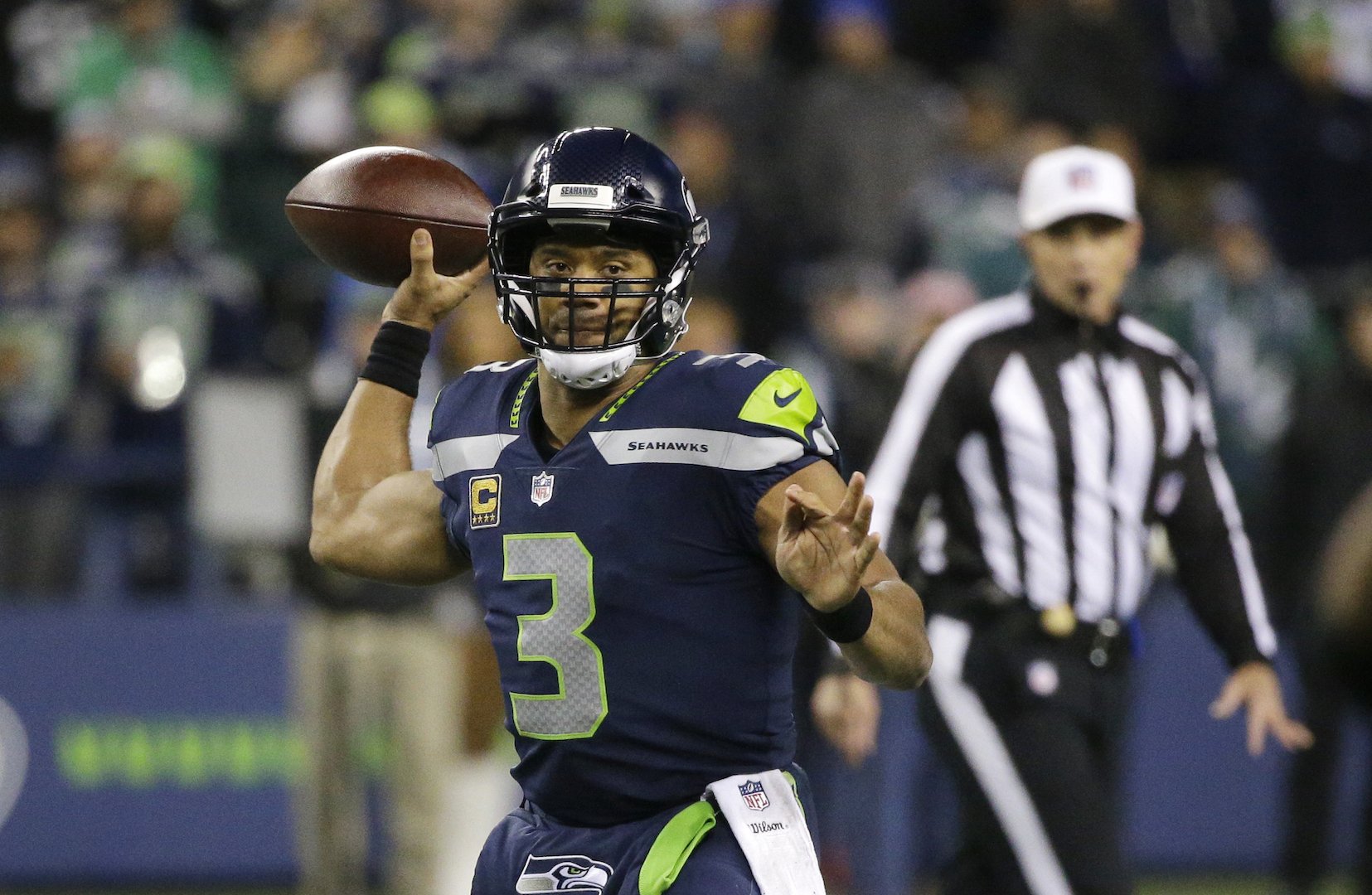 As he rolls into his 30s and probably continues to lose some of the pure rushing swiftness he had earlier in his career, Russell Wilson looks to be getting better by the year as a passer—which isn't easy to do considering he's probably been among the league's best since 2012 when he was drafted by the Seahawks. Wilson is an absolute headache for defenses to contain, as he can completely shred the opposition through the air while being just as deadly on broken plays where he finds one of his guys open down the field—defenses can do everything right, and sometimes it won't matter against Wilson, who rarely makes mistakes. The accomplished team leader is very accurate to all areas of the field, and he undoubtedly possesses one of the NFL's top deep balls. Wilson is 31 and should have plenty of outstanding seasons left in him.
Bottom line: Russell Wilson is one of those guys you can hand the keys to the offense and not worry about that side of the ball.
4. Tom Brady | Position: QB | Age: 42 | Team: Buccaneers
In the two previous franchise building-block rankings from 2018 and 2019, Tom Brady was the clear No. 1 for me—and, while it might sound crazy, I think there's an argument for him to still be in the top spot this time around. Maybe you wouldn't trade an entrenched quarterback such as the top three guys or the next bunch of guys for Brady, but he'd be among the best choices for starting a team from scratch, even as he's set to turn 43 years old before the 2020 season. The six-time Super Bowl champion is a legitimate quarterback master; he's seen everything defenses can throw at him, and it's well known that he shows up and plays his best in the biggest moments. The time you'd get with Brady is shorter than most, but he's indicated he wants to play as long as possible, and I'd still argue no one gives you a better chance to win a title than Brady for as long as he plays. Additionally, Brady might be even more motivated after he seemingly didn't get a ton of interest on the open market as an unrestricted free agent earlier this year.
Bottom line: If you want to win a Super Bowl, there's no better quarterback to have than Tom Brady.
5. Josh Allen | Position: QB | Age: 24 | Team: Bills
Don't be fooled by negative media narratives or the pre-draft doubts: Josh Allen is a rising superstar at the quarterback position. Something appeared to change in his mindset after he tried to force things in the first matchup against the stingy Patriots last season, and he totaled 23 touchdowns (17 passing) compared to five turnovers (three interceptions) over the final 11 games—with two of the highlights coming in a convincing Thanksgiving Day win over Dallas and a much better performance in a close primetime December loss in Foxboro. The stretch was a glimpse at the type of play we can expect from Allen moving forward, with the upside for even more. For the biggest arm in the league, it's surprising that Allen's deep ball accuracy isn't consistently better; but it's something I think he can improve on with better fundamentals. Allen can also improve by leveling up what he did while taking care of the ball after the first month last season by checking it down more to eventually open things up more in the intermediate and deep parts of the field. While I already have him here, I won't be surprised if the Allen—another tremendous leader in the top five—is an undeniable top-three among young quarterbacks to everyone but the haters this time next year.
Bottom line: The ultra-talented Josh Allen has already shown he can play at a high level and win in the NFL, and he should only get better with experience.
6. Deshaun Watson | Position: QB | Age: 24 | Team: Texans
Coming from someone that was higher on Deshaun Watson than just about anyone aside from Dabo Swinney when he entered the league out of Clemson, he was actually a tough player to rank for me here among the NFL's top franchise players. Watson showed in college that he's a winner, and he's proven all the doubters wrong by becoming a dynamic dual threat that's led Houston to back-to-back division titles. But he seems to do a decent amount of trash talking and celebrating at times when it's probably not a good idea (like when his team is getting beaten badly in the postseason), and I can't help but think the Texans revamped the roster in an effort to bring the best out of Watson as a leader more than anything. Watson has the ability to run any offense you put him in at a very high level.
Bottom line: Deshaun Watson is a do-it-all quarterback with the passing prowess to play well when his athleticism eventually declines.
7. Jared Goff | Position: QB | Age: 25 | Team: Rams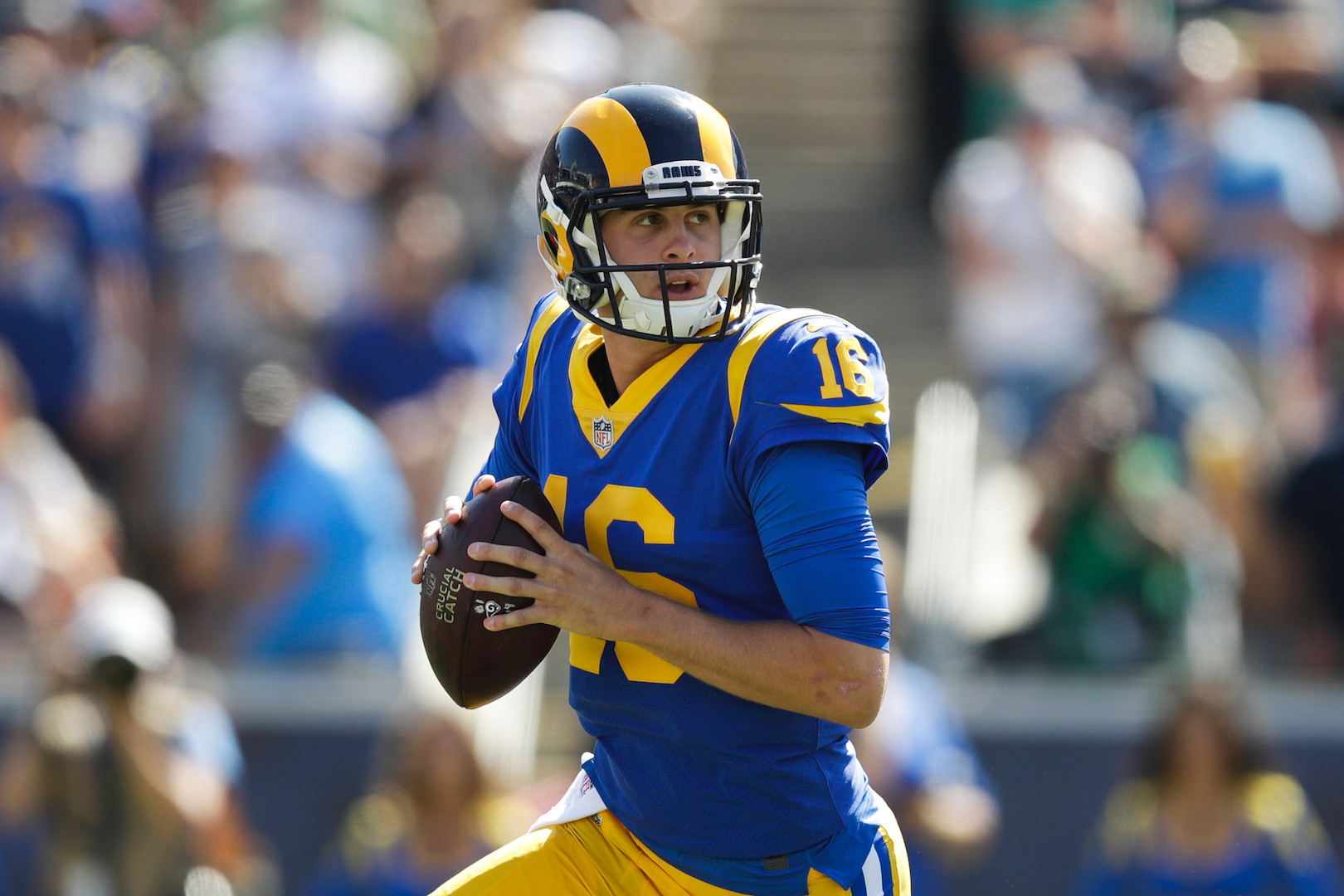 Jared Goff could easily be in the No. 5 or No. 6 spot among the best players to build an NFL franchise around after he was just No. 5 last year. The former No. 1 pick in the draft is in a tough spot when it comes to the critics, as he will probably never get enough credit when his team wins but will get far too much blame when they lose—that's often the case with quarterbacks, but it's amplified with Goff for whatever reason. Make no mistake: Goff is one of the most gifted passers in the league. The cool Cal product has certainly been streaky at times, but he's still just 25 years old and can put the ball right on the money like a Drew Brees type when given protection as he showed when the Los Angeles offensive line improved down the stretch in 2019. If you aren't sold on Goff as an excellent franchise quarterback, you might need to open your mind and turn on the tape when he gets protection—the Vikings game from a couple of seasons ago, when he shredded Mike Zimmer's defense on all different types of throws both in and outside of the pocket, is a standout example. Ideally, you will build a strong team around your quarterback, in which case Goff is about as good as it gets if you want a triggerman that will hit receivers in the numbers and keep the offense moving.
Bottom line: Jared Goff is a supremely poised and accurate quarterback with an NFC title on his resume.
8. Matt Ryan | Position: QB | Age: 35 | Team: Falcons
While Matt Ryan is now 35 years old and on the back nine of his career, he's still a top ten quarterback to build a team around in 2020. Matty Ice has shown he can play as well as anyone when he's on his game, and he has multiple seasons of top-tier play and a regular season MVP to show for it—perhaps he'd be looked at differently by some right now if it wasn't for Tom Brady leading an epic comeback in Super Bowl LI. His career still has a bit to go, but there's been some recent talk that Ryan is not a future Hall of Famer. Debate and open dialogue are typically a positive, but it's not much of a question that Ryan will be in Canton one day, and I don't understand why there are people that want to make him out to be "average". He's been one of the league's most accomplished quarterbacks from a statistical perspective, and he's been one of the NFL's best late-game quarterbacks throughout his career.
Bottom line: Matt Ryan has actually shown he can be (and is) an elite quarterback, and he's a hungry player with deep postseason and Super Bowl experience.
9. Jimmy Garoppolo | Position: QB | Age: 28 | Team: 49ers
Jimmy Garoppolo doesn't have a ton of game experience for a 28-year-old quarterback, but he has the second highest regular season winning percentage in history behind Lamar Jackson, and his best could be yet to come. Last year, Jimmy G was up at No. 4 among the NFL's top building blocks, and he could be closer to that range this year, too. I really like that he spent time in New England and got to watch Tom Brady up close for a few years, and you see similar mannerisms and style of play that Garoppolo took from the G.O.A.T. and implemented into his own game. Along with plus accuracy and decision making that is typically sound, he might have the best release in the game, which is an underrated and valuable asset. Remember, Garoppolo was coming off a torn ACL last year, and the 49ers were a bad team the previous season. There are a number of factors that come into play, but San Francisco has not been very good without Garoppolo under center over the past three seasons while they've been one of the top teams with him healthy and starting.
Bottom line: Jimmy Garoppolo is a prototypical pocket passer that'll run the offense with high efficiency.
10. Daniel Jones | Position: QB | Age: 23 | Team: Giants
You can maybe throw Jimmy Garoppolo into the mix too, but these next eight quarterbacks could be in a very different order, and they are all arguably worthy of a top-ten spot. I'll admit I made a serious mistake ahead of the 2019 draft by not considering Daniel Jones a clear top-five prospect—as is not typical, I was impacted by others being so low on Jones that I only had him as around a top-15 overall prospect instead of a potential top overall selection. But I love Jones' game, and I just think he's really good as one of the best all-around dual threat quarterbacks in football—he showed his stuff as a rookie with the task of replacing Eli Manning last fall. The Giants starter moves around in the pocket while keeping his eyes down the field with the goal of making plays with his arm, which is what he wants to do as a traditional quarterback; but he can also take off and run to devastate a defense when everything is covered. Jones might not wow anyone with his physical traits, but he does everything very well and entered the league as a pro-ready passer.
Bottom line: While laid back, Daniel Jones is a lead-by-example quarterback that will compete and keep his team in most games.
11. Marcus Mariota | Position: QB | Age: 26 | Team: Titans
I know, Marcus Mariota was benched last season and many will disagree with his ranking. However, Mariota is just 26 years old and even his biggest doubters have to admit that the Titans did him no favors since taking him second overall in 2015—but the rotation of coaches and different offenses did not stop the Hawaii native from helping turn the Tennessee franchise around and capture a thrilling comeback playoff victory at Arrowhead Stadium. Numbers aside last season (which were actually not bad with a 7:2 TD/INT ratio), Mariota was getting beat up behind an offensive line not at full strength and did not play as poorly as a benching might indicate. And everyone with the Titans spoke glowingly of their former starter—I'd like to take a chance on a person like that. Mariota is incredibly gifted both physically and mentally, and it wasn't too long ago that his new coach Jon Gruden considered him like a six-foot-four Russell Wilson. Support this guy and the results could be electric.
Bottom line: As a 26-year-old with four-plus years of starting experience and immense talent, Marcus Mariota can still be a blue-chip franchise player.
12. Dak Prescott | Position: QB | Age: 26 | Team: Cowboys
While Dak Prescott landed in a phenomenal situation to have immediate success in the NFL behind Dallas' offensive line, he deserves a lot of credit for taking advantage, winning a couple of division titles, and putting himself in position to command a massive long-term contract from the Cowboys or another team at some point. As is the case with most things, Prescott should get better and more consistent the more he plays; he's already shown a high ceiling, with the ability to throw strikes with precision down the field, particularly on in-breaking intermediate routes and on his A+ deep ball. Helping Dak's case as a top-12 player to build around is his rushing ability—a serious weapon on zone-reads, and a skill that can get him out of trouble if the passing game struggles to get things going.
Bottom line: The game-to-game consistency can continue to improve, but Dak Prescott has not missed a game and has played well overall in every season since entering the league.
13. Kyler Murray | Position: QB | Age: 22 | Team: Cardinals
It comes in an uncommonly small frame, but former Heisman Trophy winner and No. 1 overall pick Kyler Murray packs a ton of talent into his sub-six-foot stature. Murray has one of the strongest arms in football, with a baseball background that helps him make throws from a bunch of different platforms and while on the run with ease. And, while he didn't always use them as a rookie last season, Murray's wheels might only be surpassed by Lamar Jackson at the quarterback position. Murray took 48 sacks on an undermanned Cardinals team as a rookie, but another thing that stands out for him is that he rarely lost as a starting quarterback throughout high school and college—that pedigree could eventually transfer to the NFL if the right pieces are put around him.
Bottom line: He's an unconventional player, but Kyler Murray is young and super talented.
14. Matthew Stafford | Position: QB | Age: 32 | Team: Lions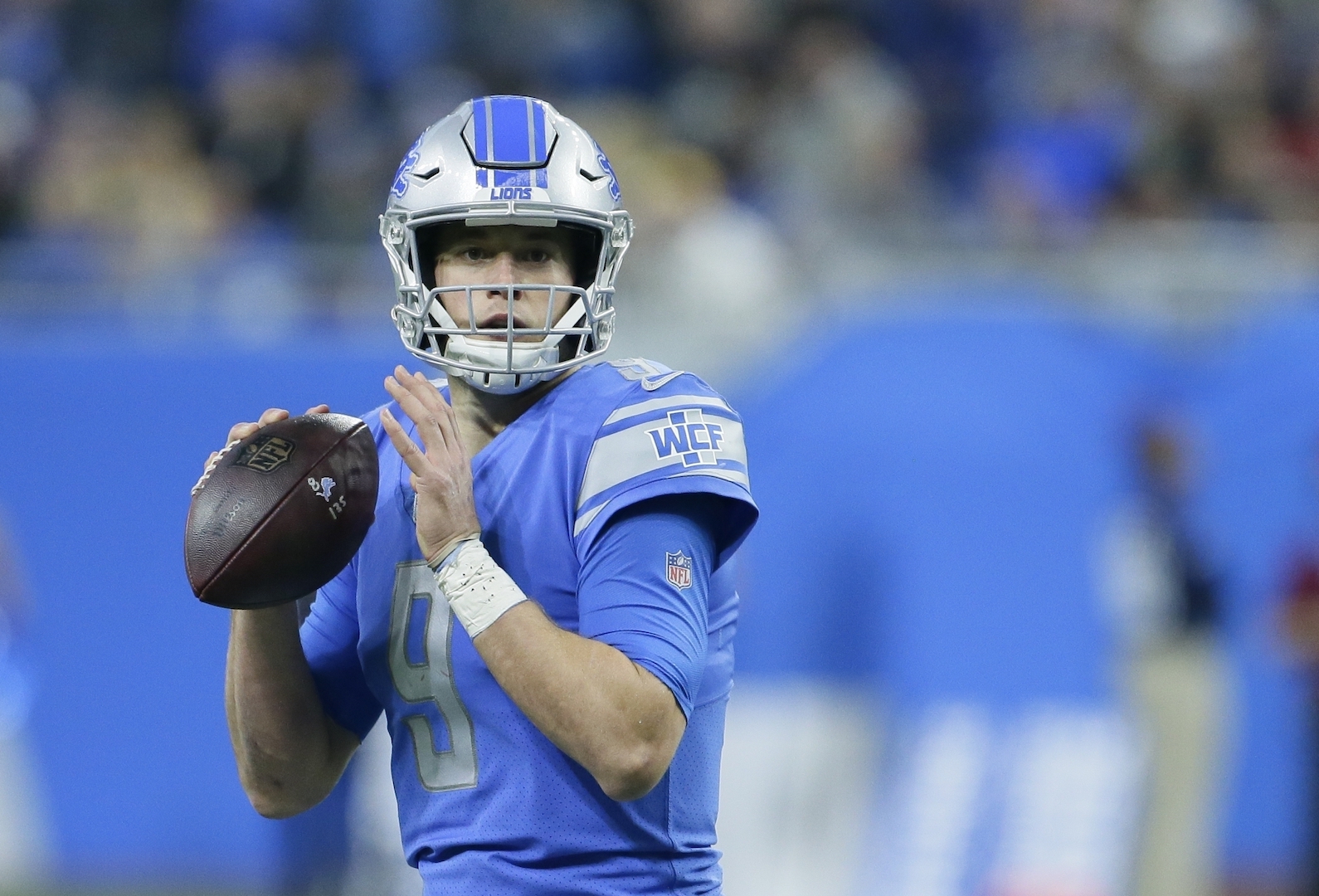 After he was on his way to a major bounce-back season before his back injury, Matthew Stafford rises back up the franchise player rankings from a year ago. The former No. 1 overall pick out of Georgia did have Calvin Johnson to throw to earlier in his career, but he's another quarterback that probably would have been better off landing with another franchise—just judging Stafford's own talent, there aren't many quarterbacks that can throw the ball like he can, in terms of both power and accuracy. Stafford is tough and clutch, and he'll sling the ball around with substantial success if surrounded by the type of support other quarterbacks are lucky to have.
Bottom line: All things being equal, Matthew Stafford can torch opposing defenses with the best of them.
15. Aaron Rodgers | Position: QB | Age: 36 | Team: Packers
As was said for Patrick Mahomes at No. 1, everyone knows about the talent of Aaron Rodgers. He was ranked No. 2 a couple of years ago in the first edition of this series, but Rodgers slips several spots for the second consecutive year. Rodgers is unquestionably a great NFL quarterback, but he's 36 years old; and apparently, he has sometimes freelanced the offense a bit too much for coaches' likings. I did not agree with the pick, but it says something that the Packers wanted to select Jordan Love as the eventual replacement for their all-time great. However, Rodgers did appear to buy-in to Matt LaFleur's offense in 2019, which is a promising sign. Ultimately, the gap in play from recent years is probably small enough to go with some of the younger options over Rodgers.
Bottom line: Aaron Rodgers is one of the best quarterbacks in NFL history, and many would be thrilled to be able to coach him.
16. Nick Foles | Position: QB | Age: 31 | Team: Bears
Loyal readers know I do not say things to be controversial or different, but I understand these next two rankings are not in line with the majority (or at least the online Twitter majority, as I've found the real-life majority to be the complete opposite in this case). One year ago, I would have kept Nick Foles if I was the Eagles, and that doesn't change after he had a season essentially wiped out by a collarbone injury. The former Super Bowl MVP has shown he can play at an elite level when given protection, and the purpose of building a team is putting your players—and especially your quarterback—in the best position to have success. Foles has bounced around the NFL from team to team, but he got the job done on two separate occasions when things were sturdy around him in Philadelphia—he's 24-8 in his last 32 games with the Eagles (including playoffs).
Bottom line: Nick Foles has proven it by playing about as well as you can in the Super Bowl, and he's won 75% of his games in ideal situations (i.e. with the Eagles) after his rookie year.
17. Carson Wentz | Position: QB | Age: 27 | Team: Eagles
If this was a ranking of the franchise players you want to simply carry an offense, then Carson Wentz would probably be in the top ten or top five, so this ranking should not be considered a huge knock on him. As mentioned, the goal is to put an exceptional roster around the quarterback, and I would probably prefer other quarterback options in that event. Not that Wentz wouldn't play phenomenally well in ideal circumstances; he is obviously very smart with a photographic memory, and he could light it up with help—but his accuracy can be inconsistent despite the highlight plays, and he's struggled against some top competition since his stellar 2017 campaign. Three of the last four quarterbacks in this aforementioned 9-17 range have had trouble staying healthy, which has unfortunately been the case with Wentz, who has had a lot of bad injury luck during his career and has seemingly had his athleticism take a step back because of it.
Bottom line: Carson Wentz is supremely talented in terms of throwing ability and intelligence along with plus athleticism.
18. Derrick Henry | Position: RB | Age: 26 | Team: Titans
I'll quote Bill Belichick here and say that I rely on analytics "less than zero" percent. I don't care if the popular thing to do is to be down on running backs, and there'll be a few of them over the second half of the NFL's top franchise building blocks. It starts with the league's reigning rushing champion Derrick Henry, who has basically been unstoppable down the stretch in each of the past two seasons. The purpose is to win the Super Bowl, and we've seen what Henry can do in December and January; I want that guy punishing defenses late in the year. Of course, the offensive line needs to do its job as the Titans did up front, but if you watched playoffs and don't think Henry made huge difference in those games then I don't know what to tell you.
Bottom line: Among non-quarterbacks, Derrick Henry might be the NFL's biggest difference-maker on offense.
19. Tre'Davious White | Position: CB | Age: 25 | Team: Bills
It's neck and neck between Stephon Gilmore and Tre'Davious White as the league's best cornerback entering this season, but White gets the edge here among franchise players in part because of his age. At 25 years old, White is an eraser at corner—but he also knows how to take the ball away in key situations, both via interceptions and forced fumbles and recoveries, if offenses test him. White has made the top 32 all three years I've done this, which speaks to his consistency as a stud cornerback.
Bottom line: Tre'Davious White is a lockdown, all-around cornerback that can take away the opposition's top receiver.
20. Saquon Barkley | Position: RB | Age: 23 | Team: Giants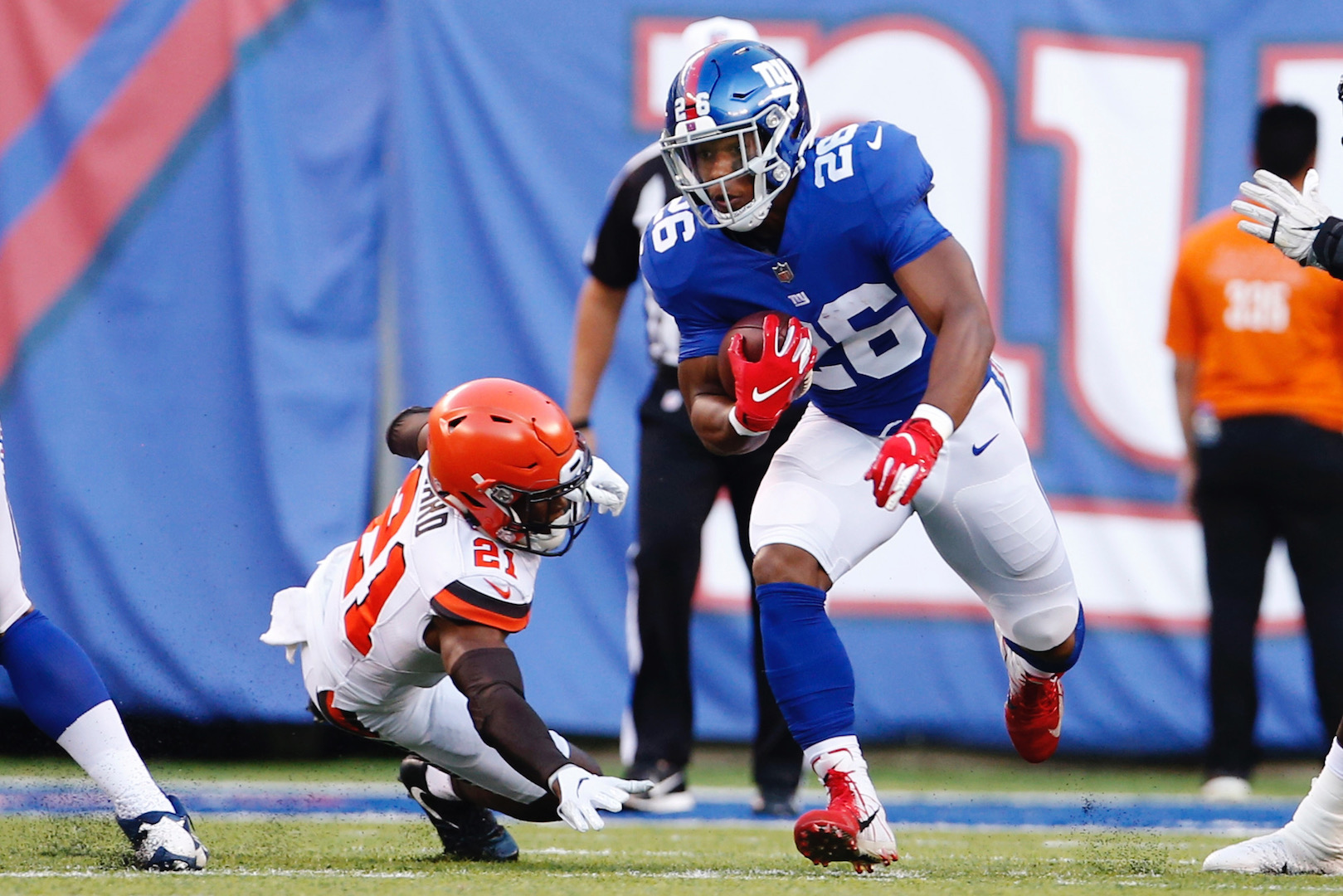 Saquon Barkley has everything you want from a running back—power, speed, acceleration, quickness, vision, balance, route-running, receiver-like hands. And that's just from a physical talent and athleticism standpoint, as Barkley is a superb leader, worker, and example-setter for a squad. It says a lot that Barkley battled a high-ankle sprain but turned it on down the stretch for a below average team and got up over the 1,000-yard-rushing mark after it looked like a longshot in middle of last season. The former No. 2 overall pick was taken so high because he's a generational type of talent, and I'm anxious to see him play on more competitive teams late in seasons.
Bottom line: Saquon Barkley is a premier franchise building block that will fit in any offense and any locker room.
21. Darius Leonard | Position: LB | Age: 24 | Team: Colts
The All-Pro rookie season was remarkable, and Darius Leonard might have followed it up with an even better year in 2019 with 121 tackles, five sacks, five interceptions, and a touchdown for the Colts. Indianapolis raves about Leonard's leadership; and his all-around, high-impact ability paired with ideal qualities as a person makes for a superb player to build a defense around. Leonard has the mindset to lift an entire defense with his combination of relentlessness and on-field proficiency.
Bottom line: Darius Leonard has the makings of a perennial All-Pro as an off-ball linebacker.
22. George Kittle | Position: TE | Age: 26 | Team: 49ers
Let's start with the blocking of George Kittle, who is almost like an extra lineman at times with his success in moving defenders at the line of scrimmage and in the second level. Not only does that help open rushing lanes for runners behind him, but it gets the entire roster fired up and wanting to play as hard as the All-Pro tight end does. Then consider that Kittle can work as a No. 1 target on offense because of his abnormal aptitude as a receiver. Kittle is a crafty route runner with Rob Gronkowski-like toughness and break-tackle ability in the open field—all in a similar WWE-style persona.
Bottom line: Any team with George Kittle on the roster shouldn't need to worry about bringing the energy and setting the tone each week.
23. Christian McCaffrey | Position: RB | Age: 24 | Team: Panthers
It's not talked about much, but Christian McCaffrey became the third player in NFL history to record a 1,000/1,000 season, so he clearly affects the game in a number of ways at the running back position. McCaffrey can be split out as a receiver, but he's always been at his best as a traditional running back—and that includes between the tackles, where some cluelessly doubted him dating back to his days at Stanford (where he showed he can run inside with effectiveness). McCaffrey reminds me of a kid with an abundance of energy that cannot get the ball enough—he doesn't seem to tire, and he'll handle as many touches as the coaches want to give to him.
Bottom line: Christian McCaffrey is the ultimate versatile weapon, and mileage might not be a big long-term concern for him.
24. Julio Jones | Position: WR | Age: 31 | Team: Falcons
There is one non-quarterback offensive player that has made the top 32 all three years: Julio Jones. Over the past several years, the debate for the game's best receiver has always been Julio versus someone else, whether it be Calvin Johnson, Antonio Brown, DeAndre Hopkins, or Michael Thomas. That should tell you that Jones is the best, most consistent receiver and has been for years. The Falcons star can straight up take over a game at receiver, but he's a rare breed in that he lets his play do the talking—and he might be the one guy that could talk and back it up if he really wanted to. It says a lot that Jones—typically a leader by example—stood up and spoke out for head coach Dan Quinn in the locker room last season and might have sparked a second half that helped save his job. Despite entering the league in a time where it was not as offense centric as it is now, Jones by far averages the most yards per game in NFL history.
Bottom line: The best receiver in the league, Julio Jones shows no signs of slowing down.
25. A.J. Brown | Position: WR | Age: 23 | Team: Titans
When Julio Jones declines at some point and stops being the NFL's top receiver, this might be the guy that takes the crown. A.J. Brown simply had a stupid good rookie season for the Titans in 2019 (I would say he was robbed of Offensive Rookie of the Year), averaging an insane 20.2 yards per reception while going over 1,000 receiving yards on just 84 targets. The Ole Miss product can run the entire route tree, and things are sometimes just getting started when he gets the ball into his hands. A former baseball player that probably could've had an MLB career, Brown is a gamebreaking home-run hitter in his chosen path of football.
Bottom line: It should be only a matter of time before A.J. Brown is widely considered one of the league's top overall players.
26. Danielle Hunter | Position: DE | Age: 25 | Team: Vikings
The NFL's most under-the-radar superstar among casual fans is Vikings defensive end Danielle Hunter. The third-round pick in the 2015 draft is still just 25 years old, but he already has 54.5 career sacks including sack totals of 14.5 in each of the past two seasons. Hunter is just a complete monster and undoubtedly one of the top defenders in the league to build around as defenses look to get after and disrupt the quarterback in a passing league.
Bottom line: Danielle Hunter is a highly successful pass rusher that still has plenty of prime years left.
27. Teddy Bridgewater | Position: QB | Age: 27 | Team: Panthers
Teddy Bridgewater had terrible luck back in 2016 when he suffered a devastating knee injury, but it's awesome to see him play so well for the Saints last year before earning a starting gig with the Panthers this offseason. Bridgewater's comeback is a testament to the type of person he is, and he's shown extreme toughness dating back to his days at Louisville. When you take out the 2018 Week 17 game in which he started for New Orleans with playoff seeding set, Teddy is 22-11 as a starter in his career. Bridgewater is a very intelligent signal-caller, so what he doesn't have in arm strength he makes up for in decision-making, poise, timing, and accuracy. A long, winding road for Bridgewater might make him feel older than he is, but the first-round pick in the 2014 draft is still just 27 years old.
Bottom line: Teddy Bridgewater is an impressive leader with a steady hand at quarterback.
28. Kirk Cousins | Position: QB | Age: 31 | Team: Vikings
Kirk Cousins is one of the toughest players to rank among franchise building blocks for me. I think he got more comfortable in Minnesota and took a step forward last year, and the postseason win at New Orleans could be a huge boost for him moving forward. Initially, Cousins was going to be put higher, but now the difference between him and some of the quarterbacks yet to be named might not be huge. Overall, Cousins is an accurate passer that has no trouble running a low-volume attack if that's what's best for the team.
Bottom line: It's not easy to go from mid-round pick to franchise quarterback, but that's what Kirk Cousins has done.
29. Aaron Donald | Position: DL | Age: 29 | Team: Rams
He should still have plenty of awesome seasons left in him, but Aaron Donald would probably be much higher if he was younger than 29—hence, his slight drop from the No. 24 spot last year. The two-time Defensive Player of the Year is probably the top game-wrecker on the defensive interior, and he has a freakish build that's not typical for his position. Donald produces every single year, with a career-low sack total of eight, and at least 11.0 sacks in each of the past three seasons. Tre'Davious White, Julio Jones, and Donald are the only three non-quarterbacks to be named a top-32 franchise player all three years.
Bottom line: Aaron Donald remains a dominant defensive force up the middle.
30. Ryan Tannehill | Position: QB | Age: 31 | Team: Titans
If Ryan Tannehill can keep up his amazingly efficient play from last season, then this ranking will prove to be way too low for him. Working off the ground game led by Derrick Henry, Tannehill was lethal on play-action passes, which allowed him to see his target and let it rip down the field with his strong arm. The former college receiver-turned-quarterback still has the athleticism to gallop for yardage in the open field at six-foot-four, and he does a fine job of moving to hit targets on the run.
Bottom line: Injuries hurt in Miami, but Ryan Tannehill has always been an underrated talent at quarterback.
31. Josh Allen | Position: EDGE | Age: 23 | Team: Jaguars
While he only played 60% of the defensive snaps for the Jaguars as a rookie last season, Josh Allen recorded 10.5 sacks and had an easy case for Defensive Rookie of the Year. It was a surprise for Allen to last until the seventh selection in the 2019 draft, but he might have been the top overall player on the board when you take into account his versatility paired with his ability to get after the quarterback—if necessary, he could play off-ball linebacker instead of playing on the edge.
Bottom line: Josh Allen has the traits you look for in an edge player, and he has already had a very successful NFL season as a rookie.
32. Drew Lock | Position: QB | Age: 23 | Team: Broncos
I mostly don't put players that haven't gotten much playing time in the top 32 (Lamar Jackson wasn't even included last year), but I'll give Drew Lock the nod in the final spot. The 2019 second-round pick showed a lot last season when things didn't start off well for his NFL career after his thumb injury during the summer. I wasn't particularly high on Lock as a bonafide top quarterback prospect (and many in the NFL agreed after he was not drafted in Round 1), but there's no doubting the upside. Lock navigates behind the line of scrimmage with presence and comfort, and he uses his rocket arm to laser passes to his targets. He also appeared to have a lot of fun while leading the Broncos to a 4-1 record down the stretch as a rookie.
Bottom line: Drew Lock is not as established as anyone else in the top 32, but he has considerable boom potential at quarterback.
The Next 32: These guys just missed the list and are in the discussion for the Top 32.
-Drew Brees
-Ben Roethlisberger
-Sam Darnold
-Philip Rivers
-Joey Bosa
-Nick Bosa
-Roquan Smith
-Chris Godwin
-Bradley Chubb
-Eddie Jackson
-Derwin James
-Khalil Mack
-Stephon Gilmore
-Jaire Alexander
-T.J. Watt
-Nick Chubb
-Quenton Nelson
-Laremy Tunsil
-Ronnie Stanley
-Marlon Humphrey
-Minkah Fitzpatrick
-Deion Jones
-Devin White
-Jamal Adams
-David Bakhtiari
-Shaquil Barrett
-Chandler Jones
-Xavien Howard
-Kevin Byard
-Fred Warner
-Allen Robinson
-Justin Simmons